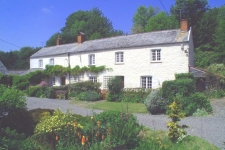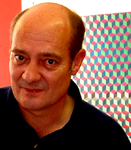 LIME BURNING
c1630 to c1840
The first local reference to lime burning is in a will from 1617 that mentions a kiln in Instow. In the 1630's Risdon called lime burning in North Devon a new invention (a kiln at Vention near Putsborough was originally called New Invention) but it was widespread by the 1660's and extremely common during the 18th and 19th century (1).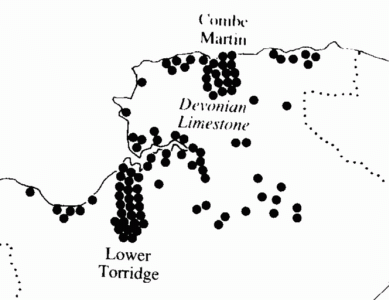 The kilns of North Devon were concentrated in the valleys of Torridge and Combe Martin (left) but they can be found on almost every beach and bay along the coast. There are so many because of the large quantities of lime required to improve upland fields; about a ton per acre, every 4-5 years. Remote coastal kilns provided good cover for smuggler's since boats bringing coal or lime could also secretly unload contraband (3).
Limestone was quarried locally (there are many places where layers of blue limestone, 3-4m thick, reach the surface), or was brought from South Wales and burned with coal or charcoal in a kiln to produce quicklime. When this is spread on upland fields it improves their yield by neutralising the acidic soil. Kilns were built of limestone with a large central chamber, beneath which, reached from the outside, were one or more stoke holes. The chamber was filled from above with alternate layers of fuel and limestone and then fired. As the ashes and quicklime were removed from the stoke holes below, more limestone and fuel was added from above, in a continuous process that could last several days. Kilns were not usually lined and after a few uses they were taken down and rebuilt. Lime-burning was often a part-time or winter occupation (2).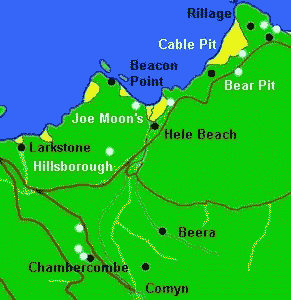 The first detailed Ordnance Survey map of 1889 records six lime kilns around Hele. The main kilns and quarries were at Hele Beach, Rillage and Chambercombe and there was a large kiln at Larkstone supplied by boat; of these only the Larkstone kiln survives (right). There were also small kilns near Comyn and Beara, used by the farms there. The 1840 Tithe map shows another kiln midway between Rillage and Hele Bay, now gone. Two further kilns are shown on the drawing above, one on the north west of Rillage (only the base now remains) and the other at Beacon Point (although this may have been a signal beacon) (4).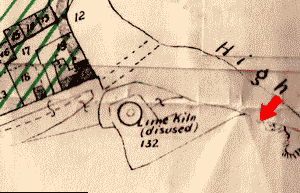 There is evidence of at least three generations of kiln beside Hele Beach. The most recent is clearly marked Lime Kiln (disused) on this 1896 map (left) and was demolished in 1905. The previous kiln is deduced from the oval, just discernable, beneath these words, and the parallel wall to the north-west of them. The earliest kiln is not apparent on the map but can be seen as a blocked archway in the sea wall, marked on the map with an arrow.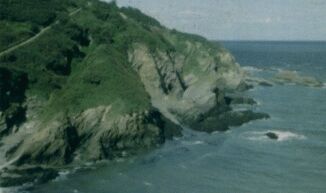 Limestone for the beach kilns was quarried from the east side of Hillsborough, leaving a long gully, ending in a couple of unusual man-made caves, where columns of unworked limestone have been left holding up the roof. They are known as Joe Moon's after the local lime burner who is said to have quarried them (although it has been suggested that they should actually be called Joan Moon's). They are now overgrown but can just be seen in this photograph from c1969 (above right). There are blast holes on the beach below Joe Moon's and at Pigs Gut. On the other side of the beach a cutting has been made through an outcrop to reach a small vein of blue limestone (5).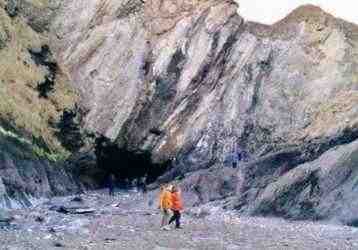 There are several limestone quarries around Rillage. On the opposite side of the road from the Coastguard Cottages, is a small overgrown quarry known as Bear Pit. To the north-west of this, beside the coast path, is an overgrown quarry known as Cable Pit; it is said that a cable here pulled limestone up from Haggington Beach. There are large quarries to the north of the Coastguard cottages; and on Samson's Beach, which is accessible at low tide down a zigzag donkey path. The lower part of this path shows evidence of blasting and it leads to a 4m wide vertical vein of blue limestone streaked with quartz (left). It appears to have been quarried some 30 metres deep into the cliff. The quarry is beside one of Samson's Caves; this cave may have been originally mined as a trial adit, or tunnel, perhaps for silver-lead (6).
It is said that lime burning was very profitable in Combe Martin in the 1820's, but then its zenith passed and some kilns had closed by 1840, due to changes in the way the trade was organised. The relatively high population in what is now Beach Road in the 1840's and 1850's, implies that the kiln there was little used, since the smoke and fumes would have been very unpleasant. One of the local residents in the 1851 Census, John Galliver, was a limeburner/journeyman; perhaps he was the last to burn lime beside the beach in Hele. But local lime burning continued until well after WW1; in Combe Martin, the kiln near the beach, now demolished, didn't close until 1919 and Berry's Quarry remained open until 1929. The quarries at Rillage were still used in 1875, when a local man working there, Thomas Watts, found a dead body in the sea off Haggington Beach; even in the 1890's it was said that fossils could be bought here "for a few pence" from the local quarrymen (7).
---
(1) First references to Limeburning
The will of William Fleming, of Instow, refers to his lime kilns there in 1617. The kiln at Vention, Putsborough was originally called New Invention. (Reed 1997 p 140)
1630 - Risdon says 'of late a new invention has sprung up and has been practised by burning lime and incorporating for a season with the earth and then spread upon the arable land hath produced a plentiful increase of all sorts of grain amongst us where formerly such never grew in any mans living memory'. (Challacombe & Walters 1989 p 96)
In 1630 Tristian Risdon of Winscott Barton near Torrington called it [lime-burning] a new invention, but by 1667 Samuel Colepresse described its use as familiar in most of Devon. By 1750 Dean Milles of Exeter carried out a parochial survey and its use was widespread. It took about 2 tons of limestone to produce a ton of quicklime which when spread on the land and gets wet creates slaked lime (Havinden, Michael 1999 the woollen, lime, tanning and leatherworking and paper-making industries c1500-1800 in Kain & Ravenhill 1999 p 341)
1746 - George Symons and John Cutcliffe of Combe Martin were both referred to a limeburners. About 1750 the Parson reported that the land had been 'improved by lime which rises in great abundance in the parish' (Challacombe & Walters 1989 p 97)
1786 - 26-30th December - Charles Thomas of Berrynarbor, Devon, limeburner, dealer and Chapman, bankrupt. Dividend to be made 24th January next at the house of Mr Luckcomb, The Globe Taver, Exeter." Sneltzler 1978 p 40
(2) Technology
"A limekiln is an industrial structure of medieval date used for burning limestone, chalk.... generally comprising a circular, square or rectangular pit, usually between 1 and 5m in diameter and up to 3m in depth, in which the lime was fired using timber, charcoal or coal as fuel. At the base of the pit there are often one or more drawholes or stokeholes, through which the fire was lit, fed, and the ashes and lime extracted. Most medieval limekilns have been found in urban contexts although they do sometimes occur in rural areas. Most sites have few surface features and have been discovered during the excavation of other monuments or when they are being destroyed.....In the medieval period limekilns were predominantly used for the production of mortar for building purposes; occasionally they were used for the production of lime for agricultural purposes, as they were to a great extent in the 18th and 19th centuries. ......Limekilns were first used in Britain in the Roman period; following this there was little demand for mortar until the medieval period with the building of churches, religious houses and fortifications. There is documentary evidence that lime was used in the Anglo-Saxon period.... Limekilns were in use throughout the whole of the medieval period; those that have been excavated in Southampton date from the 11th century to the late 15th or early 16th century. Documentary evidence shows that by the end of the medieval period lime was not only being used for mortar but also for liming fields. In general, limekilns develop from the intermittent flare kiln, to the more economic continuous kiln, where the kiln is kept burning while more fuel and lime are added and the quicklime drawn off; both were in use during the medieval period. From excavations at Colchester it appears that limekilns got smaller over time, smaller kilns being more efficient since higher temperatures were attainable. Key excavations include several at Southampton (Platt and Coleman-Smith 1975; Oxley 1986) and Colchester (Crummy 1984), Bedford Castle (Hassal 1979), Chew Valley Lake (Rahtz and Greenfield 1977), Cheddar (Rahtz 1979), and Portchester Castle (Cunliffe 1977). The history and archaeology of lime burning from the Roman period through to post-medieval times has recently been discussed by Williams (1989)." http://www.eng-h.gov.uk/mpp/mcd/lime.htm
Most kilns were built between 1550 and 1850, the great majority in 18th century. They originally thought that lime was plant food, rather than neutralising acidity, which makes manure more effective (Havinden, Michael 1999 the woollen, lime, tanning and leatherworking and paper-making industries c1500-1800 in Kain & Ravenhill 1999 p 340) .
(3) North Devon Kilns
Some 45 acres of land was quarried at some time or other for lime in Combe Martin, producing perhaps 3.5m cubic yards of limestone. There were 18 kilns. When lime was being burnt, these kilns would have created a veil of smoke over the valley prompting one 19th century traveller to refer to the village as an industrial slum. (Challacombe & Walters 1989 p 97)
The drawing above showing the kilns of North Devon is a detail from The woollen, lime, tanning and leatherworking and paper-making industries c1500-1800 by Michael Havinden in The Historical Atlas of South-West England edited by Roger Kain and William Ravenhill, University of Exeter Press, 1999 p 340 ISBN:0 85989 434 7
(4) Kilns around Hele
The c1840 Ilfracombe Tithe Map shows lime kilns at Hele Beach, Chambercombe, Rillage, Larkstones; and two not shown on OS 1891 map, one by the cliff just before 'ravine' near Bear Pit, other just above Hole farm.
The OS 1891 map of Hele shows several old limekiln; just below the Coastguards on Rillage (and there are signs of another unmarked on the NW of the headland); on Chambercombe Lane where there are also a couple of quarries; between Beara and Littletown; beside the beach at Larkstones and beside Hele Beach.
"Leaving behind me the pretty little village of Hele, with its neat houses and cottages, its trim gardens sloping up the side of old Hillsborough, and its hedges covered with white garments put out by the laundresses for the benefit of this brilliant sun, - I pass over a brook by a rustic one-arched bridge, and wind up Hockey Lane to the lofty downs. The lane, barely wide enough for a wheelbarrow, has been scarped out of the soft slatey rock; but the ruggedness of its sides is concealed by a profusion of verdure....On the edge of the down at the top of this lane is a limekiln for the burning of the blue limestone which is so rare on this side of the country, but a little vein of which occurs just here in the almost universal grauwacke. Here I stood awhile to look out upon the beautiful Bristol Channel" (Gosse 1853 p 104-5)
The 1896 map of the Sale of Hele Bay Estate shows a limekiln near the beach marked "Lime kiln (disused)". Under this writing are the traces of an earlier kiln. An even earlier kiln is not apparent on the map, but can be seen as a blocked up archway in the sea wall. The drawing above showing the kilns on the beach uses a detail from this 1896 map (Ilfracombe Museum, Hele box).
"I also had a chat with Mr Nat Lewis, who has many interesting memories of the old days. He, too, told me how lime was dug from the cliffs, and how pack ponies carried the stones up the narrow mountain paths to the lime kilns. Lime-burning was then an important industry in hele. Sailing vessels brought to the village culm from South Wales for burning the lime, and many a vessel had its bottom battered in trying to get into the bay during a rough sea." (Ilfracombe Chronicle Sept. 1st 1933 p 6)
The photograph of Joe Moon's shown above, was taken c1969 (R Pinfield)
"There was a lime kiln at the top of the beach where the Beach Cafe is now. Lime was brought in by ships, carried up the beach in baskets, and stored in Tom Moon's Cave under the cliff (where the toilets are now). Coal was brought in the same way, and the stakes which the boats used to tie up to are still there. Coal for the Gas Works, was also brought in by boat, and was loaded onto wagons which used to be called 'butts'. The cottage behind Nat Lewis Cafe was built partly of driftwood; and spoils from shipwrecks were found on the beach. From Galliver's cottage down the householders had the right to run pigs on the beach, and take away as much sand as they needed." (ICTG 1985-6 p 3)
| | | |
| --- | --- | --- |
| Location | Kilns | Quarries |
| Hele Beach | Kiln marked on Tithe 1839 & OS 1889 (SS536479) evidence of succession of 3 kilns, all demolished save trace of earliest kiln (an arch in sea wall) | Joe Moon's caves on Hillsborough; Pig's Gut below; gap made through rocks to small outcrop on east side of beach, path made over rocks on west side of the beach. |
| Rillage | Kiln marked on Tithe 1839 & OS 1889 (SS544484) said to have been removed because tramps slept in it. Kiln marked on Tithe 1839 (approx SS542482) now gone. Traces of a kiln at NW of Rillage (SS542485) | Quarries on Rillage below Coastguard Cottages; donkey path to quarry at Samson's Beach; quarry to west of Rillage, Cable Pit, said to be used to pull limestone from Haggington Beach; quarry nearby to south of main road, known as Bear Pit |
| Chambercombe | Kiln beside Chambercombe Road marked on Tithe 1839 & OS 1889 (SS531479) now gone. | Quarry beside kiln, another nearby along Chambercombe Road towards Ilfracombe and another on Hillsborough beside the hillfort |
| Larkstone | Kiln marked on Tithe 1839 & OS 1889 (SS527477) still there but arches blocked up. | No obvious quarry nearby but limestone & coal presumably brought in by boat |
| Beara | Kiln marked on OS 1889 (SS538470) | Presumably used by Beara Farm |
| Comyn | Kiln marked on OS 1889 (SS535467) | Presumably used by Comyn Farm |
| Hole | Kiln marked on Tithe 1839. Off above map. | Presumably used by Hole Farm |
| Beacon Point | Small kiln beside Artillery battery (SS533481) still there. | Probably used to build the battery but may have been a beacon rather than a kiln |
(5) Joe Moon's
"Here, between the battery belonging to the Artillery Volunteer and Hele, is a curious cave. It looks almost natural, but is really the result of quarrying. The quarrymen of past days, in excavating under the hill for limestone, have worked according to the strike of the strata-that is, at a sharp angle upwards. The result is a wide, low cavern, with a sloping roof supported by massive pillars of natural rock." (Page 1895 p 86-87)
"Passing out of the part of Hele still known as the village, I wended my way to the beach, where I met an "old salt," one who has lived many a year in the native air. As we talked, his warm affection for the bay-which, in his eye, perhaps, has been sadly modernised-lit up his countenance. "About a hundred years ago," he explained, "lime was dug out of the cliffs, and the stones burned in local kilns." Those man-made holes have since, by the action of the sea, been transformed into miniature caves and coves. Many of these caves assumed the names of the old men who worked in them. There is one big cave under Hillsborough, on the Hele side, which was dug out for lime stone by old Hele worthies, and is known as Joe Moon's Cave. Joe Moon was a well-known local character." (Ilfracombe Chronicle Sept. 1st 1933 p 6)
In January 2002, the CMSMRPS (Combe Martin Silver Mine Research and Preservation Society) had a 'fossick' around Hele Bay to look for evidence of mining. To the left of Hele beach is a long gully which runs up Hillsborough. This can be reached directly from the beach, or by leaving the coastal path some 50' past the top of the steps, but is so overgrown that it is only accessible in winter. It follows a vein of limestone which has been quarried to about 20' wide and 15' deep (although it may have once been deeper). At the top of the gully are some curious caves known as Joe Moon's which are clearly man-made since 'columns' of unworked material have been left holding up the roof. Some of the workings are clearly post-gunpowder. The lime was probably carried by pack animals down the old steps to the kiln by the beach.
"Joe Moon's caves are on Hillsborough, at the head of a long gully leading up from the left hand side of Hele Beach. The gully is very overgrown and only accessible in winter. The caves at the top are within the Hillsborough Scheduled Ancient Monument. There are two lenticular caves, sloping downwards and clearly man-made, since each is supported by 'columns' of unworked material - probably very similar in appearance to the earliest silver-lead mines at Combe Martin. But it was determined that these caves and gullies were quarried for lime which was doubtless carried by donkey down to the kilns by the beach. Above the caves there are blasting holes which have an earliest date of c1700. The kilns were probably disused by the 1850's" (CMSMRPS Newsletter Issue 2 Spring 2002 p17-18)
Joe Moon should actually be Joan Moon, who is said to have run the early lime-burning at Hele. There were 2 Jane Moons in the C18th, from burial records one died 17th August 1758, the other 29th October 1760. It is unknown where they lived but it may have been Winsham. (Jane Hardwick, personal communication 29/1/04)
(6) Rillage Quarries
"A little way beyond this point the traveller looks down upon a cove called Sampson's Bay; it is girt in with rocky cliffs of great massiveness and wild grandeur, too abrupt and perpendicular to be scaled, even by the most expert climber. An ample cavern yawns on the western side of the bay, into whose depths, as the tide was high, the surf was dashing, with a roar that rivalled the discharge of artillery. I thought of the fine simile of Moore:
'Beneath, terrific caverns gave
Dark welcome to each stormy wave
That dash'd, like midnight revellers, in' " (Gosse 1853 p 293)
"Below the Coastguard cottages on Rillage Point are some large quarried gullies, roughly parallel to Joe Moon's and similar in appearance. There is evidence of a lime kiln. To the east of Rillage Point is a zigzag path down to Samson's Bay, which is fairly steep and should only be attempted in the dry! Near the bottom, the path crosses over rock which has been blasted. At the bottom there was probably a timber bridge over a gully in front of a cave. The path leads to a vertical face of 'blue limestone' about 15' wide which at its top coincides with a quarried gully above. The limestone is streaked vertically with long strands of quartz. There are many blasting holes and the face has probably been driven forward some 30 yards up the beach. The rock to the left, above Samson's Cave, is very unstable, and it was probably necessary to remove that as well. The limestone was probably carried by donkey up the path to an unknown kiln." (CMSMRPS Newsletter Issue 2 Spring 2002 p 18)
A photograph taken during this field trip 12/1/02 to Rillage of Samsons Cave is shown above, reproduced by kind permission of Paul Madgett.
(7) End of lime-burning
Letter in NDJ Jan. 30th 1840 signed 'a reviewer of the lime trade of Combmartin' began 'it is an obvious fact to all the inhabitants of Combmartin that the lime trade is the principal support of the place' in 1810-20 income was high and the business flourishing but from 1820-40 many lime burners abandoned their kilns. Letter suggests this is due to the way lime was measured and the trade organised (North Devon Journal 12/9/1991 also Christie 1998 p 38-9)
A DEAD BODY WASHED ASHORE. On Tuesday morning last a man named Thomas Watts, a quarry-worker, came into the town at about eleven o'clock, with the intelligence that he had seen a dead body floating about near the beach, under Hele - but nearer West Haggington. It appears he and his brother were working in a quarry near Hele when they saw something floating in the water about three quarters of a mile distant. Seeing a gull perch on the object, they watched it till the tide washed it ashore, when they found it to be the body of a man, very much decomposed, and with no clothing on. Not knowing how to get the body out, the man Watts, hastened into the town and laid an information with P.C. Shepherd, who in company with him, at once hastened to where the corpse was, and on arriving at the place it was seen floating about between the rocks in the part called Capel Cove. The great difficulty now was how to get the corpse up to the rocks above, a most precipitous path being the only means of climbing up. However, under P.C. Shepherd's directions, a hurdle was prepared and the brothers' Watts assisted by a few of the neighbouring labourers, who had appeared on the scene, got the body out of the water, placed it upon the hurdle and with great difficulty carried it up to the rocks above high-water mark, where it was left for the time being The corpse was in a most frightful state of decomposition, the head being quite fleshless and the arms and legs being gone at the joints, the entrails were also partly protruding. There were not the slightest means by which the body could be identified,-not a vestige of clothing being on it -all that can be said, is that it was the remains of a man of very large statue. P.C. Shepherd at once proceeded to the Deputy. coroner, Mr. J. H. Toller, who said, as the body was in such a decomposed state that it could not be identified, no inquest was necessary and an order was then given for Mr. Vickery the 0verseer, to bury the corpse. He therefore had a coffin made and the same evening about 7 o'clock., P.C. Shepherd, with the assistance of several men, lowered the coffin down to the rocks, got the body in and pulled It up again on to the cliffs. It was then taken to Hele, put in a cart. and was buried at the parish churchyard on Wednesday, at two o'clock, under the superintendence of Mr. Vickery, the burial service being read by the Rev. Sheldon Bryett. We understand that the corpse was seen the same morning as it was discovered by Watts, by two boatmen named Braund and Hewett, who at first took it for a dead sheep, but soon afterwards discovered it was that of a man. As it was in such a decomposed state, they let it remain were it was. (Ilfracombe Chronicle Sat. Oct. 15th 1875)
"Many a specimen may be picked up by the man who knows how and where to use his hammer; and, for a few pence, the quarrymen [at Rillage] (when there are any about) are only too glad to part with fossils that they have come across in their excavations." (Page 1895 p 80)
"Shortly after the Second World War, a new car park constructed to serve the beach area resulted in the demolition of this, one of the best preserved of Combe Martin's lime kilns. At least eighteen kilns are known to have existed in Combe Martin, supplied by nearly as many local quarries, as well as imported limestone. Whilst not all in operation at the same time, the smoke from just a few of them, combined with other industries like the smelt mill led to the disparaging description of the village as an 'industrial slum'. Much of the demand came from Exmoor, the soil there being too acidic to be fertile. The quantities required were enormous, hence the proliferation of kilns, it being reckoned that each acre of reclaimed land needed three tons of' lime every four to five years. Since 1820, most of the Forest of Exmoor had been in the ownership of the Knight family, ironmasters from Shropshire, who were attempting to enclose and farm as much of this previously wasteland area as possible. John Knight was buying lime from Combe Martin at 20s a ton and employed three teams of carters to fetch it. This particular kiln, being close to the beach, was also burning Welsh limestone. Its situation is typical, being built into the hillside to allow for ease of loading. The access ramp at the rear can be clearly seen. A layer of wood or faggots went in first, followed by successive layers of culm and limestone until the kiln was full. The wood was lit and the art was then to keep the burn going at just the right temperature, so that the end product was neither over nor under done. The lime was raked out from the bottom, via the doorway, whilst the kiln continued to bum.. It would be kept in operation for as long as lime was in demand, sometimes months on end. For this reason, the lighting of a kiln often came to be a great social occasion in communities such as this, with ale and 'yam' telling. This kiln ceased operation in 1919, at which time it belonged to Richard Lovering and the burner was William Berry. Like much of working life in the 19th century, lime burning was a hazardous business, not least because the end product itself is a corrosive. There were other dangers attached to it though, as illustrated by the tragi-comic story, well known in Combe Martin, of the fate of Mr. Norman. Burning lime formed a crust at the top of the kiln, which had to be broken if more stone was to be tipped in to keep the operation going. As was frequently the case with oft repeated working practices such as this, familiarity led at least to carelessness and sometimes to the adoption of dangerous techniques. Norman stepped onto the crust to break it with his feet and promptly sank into the kiln up to his waist. He was dragged out horribly burnt, given alcohol to distract him from the pain and wheeled home in a hand cart singing 'Nearer my God to thee' at the top of his voice. He died a few days later. Combe Martin Museum" (Archive, the quarterly journal for British Industrial and Transport History, Lightmoor Press, issue 7 1995 p 6)
"One of the largest of Combe Martin's limestone quarries was Berry's Quarry....Until 1867 Berry's was owned by the [Cutcliffe?] family but it was then taken over by the Jewell's. The quarry had its own railway system, with a double track incline leading down to a lime kiln on the valley floor, full wagons coming down pulling empty ones back up.... The account [ledger?] for the quarry has survived and shows that lime was being sold as far afield as Swimbridge and Simonsbath, some twelve miles from Combe Martin. Production in 1919 totalled 7,293 bushels. Illustrating once more the hazards of working life in those times, on one occasion a descending wagon broke away from the rope and cleared the kiln at the bottom. landing on the far side of the river Umber. The quarry closed in 1929. Combe Martin Museum" (Archive, the quarterly journal for British Industrial and Transport History, Lightmoor Press, issue 7 1995 p 7)