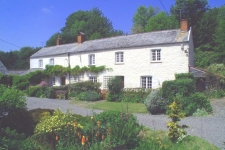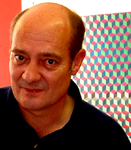 THE CIVIL WAR
1642 TO 1646
At the outbreak of Civil War in 1642, Ilfracombe, like many ports at the time, was in support of Parliament (1). In 1644 the Royalist Sir Francis Doddington, marched on Ilfracombe from Minehead, and on August 20th attempted to seize Ilfracombe Castle, which area later became known as Warfields. He was repulsed but continued into the town, burning 27 houses and killing at least 11 of the defenders (who were recorded in the burial register the following day) before retreating. The location of this battle was probably the Brookdale Avenue area below the Torrs, which used to be known as Bloody Meadow - musket and cannon balls are said to have been found here in the past (2).
A few weeks later, on September 12th 1644, Barnstaple was besieged by the Royalist General Goring and sent to Ilfracombe for aid, but the messengers are said to have been fired upon by the Ilfracombe garrison. The following day Ilfracombe Castle surrendered to another attack led by Doddington, without a shot being fired. One (Parliamentary) newspaper at the time referred to the treachery of the Governor of Melcombe [sic] Castle. The Royalists seized 20 canons, 20 barrels of gunpowder and over 200 firearms and Barnstaple fell soon after on September 17th (2).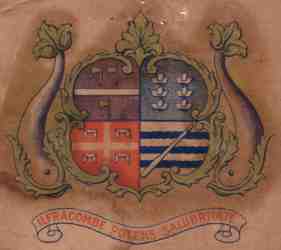 Less than 18 months later, early in April 1646, Ilfracombe was stormed by Colonel Sheffield for Parliament, and Barnstaple fell a few days later to Fairfax. The raid on Ilfracombe may have been led by a Lieut-Col. Harris, who may have attacked the harbour (near Quay House are roads called Government Road and Parliament Square). Harris was later executed for regicide, but had a sort of revenge, since his direct descendants include one of the signatories of the American Declaration of Independence, and the 9th and 23rd Presidents of the United States! The forts at Ilfracombe and Barnstaple were closed in 1647 (3).
Ilfracombe's coat of arms (above left) incorporates three battle axes, said to represent three Civil War battles, presumably those of Warfield, Bloody Meadow and Parliament Square. The six ships are said to represent those sent by Ilfracombe to Calais in service of Edward III in the early Middle Ages. It was designed by Dr Slade-King and adopted by the Ilfracombe Urban District Council in 1894. Apparently, it should not properly be used, since a quartered shield is conventionally used only for families, not for towns (4).
During the Civil War, Thomas Bushell (right) was Governor of Lundy and held mining rights in Combe Martin and South Wales. He probably constructed the Great Adit in Combe Martin, a long wide tunnel for drainage. He had a mint in Aberystwyth, and possibly at Lundy and Combe Martin; this silver half-crown (left) and groat (below right), are said to have been minted in Combe Martin (although the mines are not thought to have then been producing ore) (5).
Bushell was such a staunch supporter of the King that Lundy was the last Royalist stronghold in the country to capitulate. Parliament promised to restore Bushell's interests on the mainland if he surrendered and Bushell wrote to Charles I for advice. The King replied that he was free to use his own discretion, but advised him to be "not over credulous of vain promises, which hath made us great only in our sufferings, and will not discharge our debts". This turned out to be good advice, for although Bushell surrendered Lundy with great courtesy and was granted a full pardon in 1647, he was later kidnapped and was destitute by 1660 when he petitioned the newly restored Charles II. He was still trying to re-open the Combe Martin mines when he died, aged 80, with debts of £120,000. He was buried at Westminster Abbey in 1674 (6).
---
(1) Outbreak of Civil War
"The town of Ilfracombe consisteth of one street, lying scatteringly, at most a mile in length from the church to the harbour; where, in the church-yard, was a chapel, consecrated to the honour of the lady of Thorn, as they give out, now almost demolished". (Risdon 1630 p 346)
The years before the civil war saw a growth in Devon of Puritanism, particularly in the ports, this was due to unpopular Ship Money tax levied on ports for the navy, which was still insufficient to ensure that crew were not pressed into service and treated badly. This made the port towns almost unanimous for Parliament when the civil war opened, whilst the gentry inland were still mainly Royalist (Sellman 1962 p 36)
Local Timeline of civil war:
1642 Aug 22nd, start of civil war
1644 Aug 20th first assault on Ilfracombe by Dodington, Ilfracombe captured Sept 14-15th, Barnstaple captured Sept 17th
1646 Feb 16th battle of Torrington, Fairfax victorious
1646 April 10th, Ilfracombe surrenders to Sheffield, April 12th Barnstaple surrenders to Fairfax, April 13th Exeter occupied by parliamentarians, end of civil war in Devon
1648-52 the second civil war
(2) Royalist Attacks on Ilfracombe
"In Anglia Rediviva it says that early May 1645 the King had a garrison at Ilfracombe; but it seems to have fallen into Fairfax's hands soon after he captured Barnstaple in 1646. Tradition points to Bloody Meadow as a battle site, at the junction of the E and W Wilder. A few years since some iron balls were disinterred there" (Slade-King 1879 p 165)
"The Royalist leader, Sir Francis Doddington, attacked Ilfracombe in August 1644, and it is conjectured that he followed the track or rough road from Exmoor through Combe Martin, which would pass under the walls of the castle on its landward side before entering the town. Sir Francis tried to seize this work but was repulsed, but he entered the town and set it on fire, actually burning 27 houses. His troopers were driven off by the townsmen and sailors after a fight in which many of the assailants were killed. At least 11 of the defenders were slain. This fight took place August 20th. When defeated Doddington probably retired the way he came. A funeral of the slain of the Ilfracombe Garrison took place on August 21st, when the following were interred: Peter Harris, John Skinner snr, Thomas Latchfield, Thomas Knight, John Estway, Robert Estway, Nathaniel Moule, John Skinner jnr, John Davies, William Davies, Flourence Abatha. This takes us up to the end of August 1644, when a complete change took place in the fortunes of the town. On September 12th Barnstaple was invested [invaded?] by Royalist forces under General Lord Goring, and we are told that Ilfracombe castle, with 20 pieces of ordnance, many barrels of gunpowder and nearly 200 arms, fell at the same time into the hands of the Royalists - surrendered, without a blow being struck, by the treachery of its commandant, whose name, however, has not been recorded. Ilfracombe Castle remained in the hands of the Royalists until April 1645, when it was stormed and taken by Colonel Sheffield." (Bowring 1931 p 57-8)
"Proceed through the lynch gate and take the path on the left bearing right round the north side of the Church. Along the narrow way to the left out of the gate, across Osbourne Road and into Church Road, known of old as Bloody Meadow. On this field Sir Richard Doddington took the town from the Parliament in May, 1644. One of the cannon balls there used is to be seen in the museum" (Wood 1957? p 13)
In 1644 Sir Francis Doddington marched to Ilfracombe from Minehead (Bourne 1968 p 83)
"At the top of Brookdale Avenue is Ravenswood Villa.....Grandfather said that the fields around were called 'Bloody Fields' because a small battle was fought there. I suppose it was between King James and Monmouth's men as it was about that time that 12 local men were killed there and their names can be seen at the Record Office at Exeter." (Wilson 1976 p 66) This is now known to be connected with the Civil War.
20th August 1644 Royalist Sir Francis Doddington attacked Parliamentarian Ilfracombe, burning 27 houses but losing many men. This was around the area now occupied by Brookdale Road and Wilder Avenue, which became known as Bloody Meadow. Doddington was unsuccessful but 3 weeks later Ilfracombe surrendered to General Goring. 20 cannon and 200 arms were handed over. Ilfracombe and its castle (built in Tudor times to protect the harbour from French pirates) was held for the king until 1656 [should be 1646] when Colonel Sheffield stormed the town (Horridge 1986)
"In the Civil War Ilfracombe had thrown in its lot with the Parliamentarians. It was then a place of some importance, and on the site of Warfield Villas, or thereabouts stood a well armed fort. In the Kingdom's Weekly Intelligencer Sept 3rd 1644, it is said 'at a town called Ilfordcombe in Devonshire, that saint-like cavalier Sir Dorrington [Sir Francis Doddington] set that town on fire, burnt 27 houses in the town, but was beaten out by the townsmen and sailors, and lost many of his men.' There is a most interesting entry found in the burial register of Holy Trinity Church, Ilfracombe, for the year 1644: August 21st: Peter Harris, John Skinner Sen., Thomas Latchford, Thomas Knight, John Estway, Robert Estway, Nathaneel Moule, John Skinner Ju., John Davis, William Davis, Flourence Abatha - Slain in fight ye 2oth day. It was, we believe, on this occasion reported in the Intelligencer, that these eleven lost their lives. Barnstaple was taken by General Goring, a distinguished officer of the King, on the 17th Sept 1644, with a party of cavalry; the garrison having been betrayed by the treachery, so says the True Informer for Sept 21-8, of the Governor of 'Melcombe' Castle. This was in all probability Ilfracombe Castle, for in the Perfect Occurrences of Parliament for the same date there is a note 'The Govenor (of Barnstaple) sent a partie of horse to Combe Castle for powder; and in Sir Edward Walkers Historical Discourses we find that 'General Goring in the interim summoned Barnstaple, and drew his Horse near that town to keep them in, who were in great streights for want of ammunition and other provisions; yet before they returned any answer, Sir Francis Dodington with his Horse fell upon Ilfercombe, a small seaport not far from Barnstaple, and took it with 20 pieces of ordnance, as many barrels of powder and nearly 200 arms'. The treacherous commandant who surrendered to the cavalier General had actually fired upon 'the partie of Horse' from Barnstaple which had come to ask his help on the previous day. The capture of the Castle at Ilfracombe by Dodington at his second attempt, greatly facilitated the success of the attack on Barnstaple, which surrendered on the 17th Sept, on the conditions proposed by the garrison, who left on their departure 50 pieces of cannon, and a considerable quantity of small arms." (Stevens 1988 p 15-16)
At the south-east end of Torrs Park Road a large triangle of ground is known as Bloody Field after a Civil War battle of 1644 (Laithwaite 1992 p 25)
1644 -Ilfracombe....was visited by a Royalist force under Sir Charles Doddington on 20th August, at that time it was a straggling street between church and harbour, and with a castle near the cove, probably built in Tudor times in fear of invasion and as a defence against pirates. Doddington tried to take the castle but was repelled, so entered the town and set fire to it, burning 27 houses. During September the Barnstaple garrison sent to Ilfracombe for ammunition, but despite having 20 guns, 20 barrels gunpowder and 200 arms, before these were released, Ilfracombe surrendered without a shot being fired and Barnstaple was forced to surrender with 900 men (Reed 1997 p 174)
"On August 20th 1644 the Royalist, Sir Francis Doddington, attacked the Parliamentarians' stronghold in Ilfracombe, burning 27 houses, but was beaten out by the townsfolk and sailors and lost many of his men. This action took place around Brookdale and Wilder Road and became known as Bloody Meadow. Within 3 weeks Ilfracombe had fallen because the Governor had Cavalier sympathies." (IMN 2000 p 4)
In June 1645 Prince Charles (later Charles II) set out from Dunster Castle to Barnstaple. He was about 15 years old (Bourne 1968 p 83)
(3) Parliamentary attacks on Ilfracombe
"So Barnstaple surrendered to Fairfax on Tuesday 14th, the town and castle, but under the agreement the great fort would surrender eight days after the signing of the treaty, the capitulation was complete by 20th April 1646..... .Ilfracombe fort had been taken by storm a few days before, as reported in The Scottish Doon, April 8-15th, no.129 ' The same letter tells us that Ilfordcombe, which the enemy still held, is taken by storme, and the governor and all his men are taken prisoners except some that are slaine.' The Mercurius Civicum of April 9-16th 1646, says 'The fort of Ilford-come was gained by storme the other day, Colonel Sheffield commanded a party, which was led by lieut.-Col. Harris. The Governor and all his men are prisoners, some slaine.' We learn from the King's Pamphlets, B.M., small 4tos, vol. Cclvii 'Several letters to the Hon. William Lenthal, Esq., Speaker & etc. ' There was no officer of the name of Harris in Fairfax's army; probably Harrison - Thomas Harrison, the fanatic, who acted afterwards in the famous historical scene of the Dismissal of the Rump Parliament; condemned and executed as a regicide after the Restoration. The President of the USA (1889) was said to be a lineal descendent of his." (Stevens 1988 p 45-6)
The President of the United states from 1889-1893 was Benjamin Harrison (Encyclopaedia Britannia Vol 22 p 669) Benjamin Harrison (1833-1901) was 23rd US President. His great-grandfather Benjamin Harrison was one of the signatories of the Declaration of Independence; his grandfather, William Henry Harrison was 9th President (Encyclopaedia Britannia 1971 Vol 11 p 128)
1647- the military forts of Ilfracombe and Barnstaple closed (Reed 1997 p 175)
(4) Ilfracombe coat of arms
There are two colour copies of Ilfracombe's coat of arms in Ilfracombe Museum (Coat of arms folder)
Letter from MG Palmer, curator Ilfracombe Museum to A Venables, Chairman IUDC, 7th September 1949 "Before the people of Ilfracombe decide to have a memorial coat-of-arms installed as a stained-glass window in Exeter cathedral it is merely a precautionary matter to know exactly the position. The Town has no legal right whatsoever to its present so-called coat-of-arms. When the deceased son of the late Mr Nathaniel Stephens designed the present symbol he had no knowledge that heraldic quarterings appertain only to families, and not to towns. I took up this matter when Cr F Caruthers Bell was Chairman of the IUDC, as you may see from the minutes. Mr Bell ascertained from the College of Heralds that Ilfracombe could be granted a true 'coat' embodying most of the present design but arranged so as to be heraldically correct. The Somerset Herald said that this might cost, I believe, one hundred guineas. Before Ilfracombe residents are asked to spend around £100 to perpetuate a conscious error, do you not think that it would be better to secure a legitimate and correct coat-of Arms? The fact that he present illogical quartering has been used for a number of years does not imply that the Town is entitled to bear them, or that they are correct. As a matter of fact I believe the town is liable to a fine and possibly heavy damages for the improper use of the Arms of private families !" (Ilfracombe Museum, Coat of arms folder)
"The three battle axes in the Town Arms of Ilfracombe are supposed to refer to the three battles (skirmishes) that took place during the Civil War. The first occurred on 20 May 1644 when king Charles' men made an unsuccessful attempt to take Ilfracombe from those who held it for the Parliamentarians. Later, on 20 August 1644, eleven people were killed in a fight in which the townsmen and sailors of Ilfracombe beat off a Royalist force at Warfield, by the Castle. The second battle, in September 1644, was at Bloody Field (roughly at the junction of the East and West Wilder streams) when the town was taken for the king by Sir Francis Doddington. Cannon balls, reputed to be from this battle, are to be found in the Museum. The third battle was at Warfields (at the top of the road now known as Castle Hill) in April 1645, when the Castle was taken by storm. Col. Sheffield commanded the party which was led by Lieut. Col. Harris. It was reported that the Governor and all of his men were either slain or taken prisoner." (Longhurst 1978 p 18,19)
Photocopy of page from book, Ilfracombe Museum (coat of arms folder), said to be from Civic Heraldry of England and Wales, by CW Scott-Giles "ILFRACOMBE Urban District Council. The U.D.C. has adopted a device consisting of a quartered shield; the first quarter black, a silver fess between three silver battle-axes erect, with red hafts, for the family of Wrey; the second silver with six single-masted ships, representing the six ships which Ilfracombe provided for Edward III's French wars; the third silver, a red engrailed cross between four black water budgets, for the family of Bourchier; and the fourth silver, three blue wavy bars and an oar lying in bend sinister, from the seal of the old Local Board of Health. The shield is flanked by two dolphins, head downwards, and beneath is the motto: Ilfracombe potens salubritate-' Ilfracombe strong for health.' The Wrey and Bourchier quarters represent the Bourchier-Wrey family, formerly Lords of the Manor.
"Ilfracombe's present coat-of-arms (which has never been registered) is best described by GW Scott-Giles in his book 'The Civic Heraldry of Towns and Cities of England and Wales' - In 1894 IUDC adopted a device consisting of a quartered shield. The first quarter, black, a silver fess between three silver battle axes erect with red hafts for the family of Wrey. The second, silver, with six single masted ships, representing the six ships which Ilfracombe provided for Edward III during the French Wars. The third, silver, a red engrailed cross between four black water budgets for the family of Bouchier. The fourth, silver, three wavy blue lines and an oar lying in bend sinister, from the old Local Board of Health Seal. The shield is flanked by two dolphins, head downwards and beneath is the motto "Ilfracombe potens salubritate" or "Ilfracombe is a healthy town to live in" (Wilson 1976 p 92)
"The three axes in the present Ilfracombe coat of arms (also on coat of arms of noted families in the district) are thought by some to signify three small battles which took place in or near the town, during the struggle between Parliament and the King." (Wilson 1976 p 66)
"War has never brought really big battles to Ilfracombe but several small ones took place, usually to gain control of the harbour. The three axes in the present Ilfracombe coat of arms (also on coat of arms of noted families in the district) are thought by some to signify three small battles which took place in or near the town, during the struggle between Parliament and the King. One was at Swinedown (Swindon Down), halfway between Ilfracombe and Barnstaple on May 24th 1664 when King Charles men unsuccessfully tried to retake Ilfracombe from the men who held it for Parliament. A second, was near the church but below it in what is now Brookland Avenue. According to the author Lyson, Ilfracombe was taken for the King by Sir Francis Doddington, Cavalier, but not at his first attempt. It is said he set the town on fire and burnt 27 houses, but was driven out by some locals and parliament men stationed there. Later he took it by storm, taking the governor and his men prisoner; some were slain. Following that the Kings forces garrisoned the town. The third battle between Parliament and King was at Warfield. We always knew the field as Warfield until houses were built there but now it is called Worth Road." (Wilson 1976 p 66)
Typed notes in Ilfracombe Museum (coat of arms folder) signed "27th March 1986 W G Stevens" "THE TOWN COAT OF ARMS. 1894 Designed by the late Dr. E.J.Slade-King, CC, were adopted by the first Ilfracombe Urban District Council in 1895 [hand-corrected 1894]. They are an adaptation of the Arms of the Bourchier Wrey family, who were at one time lords of the Manor of Ilfracombe. The Board of Governors seal, a boat paddle, was added later, but the Hand of Barony was removed by order of the Heraldry Office. Ilfracombe's motto is "Ilfracombe Patens Salubritate" meaning Ilfracombe Potent in Health; a proud boast, perhaps, but one which is fully justified. The shield is supported by two dolphins "proper", i.e. Tinsture as a fresh mackerel - eyes red. The three silver axes erect with red shafts for the family of Wrey. The six ships representing the ships provided for Edward III in 1348. Three sea waves (wavy) Tincture blue, with silver oar lying in bend sinister i.e. from right to left facing. Four water budgets, for the family of Bourchier. Representing the bags in which water was stored and carried across the desert in the time of the Crusades."
"Ilfracombe Potens Salubritate - Ilfracombe Strong for Health. The coat of Arms, adopted in 1894, incorporates the family arms of the Bourchier Wreys, the Lords of the Manor, with dolphins, battle-axes and water containers, symbolising the water they carried on the Crusades. The six ships signify the ones Ilfracombe provided for the siege of Calais, and the waves and oar represent the Local Board of Health, which became the Urban District Council" Caption to picture of Ilfracombe coat of arms, shown above (Pullen & Harding 2003 p 2)
(5) Thomas Bushell & Lundy
Thomas Bushell was born in 1594 in Gloucestershire. At the age of 15 he met Sir Francis Bacon, Lord Chancellor, and enjoyed the privileges of an adopted son. He may have studied at Balliol College Oxford. When Bacon fell from high office Bushell retreated to the Isle of Wight where he lived as a fisherman, but returned to Bacon's household 2-3 years before Bacon died in 1626. Bushell then went to the Calf of Man, a rocky islet off the south of the Isle of Man, where he lived in spartan conditions for three years. He returned to the mainland and became involved in a variety of commercial interests, including silk and soap. In 1636 he constructed the Cisterns around a rock of geological interest at his country estate Enstone near Oxford and a palatial residence and on 23rd August 1636 welcomed King Charles I and his Queen Henrietta, who commanded that the Rock be called Henrietta Rock. (Boundry pp 15-16) The drawing above of Bushell is from Boundry p 8.
In 1636 Bushell became interested in the Mynes Royal in Wales. When the leaseholder died Bushell applied for the lease, proposing to reorganise the mines by constructing a series of adits to provide drainage. Charles I readily agreed and within a few months he was employing several hundred people and had improved production of silver ore. He made an application to mint coins at Aberystwyth Castle which was resisted by Tower Mint but he managed to obtain approval of Charles I on condition that he meet all the costs. He worked the Royal Mynes from 1637 for about 9 years until they were seized by Parliament towards the end of the Civil War. (Boundry pp 17-19)
Bushell learnt the principles of mining from Lord Chancellor Bacon and in 1936-7 managed to acquire the 'Mines Royal' in Wales; and in 1637 Charles I granted permission to open a mint at Aberystwyth castle. (Langham 1960 p 38)
On 28th September 1642 Thomas Bushell joined Charles I at Shrewsbury to turn silver plate into coinage for the Royalist cause. After the battle of Edgehill the Mint was moved to Oxford 3rd January 1643. On 10th January the Colleges and local gentry were ordered to surrender their plate which was coined and marked with the Welsh plume. Later that year Bushell moved to Bristol and coins struck there were stamped 'BR', where he stayed for approximately two years. (Boundry pp 19-20)
"At the commencement of the war Bushell was summoned to Shrewsbury to take charge of the royal coinage. With the fluctuating fortunes of the struggle he shifted his base to Bristol in 1643, and later further west to the North Devon area" (Stuckey 1965 p 8)
Charles I appoints Thomas Bushell as governor of Lundy, probably to try and prevent piracy. (Loyd 1925 p 121) From the above quote by Boundry, this was probably c1645.
By the outbreak of civil war Bushell was in charge of the garrison on Lundy. He refortified the castle using guns recovered from a shipwreck in Bude bay and built several coastal fortifications of which Brazen Ward is the best example. Bushell remained in Lundy long after the rest of the country had capitulated and continued to mint coins for the king. Lundy was the last Royalist outpost to fall and his occupation there was a political embarrassment (Langham 1960 p 38)
By 1642 Thomas Bushell leased Cardiganshire and Combe Martin mines from the king. He was probably responsible for driving the deep adit at Combe Martin. Cardiganshire mines were abandoned but not before they had used their produce to fund the kings cause. By 1645 he was established with a small garrison at Lundy and supervised activity from there. He was forced to surrender Lundy to Parliament in 1647 and moved the garrison members to Combe Martin. It has in the past been suggested that he established a mint at Combe Martin, and several coins have been attributed to it, but that suggestion is now questioned - if there was a mint it cannot have used Combe Martin silver for that was not yet in production. He was later obliged to go into hiding. (Claughton 1992)
1640's- "Thomas Bushell, mining entrepreneur, drives deep adit under old mine workings? Royal Mint established in Combe Martin during civil war?" (Combe Martin Silver Mine Research Preservation Society newsletter issue 2, spring 2002 p 7)
"Suggestive of Bushell's work the whole district [of Combe Martin] is full of adits and shafts, many of considerable length. They pass under the main street running down to the brook, and one passage now used for drainage [the Great Adit] is said to be large enough for a vehicle to pass through" (Boundry p 22)
"There are various catalogues and reference works that attribute the minting of coins to Lundy, Barnstaple, Appledore and Combe Martin during the Civil War. Lundy coins are marked with a plume, Barnstaple coins 'B', Appledore 'A' and Combe Martin with the Crown. (Boundry pp 12-13) Henry Symonds, in Devon & Cornwall Notes & Queries Vol. XII Part V January 1923, contends that Lundy was not used as a mint but this writer does not agree" (Boundry p 14) A Combe Martin half-crown from p 14 is shown above
"Coins in denominations of half-crown, shilling, sixpence, groat, three-pence, half groat and penny were minted at Combe Martin, Barnstaple and Appledore, and on Lundy Island....There has been discussion among numismatists about the attribution of these coins but it is now generally accepted that this has been authenticated, and examples of the coins are rather rare and expensive" (Stuckey 1965 p 8) An example of a Combe Martin coin, shown above, is given on p 11.
In February 1645 a claim was made to Lundy by Lord Saye and Sele, who claimed inheritance, but it was probably more political. On February 19th Bushell replied that he wished to retain the island on account of its closeness to his combmartin silver mines. (Loyd 1925 p 122)
Feb 16th 1646 Bushell received another letter from Lord Saye & Sele demanding his inheritance and at the same time offering to buy Lundy for £3000; this demand was not complied with and a summons to surrender was sent by Parliament on April 10th. Bushell sent the summons to King Charles, with the following letter:-
May it please your majesty,
The enclosed I received from my Lord Say's servant, who is governor of Swanzey, which I conceive was sent by his Lordship's direction, wherein he invites me to the surrender of this isle, being his Lordships known purchase; in the perusal of which I was not at all startled at the threats therein, but must confess myself moved at the obligation it minds me of, with which I formerly acquainted your majesty in the presence of the lord of Dorset, since which Captain Crowther, Vice-Admiral of these seas, summoned me to surrender this place. And not long after Sir Thomas Fairfax sent a drummer with his letter and an order from the Committee of both Kingdoms, wherein they proposed their assistance in restoring me to my interest in the silver mines if that I would deliver up this Island to my Lord Say. Your majesty well knoweth how I have maintained Lundy at no other contribution but my own, and how cheerfully I have exposed my friends and my own credit for your service, as well as exhausted them in the discovery of the mines royall; besides the place in itself is useless except in some advantages it will yield to me. If your sacred majesty would be pleased to vouchsafe me leave to express my gratitude to my Lord Say by my quiet and free surrendering it, which I hope your goodness will not deny me, but if otherwise your majesty shall require my longer stay here, be confident, Sir, I shall sacrifice both life and fortune before the loyalty of, Your obedient, humble servant (14th May 1646) - this was replied by:-
Bushell, We have perused your letter in which we finde thy care to answer thy trust we at first reposed in thee. Now, since the place is unconsiderable in itself, and yet may be of great advantages unto you in respect of your mines, we do hereby give you leave to use your discretion in it with this caution, that you do take example from ourselves, and be not over credulous of vain promises, which hath made us great only in our sufferings, and will not discharge our debts'. (14th July 1646) (Loyd 1925 p 23-124)
"Bushell's outstanding debts, which were large, were worrying him a good deal more than the prospects of parliamentary vengeance. Before he would yield he must have 100 tons of his own lead and 100 tons of potters' ore "to be brought from his mines in Wales to Bydeford, the better discharge of his debts in Devon, and recovering the deserted works of his mines at Commartyn...with such privileges for his miners...as the Laws of other Nations allow in like cases." " (Stuckey 1965 p 9-10)
February 24th 1647 Bushell surrendered Lundy to the Honourable Richard Fiennes, a relative of Lord Saye and Sele, who wrote to Sir Thomas Fairfax:-
May it please your Excellency,
To be informed that according to your commands and Mr Bushell's promise, both me and my soldiers met him at the kay of Clovelly, being the place appointed and the nearest harbour to take shipping for Lundy, where we were forced to stay 15 days for a winde before we could arrive into the road of Lundy; and his Lieutenant having noticed that it was us, by their Governor, Mr Bushell, shooting off a pistol, gave us at our landing a salutation with all his guns, and a volley of shot, as an entertainment of friendship and free welcome, which made me so confident of his former professed fidelity in surrendering the same, that both myself and my men marched thro' his guard into the castle, commanding his own men to remain in another house, lest the ignorance of some men on both sides might beget a difference through exchange of language and misunderstanding of the truth; but so soone as they had understood the kings consent for the surrender to the right owner, and the conditions made on their behalf by their Governor Mr Bushell, with your Excellency and my Lord, the morning tide following they took shipping for Ilford Combe, where he purposeth to employ them in his chargeable adventures of recovering the distressed work of Commartin Myne and his other minerals in Wales. The garrison thus being freely surrendered, with all things thereunto belonging, for ammunition of guns and household stuffe, according to his engagement upon the word of a gentlemen; but being demanded of his Lieutenant, Mr Richard Cock, what store of provision was left on the island, he replyed, with a deep protestation, that for six months before Mr Bushell went over to treat with your Excellency, according to your letter sent by your drummer, they nor their governor had not eaten a bit of bread in six months, nor scarce drunk a barrel of bear in two years, alleging the occasion was the Governors known losses by land and sea, which caused divers of the soldiers to decline the service upon his proposal of eating horse-flesh, and made the hearts of those that staied more willinger to endure all kindness, to obey his commands without trespassing of any by land or sea, were it to the loss of their lives; this integrity of theirs, and the honesty of their governor, as also his publique employment in minerals for the common good being confirmed by the country, makes me humbly present there names here-under written, as officers and soldiers of the last garrison, and men that have done the least of injuries, notwithstanding their sad condition, which I wish for the president of others, they may be looked upon as the best of enemies that have conditions from the honourable parliament of your Excellency, I remain, your devoted servant Richard Fiennes
Thomas Bushell, Esq, Governor; Richard Cock, Lieut Governor; Capt. Edward Owen; Major Richard Pomeroy; Lieut. Oliver Buck; Richard Kynsam; William Gilbert, John Scott, Richard Harris (3 gunners); richard Harris; Wm Matheage; Thomas Brailey; henry botten; James Bowden; Samuel Shortridge; Jo. Wheeler; T Thorn; William Skinner; Daniel Hange; George Gibbes; Francis Hobbes; Richard Ching." (Loyd 1925 p 124-126)
1647- 10th July, Parliament gave Bushell and his soldiers a full pardon and ordered that his lands and mines be restored to him. (Loyd 1925 p 127)
In 1646-7 the Combe Martin mines were flooded in winter. In 1650? Bushell engineers dug the deep adit from 'east of church' to 'pack of cards' (Combe Martin Silver Mine Research Preservation Society autumn 2000 inside back cover)
In 1648, in captivity in the Isle of Wight, Charles I writes in response to an appeal from Bushell to Lewis Incledon at Braunton:
"Trusty and welbeloved - We greet you well - We have Received a faire Character of your Affections to our Welbeloved Servant Thomas Bushell Esq. and of your servicable endeavours for advancing his further discovery of the Mynes att Cummartin in order to the publigz Good, and having had a sight of the Oare, which we concieve lyes there in vast proportions according to the Testimony of Antient Records in that behalfe. We have thought fitt, not only to let you know that We shall esteem an acceptable service, if by pursuance of your first principles you add to his encouragements, but also by any Act of Grace that may reward you or your posterity readily make good the same - Soe not doubting your Cheerful Compliance with him in all things tending to the advancement of soe good a Worke, We bid you farewell - Given under our Sign Manuell at Our Court at newport in ye Isle of Wight, this 26th day of october in ye 24th year of our Reign 1648" (Stuckey 1965 p 10)
In August 1660 Thomas Bushell petitioned the government to restore to him the rectory of Euston, which had been taken from him by G Clark, who, with others, had apprehended him as a traitor and forced him to live for 3 years in seclusion from all but one person who gave him food. On Nov 18th his petition was supported by Sir William Parkhouse, who sent a certificate to the Lord Treasurer testifying to Bushell's services during the war and adding that in 1642 he discovered a rich mine, and brought 1000 miners at his expense, and that he was at great charge in maintaining a garrison on Lundy. (Loyd 1925 p 127-128)
In 1660 Bushell petitioned the king, amongst other things, for reimbursement of the money he spent fortifying the island 'I was at great charge of maintaining Lundy garrison and building the Castle, which amounted to £5,570', his claim was supported by John Grenville who said 'touchng my knowledge of his services and deportment in the time he commanded the isle of Lundy...never person behaved himself more like a gent...for he not only built the Castle from the ground at his own charge fit for any noble person to inhabit, but also...recovered several great guns whereby he defended the isle against all invasion, it being attempted to have been stormed with twenty saile of ships at one time'. Bushell died in 1674, aged 80, and was buried in Westminster Abbey (Langham 1960 p 40-41)
In 1668, at the age of 73, he [Bushell] was still proposing to 'dreyn the drowned works at Mendipp in Somerset; to pursue the Combe Martyn Mines in Devon; to recover lost works in Cornwall; to reopen the old works in Cardiganshire; to cut the Severn into the Thames, thereby to transport at low charges timber, corn, quarry stone and other commodities to the City of London'. When he died in 1674 he was said to be £120,000 in debt (Boundry pp 30-31)
"When he was 73 he was still appealing for funds to re-open the Western workings; he intended to spend £500 a year on each of the following projects:
1. "To dreyn the Drowned Works at Mendipp in Somerset"
2. "To recover the lost works at St Anns in Cornwall"
3. "To pursue Comb-Martyn Mine in Devon"
4. "To put on the old works in Cardiganshire"
5. "To cut through the Becon-Hill of Hingston-Downe in Cornwall.." (Stuckey 1965 p 10-11)