Introduction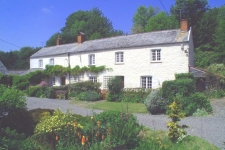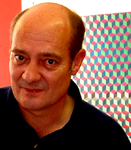 MIDDLE AGES
1154 to 1485
There is no reference to Lundy in the Doomsday survey and it was probably still in the possession of a Welsh freeman at the time of the Norman Conquest. In 1154 it was given by Henry II to the Knights Templar, but the occupying Marisco family refused to leave. By the turn of the century their piracy had become a nuisance. William Marisco was caught and executed in 1242 and the following year Henry III ordered a Royal castle to be built on Lundy, now known (perhaps wrongly) as Marisco Castle (1).
By about 1160 the Manor of Ilfracombe, still held by the Baron of Okehampton, had been divided into two. The original west or Ilfracombe Manor (which by then also included Hele) was granted to Lady Riose, wife of Sir Henry Champernon, and the east or Royal Manor, the harbour area, was granted to Henri de Tracy, Baron of Barnstaple. Perhaps this reflects the growing importance of Ilfracombe as a port. The Champernon's probably built Chambercombe Manor (2).
Ilfracombe's Holy Trinity Church was built in stone in 1208, replacing an earlier timber church and utilising a Saxon stone lookout tower. It was enlarged soon after 1321 and it is thought that St. Nicholas' Chapel on Lantern Hill was built at the same time. In Bishop Lacy's register of 1439 there were several other licensed places of worship in Ilfracombe: St Mary's (now demolished); chapels at West and East Haggington and an oratory at Chambercombe, although they had probably all been in existence earlier. There are a couple of possible chapels near Laston house; one beside a grotto in the grounds (said to have been a leper colony) and the other, a small tower, next to the Thatched Inn (3).
Ilfracombe harbour continued to grow in importance and fleets were assembled there to cross to Ireland by King John and Henry III. Ilfracombe was ordered to provide a ship against Robert de Brus by Edward II. In 1344 it was one of only 44 English ports to send representatives to the Council of Shipping and in 1346 Edward III famously required 6 vessels and nearly a hundred men for the invasion of France; whereas Liverpool only had to provide one vessel and five men (4). These six vessels are commemorated on Ilfracombe's coat of Arms (see the Civil War).
Another contribution to the growing prosperity of the region were the valuable mineral deposits; the first written reference to mines in Combe Martin is from 1198, and nearly four tons of silver-lead ore were smelted in 1292. The first written record of a gold mine in the UK, from 1262, was probably also in the area. Its location is unknown, but it was called la Hole, possibly referring to Hole Farm, just to the east of Hele. Early mines were often beside the beach, where the rock is accessible, and on Rillage Point, about 1½ kilometres from Hole Farm, are what appear to be ancient workings that could be the site of La Hole mine (5).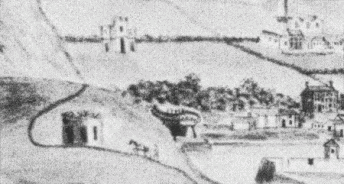 Ilfracombe and Combe Martin were both permitted to hold markets; Combe Martin by 1265 and Ilfracombe by 1278. There is reference to a Hall in Combe Martin in 1316 and in 1326 it's owner is said to have drowned by accident in the moat. There was possibly a castle at Watermouth, under the present 19th century castle, but no record of it has survived. In 1418 Ilfracombe was granted the right to raise money for 'a new stone tower on either side of the port there and to enclose the town with stone walls and high towers'. Nothing now remains of 'Ilfracombe Castle', but several local names; Castle Hill, Castle Terrace and Warfield, preserve its memory (6).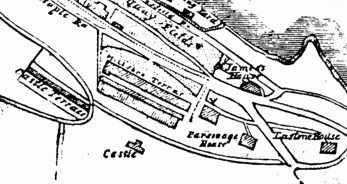 A battlemented 'castle' is shown above the harbour in this detail of a painting from 1805 (above left). The castle is marked on a map of Ilfracombe by W Stewart, published in the late 19th century, where it is shown above Highfield Road (right). Before the 18th century, this was the main road from Combe Martin and it would make sense to build a castle here; but it does seem a long way from the harbour. Many have since suggested that the castle was further down the hill, around Castle House or the Cliffe Hydro.
However, old photographs from around the 1900's, found in Ilfracombe Museum (left and below right), show the castle roughly where it is shown on Mr Stewart's map. In both photographs the terrace leaving the right hand side of the picture is Castle Terrace. In the left photograph the castle, at the top left, looks like a round tower, but in the right photograph, it looks more like the facade of a building with three segments; rather like in the painting above (6).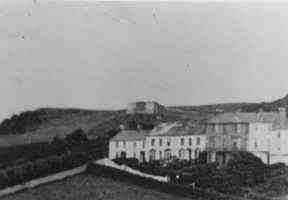 Chambercombe and the Borough Manor of Ilfracombe remained in the hands of the Champernon family until the mid 14th century, when there were no male heirs. It passed by marriage to William Polglass and again to Sir John Herle, who died without issue. In 1435 Sir William Bonevyle inherited or bought the Manor and when he died in 1462 he left it to his daughter, Cecily, who married Sir Thomas Grey (7).
---
(1) Lundy, Marisco castle
Marish, pirate of Lundy, being captured and hanged in 1242, orders were sent to convey his galley to Ilfracombe. (Slade-King 1879 p 162)
In 1154 the Lord of Lundy was Sir Jordan de Marisco, but early in the reign of Henry II Lundy was forfeit and granted to the Knights Templar. This grant appears to have never taken effect because in 1199, in the first year of King John, Sir William de Marisco rose in rebellion and the grant to the Templars was confirmed. This too must have failed for in 1213 they received from the treasury £10 compensation, and in 1220 100s in full and final recompense. (Loyd 1925 p 100-101)
Lundy is mentioned in the Orkneyingers Saga (1139-48) as being then in possession of a Welsh freeman. The Norman's probably didn't arrive in Lundy until later - it is not mentioned in Domesday (Langham 1960 p 11-12).
In 1154 King Henry II granted Lundy to the Knights Templar but the Marisco's didn't relinquish it for in 1194 and 1195 William Marisco was fined 300 marks for having custody of the 'Isle of Ely'. (Langham 1960 p16)
Henry III in 1222 allowed William de Marisco to move stone throwing machines (mangonels) to Lundy from Camley (Langham 1960 p 18)
"In 1255 [should be 1235?] William was suspected of murdering Henry Clement and fled to Lundy where he turned to piracy. In 1238 there was an attempt on the King's life by an confessed agent of William. In January 1242 Walter de Bathonia, Sheriff of Devon, was ordered to keep the coast of Devon clear of the King's enemies staying in the island of Lunday. On 7th February a final order for William's capture was made and in May, William Bardolf, a Norfolk Baron, landed on Lundy with 13 armed men and took William and his follower's prisoner. William was executed on July 25th 1242 'being first dragged from Westminster to the Tower and thence to the....gibbet, where he had there breathed out his wretched soul, he was suspended on a hook, and when stiff in death was lowered, disembowelled, his bowels burnt on the spot, and his wretched body divided into quarters which were sent to the four principal cities in the kingdom'". (Langham 1960 p 20-21)
On 23rd June 1242 the King set about providing a garrison for Lundy, an order was issued 'to Henri de Traci £100 to carry to the sheriff of Devon for the living of the knights, sergeants and mariners appointed to keep the island of Lunday for the King'. On the same day, the sheriff of Devon was ordered to 'tow to Aufrincumb the unfinished galley which William de Marisco began to make in the said island and there to finish it so that it may be ready to be fitted out when the King shall order, the cost to be credited by the view and testimony of lawful men'. The sheriff was further ordered 'that he should go, together with Henry de Tracy and Galfridus de Dynan to the isle of Lunday and on the advice of these same people and of William de Rummare, the Constable of the said island, should see that the wages of those who will delay in guardianship of the island can be measured until William de Cantilupe is able to come to that place and arrange more fully about the guardianship of the said island'. In July an order was sent to the bailiffs at Bristol to provide a ship in which William de Cantilupe and his party would sail from there to Lundy. In November an order was sent to repair 'the Kings buildings in the island so that the King's Knights and Sergeants keeping it in winter can dwell there safely' (Langham 1960 p 25-26)
In February 1243 the sheriff of Devon was ordered to 'take with him a man skilful, faithful and discreet in mason's work to the island of Lunday, and by his counsel and that of the Constable there choose a suitable site for a good tower with a bailey wall, to be fortified by good lime and stone; and to begin and continue the work by the counsel of the Constable, out of the issue of the sale of rabbits...till the tower is finished' (Langham 1960 p 26) in 1244 an order was sent to sheriff of Devon to 'send to London all skins of rabbits taken in the island of Lunday which are in his keeping for delivering in the warderobe of Roger the Tailor, saving to the church of the island the tithes arising therefrom' (Langham 1960 p 55)
"It is now known that the so-called Marisco Castle on Lundy was built by Henry III in 1243." (Grinsell 1970 p 133)
In 1201, Alan, lord of Hartland, received permission to fortify his north Devon home against pirates based on Lundy. In 1242 a royal castle was established on Lundy (Higham, RA 1999 Castles, fortified houses and fortified towns in the middle ages in Kain & Ravenhill 1999 p 141)
(2) Chambercombe, Ilfracombe Manor splits
When Ilfracombe manor was split into two, the royal manor was probably near the quay (and old castle) and the west manor was probably on the site of the current vicarage (Wilson 1976 p 88)
In 1160 the land around Ilfracombe was split into two, The Royal Manor, granted to Henri de Tracy, Baron of Bardestaple, included the pier, harbour and the east of Ilfracombe; Alfreincoma Manor, around St Brannocks Road area, was granted to lady Riose, wife of Sir Henri Champernowne (IMN 2000 p 2)
1162 - Sir Henri Champernowne has Chambercombe Manor (IMN 2000 p 2)
By 1166 Lincombe, Ilfracombe and Haggington were in hand to Robert Fitzroy, Baron of Okehampton, he sublet to Henry Chambernowne (who may have arrived in Britain in the train of the Bishop of Coutance, and may have been rewarded with grants of land given to the Bishop). (Lamplugh 1984)
"The family appears to have come across with William of Normandy. Although the earliest record directly linking the Manor and the family dates from 1162, when it was in the possession of one Sir Henry Champernon, who was Lord of the Manor of Ilfracombe, there is mention of a Robert Champernon soon after the Norman conquest and the Manor itself is mentioned in the Domesday Book. Whether Robert Champernon simply found a valley he liked, or whether he took over an existing Saxon manor is, perhaps, a question which would repay study." (Wheeler p 1)
(3) Chapels
1208 - a new stone church has been built [in Ilfracombe] to replace the Saxon one built of timber (IMN 2000 p 2)
The earliest reference to a chapel on Lundy is 1244, and again in 1325. Risdon called it St Hellia's and Hoskins thought that it was used as a place of worship as recently as 1747. In 1925, Lloyd describes the ruins as 25'7" by 12'9". The remains were used to build a cairn and nothing remains today of St Helen's chapel. Sited on an early Christian site. Lloyd & Chanter refer to a side oratory called St Anne's but its existence is conjectural. (Coulter 1993 p 48-9)
St Nicholas Chapel in Ilfracombe is first mentioned in Bishop Stafford's register in 1416 when Hugh Herle, recently instituted Rector of Ilfracombe, was licensed to celebrate mass at St Nicholas' and St Wardreda at Lee. It is known that following the visit of Bishop Stapleton to Ilfracombe in 1321 the parish church was enlarged and it is possible that St Nicholas' chapel may date from this time. In 1419 Bishop Lacy granted an indulgence of 40 days to all penitents who made a pilgrimage there. The building is 31'x13' and is the only surviving beacon chapel in the region, having for centuries served as both chapel and lighthouse. The first reference to the beacon is in the C16th. Allan T Hussell surveyed the building and suggested that the light was originally housed in a tower - there is a model at Ilfracombe museum and some drawings (Coulter 1993 p 42-3)
"In November 1321 Walter Stapleton, Bishop of Exeter, visited Ilfradiscombe and declared the size of Holy Trinity Church was inadequate for the needs of the congregation, as the population had been rising quite quickly; he declared that the nave and aisles should be extended by 24 feet. The parishioners made the church a great deal larger and completed it within the 2 year limit demanded by the Bishop. If they had failed there would have been a penalty of £40 (a large sum by today's standards). It is thought that they almost completely rebuilt it so that the present church of Holy Trinity is basically of early 14th century." (IMN 2000 p 2)
"St. Petrock's Church, Parracombe, is probably the oldest Church in North Devon. St. Petrock came from South Wales in 520. Between that date and 530 he built a church of cob, wattle and thatch. The first stone church was built by William Falleise, a relative of William the Conqueror. The present Church, which consists of nave, chancel, south aisle, south porch and tower, was completed in the 15th century, but the tower dates from 1180, and there are traces of the 10th century building. The chancel was erected in 1250 by St. Albyn. RUSKIN'S PROTEST. St. Petrock's Church is only used twice a year, for there is a church, built over 50 years ago, nearer the village. In 1879, when a suggestion was made to pull down the. old church, John Ruskin protested against its destruction, and sent £10 towards its renovation. Some of the seats and the screen are very old." (Slee 1935 p 68)
Thomas Horlock, rector of Charles, licensed to celebrate divine service in the chapel of St Petrock in Charles. There is a local tradition that St Petrock founded a church here after founding one in Parracombe in c6th. St Petrocks cottage is supposed to contain a study with a domed roof and St Petrocks well is beneath a slab, and this is also the traditional site of the chapel. (Coulter 1993 p 30)
"The sole remaining relic of all the ancient chapels of Braunton, St Michaels is an imposing ruin on the summit of Chapel Hill overlooking the village below. There is no known record of its foundation date or dedication, but there is mention of the granting of an indulgence for pilgrims 'to St Michaels chapel at Braunton' dated 4th July 1435 (Lacy Reg. DCRS vol1 p300). This reference apart, its history is enshrined more in legend and folklore than in recorded fact. There is even some question about its dedication to St Michael, as Lysons refers to it as the chapel of St Sylvester, and both Chanter (JF Chanter, the church of St Brannock, Braunton, Exeter 1934 p 9) and Hussell (A T Hussell, North Devon Churches, Barnstaple 1909 p 30-31) mention a tradition that it may have been the site of St Brannocks original chapel. There is a charming legend surrounding this, according to which, on the day following St Brannocks first completion of the hill-top chapel, the roof was found to have been blown off during the night. It was replaced, and the next night, the same thing happened again and on several succeeding nights. At this point, St Brannock heard a voice from heaven telling him to build his church in the valley below, at a spot which would be revealed by the presence of a sow with her litter. This he did, and the Parish Church, which bears his name, still has the representation of the sow and litter in one of the carved roof bosses." (Coulter 1993 p25)
"St Wardreda's in Lee (Chapel cottage is the traditional site of this); Holy Trinity at Higher Warcombe (SS477458); St Mary's Ilfracombe, West Haggington and East Haggington, Holy Trinity Ilfracombe and an oratory at Chambercombe were all licensed for divine worship in Bishop Lacy's register of 1439 though most likely they had been in existence earlier." (Coulter 1993 p 44)
(4) Ilfracombe as a port
In 1208 Ships were ordered to Ilfracombe to transport troops to Ireland. (Slade-King 1879 p 162)
In 1208 King John assembled a fleet in Aufredycom to cross to Ireland (IMN 2000 p 2, also Lamplugh 1984)
In 1246 Henry III assembled a fleet in Hilfardiscumbe to cross to Ireland (IMN 2000 p 2, also Horridge 1986)
1302 - Edward I orders Ilfvercombe & Bardestaple together to supply one ship for war against the Scots (IMN 2000 p 2, also Lamplugh 1984)
1311 - Edward II orders Ilfridecombe with Briggwauter and Bardestaple to provide 3 ships against Robert the Bruce (IMN 2000 p 2) also Ilfardcumme (Lamplugh 1984)
1312 -"Ilfard cumme with Brigge water and Barde staple were ordered to provide 3 ships in aid for the King's service against Robert de Brus" (Boyle & Payne 1952 p 202)
1344 - Ilfracombe is one of 44 ports sending representatives to the Council of Shipping (Slade-King 1879 p 163)
1346 - Ilfracombe furnished king Edward III with 82 sailors and six ships for an expedition against France (Slade-King 1879 p 163)
"In any book dealing with Ilfracombe in the past centuries there is always one fact that is kept to the front as showing the importance of the town in the C14th. It is that this port in 1346, when the Kingdom was required by Edward III to furnish ships and seamen for the invasion of France, contributed 6 vessels and nearly 100 men, while Liverpool was only required to furnish one vessel and five men. It is inferred from this that the town was of considerable importance at that time, and that the shipbuilding industry here was flourishing." (Bowring 1931 p 37-8)
"In 1346 six ships and 96 mariners went from Ilfracombe to join the fleet of 700 ships with which Edward III besieged Calais" (Boyle & Payne 1952 p 202)
"In 1346 Edward III ordered sea ports, according to their size, to send men and vessels to aid his invasion of France. Representatives from the towns were required to go to London to discuss the demands. Liverpool was to send one vessel and five men. Ilfracombe had to send 6 vessels and 82 mariners for the siege of Calais. The king planned to assemble 750 ships and 15,000 men in total." (IMN 2000 p 2)
(5) Mining
"Combmartin...a place noted for yielding the best hemp in all this country, and that in great abundance; but, in former times, famous for mines of tin; and (that which is better merchandise) silver, hath been there found since our remembrance, though Cicero denieth there is any in Great Britain. These silver mines were first found in the 22nd year of king Edward I; at which time were taken up in the wapentakes of the peak, in Derbyshire, 337 men, and brought hither to work in these mines. Afterwards, in the reign of king Edward III, they yielded the king great profit towards the maintenance of his French wars, as appeareth upon record." (Risdon 1630 p 348)
"In medieval times Devon was the most important area of gold production in England [an accompanying map marks Combe Martin]. The earliest legal reference to gold is in a writ of 1263 by which the Sheriff is required not to allow gold and copper mines to be occupied until the King shall give orders." 300-400 miners were employed in Combe martin during Edward I (1272-1307) and Edward III (1327-1377) (Collins 1975)
"Earliest records are from the time of Edward I when we hear of 337 miners being brought from Derbyshire to work at Combe Martin....work was primitive and hard, and before the adoption of horizontal drainage adits the Devon mines were generally closed in winter by water. Ore was broken up by hammer (no mechanical stamps were used until the 16th century), washed in troughs by women, then smelted in a "bole", a rough stone erection like a limekiln with an opening at the top for a chimney and a vent at the base for draught. Slag hearths resembling blacksmiths' forges were also used. "Bolers" or furnacemen were paid 12d to 16d per week. Once the lead was cast into pigs and stamped it was handed over to the Wardens or overseers of the mine. The silver was finally extracted by melting on an open hearth causing the lead to be oxidised and absorbed in the porous body of the hearth" (Stuckey 1965 p 5-6)
"This was a period of boom. In 1295 additional labour was recruited from Cheshire, Shropshire, Gloucester, Somerset and Dorset; in 1297 miners came in from the Peak ("Peak" became a common surname in the village) and from Wales. Between 1290 and 1340 £4,046 of silver and £360 of lead was obtained and in 1299 the mines were leased to the Friscobaldi, Italian merchants and money-lenders. From Edward I forward, the mines were worked intermittently under Henry IV, "but most chiefly his son King Henry V for the better maintenance of his wars in France", according to Westcote. About 1490 in the reign of Henry VII the Combe Martin mines "being then boothe deepe, and almost worn out, ceased". Although the mines were then abandoned, Henry VIII reserved the gold and silver mines when he sold the manor and borough of Combe Martin to Richard Pollard in 1537. They then lay dormant for 50 years" (Stuckey 1995 p 6)
1292 - First mention of old Combmartin mine. This is where the main silver/lead lode or vein reaches the surface parallel to the main street (on east side). This is now mostly obliterated. In 1292 4 tons of lead were extracted. Lead was extracted by smelting on site and then 'pigs' taken to Maristow (south Devon near Plymouth) where the silver was refined. The mines of this early period would be shallow. Taking advantage of the outcrop of the vein it would initially be worked as a surface trench, but shaft working was employed in silver-lead mines at an early date, adits are known in Devon mines in 1297. With the richest shallow deposits the vein would be worked out right to the surface, leaving a narrow deep trench, or gunnis, supported at intervals by unworked sections of vein. Such was the position on the old Combe martin lode, east of the church, when it was reopened in the C19th. It has not been possible to identify the medieval mines or smelting works but the ore was probably converted to 'pigs' for packhorse transportation on site. Silver is extracted by cupellation whereby lead was heated with air and most turned to litharage (lead oxide) removed by absorption with ash, the residue was predominantly silver which went to London for further refining. (Claughton 1992).
1296 - During reign of Edward I, 360 miners brought from the peak district and Wales to rework the silver mines at Combe Martin - thereby implying they had been worked earlier. They continued being worked until 1530 (Grinsell 1970 p 130)
1338 - start of 100 years war with France. "The battles of Potiers, Crecy and Agincourt were won in the shafts of Comb Martin" King Henry V - (Combe Martin Silver Mine Research Preservation Society newsletter Issue 2, spring 2002 p 24) 'The battles of Crecy, Potiers and Agincourt (1415) were won in the shafts of Combe Martin" (Combe Martin Silver Mine Research Preservation Society newsletter issue 2, spring 2002 p 7)
"In 2002...a further 2x1m excavation on the west edge of Christmas Cottage revealed similar results to the eastern excavation. ..commencement of slag in early 16th century contexts, reaching a peak at the beginning of the 17th century and tailing off towards the middle of that century.....a 2x1m excavation was commenced in the garden of the former Middleton farm (the property of Dr Margaret Eames), the possible site of a water-powered smelt-mill. ...Probably one of the most important aspects of the Dr Eames excavation was the discovery of a hammer-stone, which has been authenticated by RAM Museum Exeter. Also slag was discovered in contexts at 2.5m depth in association with Saxo-Norman pottery sherds. If this association is confirmed in further excavations, it will push the date for smelting in the village back much earlier than documentary evidence indicates. The importance of the smelting has been confirmed by the discovery of a shard of 13th century southwest France Santonge polychrome pottery, probably associated with the first Cluniac priory established in Barnstaple I 1072. The Cluniac order held lands in Combe Martin, and was responsible for Combe Martin and Berrynarbor churches after the Conquest." (T Dunkerley Archaeology in Combe Martin, North Devon Archaeological Society Issue 5 Spring 2003 p 13)
"..the first written documentation that mentions mines at Combmartin, was brought to my attention by Trevor Dunkerley. It is a Fleet of Fines of 1198 between King Richard the first and William Martin. This document lays before us the lands at Combmartin that the king gave to William. The various farms are listed togethether with all the appurtances in woods, in plain, in feeding, in seas, in waters, in meadows, in mines, in ways, in paths, in ponds, in mills, and of common pasture in the manor of Combe. It is probable at about this time that the valley acquired its second title, that of Martins." (Combe Martin Silver Mine Research Preservation Society newsletter 2008 Vol 7 No 2 p 9)
Harris' mine in Combe Martin may be the site of the old medieval Combe martin mines. For several years, the CMSMRPS (Combe Martin Silver Mine Research & Preservation Society) have been clearing Harris' shaft, a Victorian shaft which cuts through earlier workings inclined at about 45 degrees which probably came to the surface in the field east of Harris'. These inclined workings date from before gunpowder was used (1640) and were dug as a series of large 'steps', each about 4-6' high, so that with one person on each step, material could be carried from the bottom to the surface. The surface of the shaft is covered with unusual coloured mineralisation (Personal visit to the mine in 2000). It was thought that this old working may be the Elizabethan Fayes mine, but in 2008 the mine was visited by some specialists from Germany (where there are a lot of early mines) who pointed out several "mining techniques that were proved to have stopped before 1200" (CMSMRPS 2008 Vol 7 No 2 p 3).
"Copper/silver/gold workings at La Hole, Co. Devon 1262-4
Chronological list of refs from calendars, all of Henry III
1262, 8th Nov. Letter from the king to the sheriff of Devon stating that he has heard of a mine in the county and exercising his royal privilege in ordering the sheriff to take possession of the working (Cal. Close R Vol. XII p 187)
1263, 28th Feb. William de Wilton and Adam de Greynvill despatched to Devon to examine the mine. Payments made to them in anticipation of the expense (Cal. Close R Vol XII p 214; Cal Pat R Vol V p 249; Cal Liberate R Vol V p 120)
1263, 19th April. Bond of 80 marks paid to William de la Hole in respect of his land at "La Hole" (comprising meadow and wood) which he has granted to the king for the purpose of working the mine. (Cal Pat R Vol V p 255)
1263, 25th April. Adam de Greynville and John Silvestre appointed keepers of the kings 'newly found' mine in Devon (Cal Pat R Vol V p 256)
1263, 30th April. Henry, the king's miner, provided with 1 1/2 marks in respect of a horse and other expenses in travelling to Devon to the mine (Cal Liberate R Vol VI item 2332)
1263, May. Grenville and Silvester confirmed as keepers of the mine and granted the right to take fallen wood and underwood from the kings woods at Chittlehamholt for use in making charcoal. Silvestre granted £20 in respect of expenses. (Cal Close R Vol XII p 227-8; Cal Liberate R Vol VI item 2325)
1263, 22nd Dec. safe conduct issued in respect of Reiner Advocatus and other miners coming into England, possibly to the mine in Devon (Cal Pat R Vol V p 304)
1264, July. Letter to sheriff of Devon referring to Walter de Hamburg and other miners working at the mine in Devon (Cal Close R Vol XII p 349)
1264, Oct. Letter to Silvestre referring to Walter and the other miners and expense of the mine (cal Close R Vol Xii p 406-7). A sum of 102s was delivered to Walter and the other miners by the Sheriff of Devon but he was not reimbursed until October 1269 (Cal Liberate R Vol VI item 1252)
1266, 12 Nov. There is record of expenses being paid to Gerard de Brabaunt in respect of miners coming from Germany to the king's mine in Devon, but it is not possible to say if it was the same mine as La Hole.
Place names: Hole is a common place name in Devon and the following have been identified on the 1:50,000 OS map. SS 3317, 7309, 3310, 4205, 5447, 6101, 6903, 7116, 8115, ST 0420, 1611, SX 6886, 7764, 8185, 8653, 3994, 4564, 6151, 7393, SY 1989
None are near known mine sites; nor are they in the area of Chittlehamholt. SS 5447 is on the Ilfracombe-Berrynarbor boundary and SX 4564 is in the southern part of Bere Ferrers parish." (Notes provided by M Warburton)
Some possible ancient workings were found at Rillage during Combe Martin Silver Mine Research Preservation Society field trips early in 2002 and 2003. Near Tom Norman's Hole is a small path that has been cut (pre-gunpowder?) into the sloping side of a rock, rising perhaps 30' to a 'platform' supported by stone walling. This used to reach the top of the cliffs but the central section has fallen away. Below the rock is a large square cut, filled with stones, that may be a shaft (unlikely), and to the north are several round (and rectangular) depressions in the rock similar to depressions seen in an ancient gold mine in Afganistan. Nearby at beach level is a long low tunnel that may be an early working although there is no evidence of tooling marks (M Warburton).
"Sixty-four years later [after 1198] king Henry III exercised his royal privilege, and instructed the sherrif to take possession of a mine in Devon called La Hole. The king paid a bond of 80 marks to William de la Hole for his land comprising of a meadow and wood. His first move on the 28th of February 1263 was to send William de Wilton and Adam de Grenville to inspect the mine, and a month later he appointed Adam de Grenville and John Silvestre as keepers of the new king's mine in Devon. By the end of April Henry, who was titled the kings miner, was provided with 11/2 marks in respect of a horse and other expenses in travelling to the mine in Devon.
In December of that same year we have proof that the King sent to Germany for miners, he gave a safe conduct to Reiner Advocatus and other miners travelling to the mines. In July 1264 there is a reference to Walter de Hamburg and other miners working at the mine in Devon, and in 1266 there is a further reference to Gerard de Brabent and other miners coming from Germany.
The King did what was to become the normal practice for many centuries that was to bring the very best mining expertise in Germany to his silver mines in the West Country. We can thank Professor Robin Stains for this information which he gleaned from the Close and Patent Rolls which were housed in the Tower of London. He was always of the opinion that the mine known as La Hole was adjacent to Hole farm Berrynarbor. One of his reasons was that because the Grenville family, as he put it, were North Devon people. And that the other candidate for La Hole which was the Royal Silver mine at Bere Alston was too far from the Grenville's domain. Robin also believed that the economic stimulus provided to the area by the opening of the new mine encouraged William Fitzmartin to apply to the king for a weekly market and yearly fair at Combmartin. This was granted in 1265 which coincides nicely with the opening of the new mine.
At first I disagreed with Robin, as twenty years ago we all thought there was very little mining activity on the south west side of the fault that divides the Combe martin Slates from the Lester Slates and Sand-stones. Only 20 years ago it was believed that that silver lead only occurred in the Lester and Wild Pear beds. Although we knew of 'Places Mine' and its position just on the other side of the Combmartin valley, and of the two mines in Berry narbor, geologists thought that there was no galena in the Ilfracombe beds. It has only recently been discovered that silver lodes do occur at Hele Beach and on Hillsborough, and also there is a silver working known as Tom Normans Hole at the Rillage. So, it is far from being impossible that La Hole may well be in the Haggington area of Berry Narbor." (Combe Martin Silver Mine Research Preservation Society newsletter 2008 Vol 7 No 2 p 10)
(6) Markets & Castles
Combe Martin
1265 - king Henry III granted to William Martin the right to hold a weekly market on Thursdays and a yearly fair on the vigil and feast of Whitsun, for 2 days. There is another record of a fair in 1222 (Stanes 1989)
1326 -last of the Martins die without heirs." A dubious tale tells of how this William Martin was drowned in the moat of the manor house of Combe Martin. He returned late at night from hunting on Exmoor and failed to see that the drawbridge had been raised. True or not, on his death a survey was made of Combe Martin. It reveals that at that time William Martin had a manor house and two gardens containing 7 acres growing fruit, 140 acres arable land, 150 acres of heath, 3 crofts, 13 acres meadow, 15 acres pasture, 10 acres woodland. This would constitute the manor farm, not too different from what it had been in 1086....two water mills, on the site, almost certainly, of the later mills, only recently disappeared. There were 9 free tenants, and 34 tenants, who had to plough, and do harvest work, and pay rent as well for their land....The Martins may indeed have had a castle with a moat in the village. There is reference to William Martins 'hall' in Combe Martin in 1316" (Stanes 1989 p 6)
Watermouth
"There can be no doubt that a much earlier building existed on the site [Watermouth castle], as can be seen from several features here illustrated. Behind and beneath the castle are to be found the remains of a structure antedating by many decades the main edifice as seen today. One would hesitate to say that the older portions formed part of the 16th century Manor of Watermouth, which was purchased by Nicholas Wichehalse, but without question they are of considerable age.....Before entering the principal building, the visitor should examine the exterior. Our picture shows the old gateway on the north-west side. It leads to the early courtyard and has a mock portcullis above the door. It was not built to withstand siege nor were the battlements constructed for the use of archers. they are purely ornamental and without doubt greatly antedate the modern castle.....A very labyrinth of cellars and passages underlies the castle. It is believed that they are part of the old original building which stood on the site before the present castle was built. Tradition says that these tunnels were the work of smugglers. A tunnel led up from the harbour into the cellars from very early times but was filled in by Mrs Harriet Sarah Basset in the middle of the 19th century. Until further examination has been carried out it is difficult to locate with precision where the head of that tunnel lies, nor is its mouth at the other extremity known today." (MG Palmer, undated, Watermouth Castle, Printed by The Chronicle Press, Ilfracombe, in Ilfracombe Museum)
"Watermouth Castle...is worthy of much more than a fleeting reference. It is one of several such places built in the Country in the early 19th century of which Mamhead Park near Exeter is another example. Although the present visible part of the structure was built in the early part of last century it is based upon a very much older foundation, considerable parts of which still remain. Little is known of the actual nature of this earlier structure but there is some evidence that it was the home of persons entitled to a coat of arms under Royal Warrant. The writer has been privileged to make a fairly extensive tour of the cellars and passages under the present building. One striking feature of this subterranean labyrinth is a wide tunnel-type passage under the tower and which slopes towards the sea. This was most probably a tunnel or slipway through which boats could be hauled up from the sea to a boathouse or warehouse under the main building. The stonework of all these lower works and the remaining walls and gateways of the older part are of similar nature to other structures of the Middle Ages in this part of the country. Who can say that the fortunes of earlier occupants were not derived from sea trading of a questionable nature in the days when it is believed that the tidal waters rose to a much higher level than they do today? Perhaps the very anonymity of the place lends weight to this theory. In one of these lower-level passages can be seen a niche for a tallow light such as is not normally found in places constructed after the 16th century when lamps were brought into much more common use. Our theory regarding the earlier nature of Watermouth is strengthened by the notorious background of Nicholas Wychalse the son of a man of the same name who was a Churchwarden at Barnstaple in 1556 and Mayor in 1561 and then owner of Watermouth estate. He also held the manor of Lynton and Countisbury, Maydenford and Barnstaple. This young son is believed to have been part of the association of men which owned the reprisal ships then engaged in bringing home rich booty. One of these ships the Prudence, is known to have brought home four great chests of gold valued at £16,000 and other extremely valuable articles. It was this son who later sold Watermouth to the Bassets. Francis Basset, son of Francis Basset and his wife Eleanor (nee Eleanor Courtney, daughter of Sir William Courtney) the owner of the estates which included Watermouth, died in 1802 and bequeathed the estates to Joseph Davie the son of his sister Eleanora, the wife of John Davie of Orleigh. Davie, on inheriting the Basset Estates, added the name of Basset to his own name and became known as Joseph Davie Basset in accordance with his uncle's will and by authority of a Royal Licence dated 1803. The last hereditary owner of the castle was Mrs Penn-Curzon and at her death it was sold together with the remainder of this property. The present owner, Mr Brain, and his sons are always ready to assist anyone genuinely interested in the history of the place." (Blake 1964 p 10-11)
Caption to 1960's picture of Watermouth "Local tradition alleges that a battlemented castle stood here in the Middle Ages" (Bainbridge 2000 p 100)
Ilfracombe
1278 - Grant of market at Ilfracombe to Henry Champernowne (Slade-King 1879 p 162)
1278 - Henry Champernowne, on behalf of his tenant Henry de Tracy, obtains grants to hold market at Ilfracombe every Monday and an annual fair lasting 3 days (IMN 2000 p 2, also Lamplugh 1984)
"1384 - Bishop Brantynghame of Exeter deplored the practice of holding markets within the churchyards. In 1384 he decreed that no more markets were to be held in the churchyard, even though this was common practice. The following year the townsfolk decided to ignore his order and a riotous fracas took place resulting in the shedding of human blood in the churchyard which then necessitated a ceremony of purification." (IMN 2000 p 3)
1418 - "there is no evidence that anything substantial came from the grant of the murage for one year (money levied as toll on goods) to 'the good men of Ilfracombe, Devon, who have begun to build a new stone tower on either side of the port there and to enclose the town with stone walls and high towers" (Higham, RA 1999 Castles, Fortified houses and fortified towns in the Middle Ages in Kain & Ravenhill 1999 p 142)
1774 - An engraving by Mr Tippett in 1774 appears to show a castellated building above the quay, (and a wall? down to the harbour) that may represent Ilfracombe castle.
A painting of 1805 by W Walters, in Ilfracombe Museum, a detail of which is shown above (Horridge 1986 pl 4) shows a building in very approximately the same position as above, which Horridge calls the Wrey's ancestral home (seat of the Royal or East Manor). It also shows a cylindrical building overlooking the harbour mouth, possibly the lime-kiln. However, it also shows a castle right on top of Comyn Hill!.
The Town of Ilfracombe map drawn by W Stewart, published by (Banfield) Ilfracombe Library, in the 1860's and 1870's (Ilfracombe Museum, small map box) shows the castle just above Highfield Road, just up the hill behind Warfield Villas.
There is a photograph of the Castle, and the town, taken from Hillsborough c1900, in Ilfracombe Museum (Harbour box 2 ILFCM 7474). It has c1900 written on the back. This clearly shows, top left, what appears to be a cylindrical building between Highfield Road and Worth Road. A detail of this, showing Castle Terrace on the right hand side, is shown above. There is a closer detail in Ilfracombe Museum (Miscellaneous box, castle folder ILFCM 9620N), also with c1900 on the back. Another photograph, shown above, of the Castle behind Castle Terrace, c1904 is in Ilfracombe Museum (Miscellaneous box, castle folder ILFCM 9888). It has c1904 written on the back.
"In those days [the Civil War] Ilfracombe possessed a fort of some kind, the name of which, 'Ilfracombe castle' seems to indicate that it was built in Tudor times, and no doubt for the protection of its shipping in the harbour when the entrance to the Bristol Channel was haunted by Dunkirk, Biscayan and Algerian pirates. The situation of this work of defence cannot with any certainty be now determined, but it is probable that it occupied the site of the present Quayfield House and grounds, on the steep acclivity which rises above the harbour. A drawing by Mr Tippett's, engraved in 1774, represents on this spot a castellated building, which may possibly have been a restoration of the original fort" (Bowring 1931 p 57-8)
"No one seems to know where the old castle really was. Most people seem to think it was round about where Castle House now stands [next to the Cliff Hydro]...It would have been an ideal spot for a medieval castle, perched on the ledge of a hill, and it must have been there somewhere. The hill is still called Castle Hill. Ilfracombe was built partly on the sea shore and partly on the sides of the hill so perhaps the whole hill was once known as Castle Hill." (Wilson 1976 p 10-11)
"Up above the Cove, at the top of castle Hill, is the site of Ilfracombe Castle. It could be that, in the times of Alfred the Great, the name of the town was changed to Aelfreding-Acumbe, for in the Saxon Chronicles it is stated that when Alfred the Great heard that the Northumbrians and the East Anglia Danes were besieging Exeter and an unnamed fort on the coast of North Devon (which, it is thought, could only be Ilfracombe, as Appledore is mentioned by name in the Chronicles), he sent one of his sons in charge of a force of men, who raised the siege of Exeter in 893/4. This seems to be the earliest mention of a fort at Ilfracombe. Ilfracombe was a place of some importance during the Civil Wars and was on the side of Cromwell. In those days Ilfracombe possessed a fortress of some kind which was called Ilfracombe castle; It appears to have been built in Tudor times, when the Bristol Channel was haunted by pirates...An engraving (in the Museum) by Mr Tippets, dated 1774, shows the castle as being approximately where castle house now stands, directly above the Manor House, but this engraving is suspect as many buildings are not shown in their correct positions. Photographs taken in 1870 show a stone tower up on the hill behind Warfield Villas and Worth Road, that is, at the top of Castle Hill. A map published by Banfield in about 1862, clearly shows the castle at the top of Castle Hill and near Castle Terrace (Warfield Villas were not yet built at that date). Cannon balls are reputed to have been found in Gipsy Lane which runs from the east side of the castle down to Hele." (Longhurst 1978 p 18)
"R W Cotton observes that although Ilfracombe lay outside the area of actual contest 'it seems that the town had quietly been put in some way of defence. It possessed a fort, the name of which, Ilfracombe Castle, indicates that it had been built in Tudor times, for the protection of the harbour and its shipping, when Dunkirkers, Biscayan and Algerine pirates haunted the entrance of the Bristol Channel...The situation of this work cannot with any certainty now be determined, but it is probable that it occupied the site of the present Quayfield House and grounds, on the steep acclivity which rises above the harbour...The road from Exmoor through Combmartin by which it must certainly be conjectured that Doddington approached Ilfracombe, passed under the walls of the castle, on its landward side, before entering the town" (Lamplugh 1984 p 22)
Page of notes on Ilfracombe castle. Firstly type-written: "Ilfracombe Fort. The first mention of Ilfracombe fort was in 1278. The fort or castle was built during the first 50 years of the 13th century. Being round in shape dates it, as that was the time that round forts were built, after that only corners were rounded. It was situated in the field in Worth Road immediately above a house called Ponderosa. (There are pictures in the Museum of the ruin which was eventually destroyed after the second world war). The next time it was mentioned was during the Civil War 1644 then again in 1646. There may be other references, we would be interested to have these. Below the fort is Warfield Villas where cannon balls have been found in the gardens and below this road is Castle Hill."
Then hand written "(Notes by W Stevens) See also p 18 of Ilfracombe & Lee by Local History Group 1977, where curator John Longhurst puts castle at the top of castle Hill (i.e. near Worth road as above). He refutes the idea that it was near where Castle House (adjacent to Cliffe Hydro Hotel) is now. See also p 22 of Lois Lamplugh's A History of Ilfracombe. She contends there is no certainty about the site of the castle and thinks it was probably the site of the present Quayfield House & Grounds. But there is no such place now as Quayfield House. Was she thinking of the Manor House? There is a theory that a Quayfield House stood where the Cliffe Hydro is now. This ties in with p 18-19 of The Story of Ilfracombe Harbour by TRL Green 1943 'The red brick Manor House in Quayfield Lane, which was built in the early part of the 18th Century, is now divided into tenements and a later mansion incorporated in the Cliffe Hydro". Perhaps Lois Lamplugh intended to refer to the Cliffe Hydro?" (undated, Ilfracombe Museum, Miscellaneous box, castle folder)
"Previous writers and illustrators have hinted that a castle was first built in Tudor times for the protection of shipping in the harbour. During the Civil War, on 20th August 1644, Royalist leader Sir Francis Doddington attacked Ilfracombe, which had generally taken Parliament's side. He entered from Combe Martin 'passing the castle'; maybe this was the site of Castle house at the bottom of Castle Hill" (Pullen & Harding 2003 p 7-8)
"Castle House, built in the 18th century, commands a grand view over the harbour. Some mystery still surrounds the exact position of a fort or castle mentioned in the Civil War encounters. A map published in 1876 by W Stewart clearly shows a castle in the area of Lower Worth Road, but 18th century painters have included one in the vicinity of Castle House." (Pullen & Harding 2003 p 88)
There are several 'castle' names in Ilfracombe: Castle House, for example, overlooking the Quay, above this is Castle Hill (road) which runs up the hill to Highfield Road (then the main route from Combe Martin into Ilfracombe). The junction loops around Castle Terrace and opposite the junction is Warfield Villa's, said to be named after a Civil War battle for the Castle. It is therefore likely that the Castle was somewhere beside this junction between Castle Hill and Highfield. An 1876 map of Ilfracombe by W Stewart clearly marks a castle here near the houses now known as Warfield Villa's. The photographs of the castle from the 1900's confirm this as the position of the castle. It is also marked on the first detailed Ordnance Survey map of 1889, just above the track off Worth Road. There is a 'platform' here in the field which is almost certainly the site of 'Ilfracombe castle'.
(7) Owners of Royal & Borough Manor's
"This parish [Ilfracombe] is large, and containeth divers tythings and manors; the chief whereof was, in the reign of king Ricahrd the first, the inhertiance of the lady Roise, wife of sir Henry Champernon, knight, whom divers of that knightly family succeeded. The last sir William left issue two daughters; Elizabeth, wedded to William Polglas, within three days of her father's death; and Katherine, wife of sir Walter Woodland, which died sans issue. Elizabeth, after the death of Polglas, was re-married to John Sergeaux, within two days after her first husband's death, by whom she had issue Richard Polglas, an ideot, who died of the plague, in an abbey in Yorkshire, whereupon he was privily conveyed; and Margaret, his sister, was married unto sir John Herle, who had this manor, and all Champernon's inheritance. (Risdon 1630 p 345-346)
"Neither would the hamlet for Molccot be omitted, that many ages past was held by Paganus de Molecot. William Fitz-Morice held Hagington by one knightly fee, the twenty-seventh of King Henry III; and William Camvill, son of the lord Jeffery Camvill, that enjoyed the barony of Barnstaple during his wife's life, and after, by the courtesy of England, had lands in this tything, in the time of king Edward II. And in this parish Cutliffe hath inheritances and inhabitance. The present inheritor married the daughter of Chichester." (Risdon 1630 p 346)
"Champernowne, of Dartington. The name of this ancient family was originally De Campo Arnulphi, and it appears from Leyland, that in the reign of Henry VIII, they were called Campernulph. The name in records of the best authority, is sometimes spelt Champernon, and sometimes Champerknowne. We first find them as early as the reign of Henry II, at Clist St George, called occasionally in records Clist Champernon. The heiress of the elder branch, which was of Clist and of Ilfracombe, after about six descendents, married Polglass........Rawlin Chambercombe, Esq., the last male heir of the Dartington, and only remaining branch of this ancient family, died without issue in 1774. Arms - Gules, a saltier Vaire between, 12 billets, Or. Crest - A swan sitting, Proper, in the beak, a horse-shoe, Or." (Lysons 1822 p 139-140)
Owners of Royal Manor:-
1160 - Henri Traci or Tracy, this name continued until 1274, granted market 1233.
Martyns (also Barons of Barnstaple)
Audleighs (also Barons of Barnstaple)
Bouchiers (also Barons of Barnstaple)
Baron Fitz-Warine (John Bouchier, first Earl of Bath 1360)
Wreys (after last Earl of Bth died in 1654)
Sir Bouchier Wrey (who last Sir Bouchier Palk Wrey, died 1879)
1905 the harbour and pier were bought by IUDC (Wilson 1976 p 89)
Owners of Ilfracombe Manor:-
1160 - King Henry II gave this to Lady Riose, wife of Sir Henry Champernowne then:-
Sir Oliver Champernowne
Sir Henry Hampernowne (son of Sir Oliver, granted market in 1215)
Sir Henry Champernowne (son of above)
Sir William Champernowne (son of above)
Elizabeth (daughter of above)
Richard (son of above, died in 1449 of plague whilst young)
Margeret (sister of above, last of Champernownes, she married Sir John Herle)
Lord Bonville (conveyed to from son of above)
Sir William Bonville (son of above)
William Bonville (son of above, married Catherine daughter of Richard Neville, Earl of Salisbury, who died leaving an only child, a daughter who married Thomas Grey, Marquis of Dorset. Their son, Henry, Duke of Suffolk (father of Lady Jane Grey) was sentenced to death and beheaded, the property passing to the throne.
Then later to William Parr, after which it passed to
Charles Brandon (father of Henry Greys second wife) from him to
1610 Sir Philip Sidney, whose daughter married
Roger Manners, Earl of Rutland who conveyed it to
Sir Thomas Gorges
Lord Gorge Baron of Dundalk (Ireland), son of above
He gave part of manor to Vicar of Ilfracombe for ever
Rest of manor sold off to different people 1686 (Wilson 1976 p 90-91)
List of Chambercombe owners:-
Pre 1070 - Aelmer
1070 - Robert son of Gisbert, Earl of ???? Baldwin the Sheriff
1135 - The manor was held by Judheal, son of Judhel, a Norman lord founded Totnes Castle (and some think Barnstaple Castle)
1160 - After Judheal's death the Manor seems to have been divided into The Royal manor (the harbour and most of the land to the east of the town, went to Henri Traci, Baron of Barnstaple) and King Henry II gave Ilfracombe Manor (lands to the west, and Chambercombe, to Lady Riose, wife of Sir Henry Champerknowne)
1210's - Oliver, son of Henry
1240 - Sir Henry Chambernowne Knight [Granted market Ilfracombe 1278]
1288 - William Champernowne
1305 - Henri Champernowne (knight died early 1330)
1333 - [Sir] William Champernowne
1362 - William Polglass married Elizabeth Champernowne daughter of William. Richard son of above die of the plague (1449) when still young, Margaret, sister of above and last of the Champernownes married Sir John Herle (or William Herle) [certainly lived at Chambercombe but not born there]
1416 - Sir John Herle Knight married Margaret daughter of Elizabeth
1419 - Sir John Herle's son died before his father, no issue
1435 - Manor sold to Sir William Bonevyle (according to CFH Bonnyfille he inherited the Manor farm from Sir John)
1439 - Chapel licensed 1439
1462 - Sir William Bonevyle died
1465 - Sir Thomas Grey, 1st Marquis of Dorset, married Cecily Bonevyle
1520 - Thomas Dyer, rented
1550's - The crown 1554
1570's - William Parr Marquise of Northampton married Helena Snakenberg who then married Thomas Gorges of Longford.
1580's - Edward Gorges
1660's - Rt Hon Richard Lord Gorges
1675 - Bought from Richard Gorges by Humphrey Harpur for £460
1686 - ROPERS given to the poor of the parish by Richard Lord George (Ropers being a part of chambercombe manor but not Chambercombe manor)
1701 - Edward & Robert Harpur sell to William Vye for £840
1713 - Thomas Farmer leased Chambercombe from William Vye for 5/-. Thomas farmer's daughter married William Vye (Jane)
1734 - William dead
1744 - George Vye (1723-1777). Tenant Joseph Limebear was evicted
1744 - Indenture allowing ??? William Gribble to farm cotton on the land of George Vye at Chambercombe for the fee of £60 and one peppercorn quarterly
1772 - George Vye died
1842 - William, Mary & Nathaniel Vye owners of Chambercombe Manor on the Tithe map
1851 - Census, living at Chambercombe Farm
John Robin, head, aged 51, farmer of 75 acres employing 2 men born Devon in St Giles Wood
Margaret, wife, 55, born Devon, High Bickington
John, son, un/m, 24, born Devon, Yarnscombe
Grace Moore, un/m, 18, house AP, born St Giles in the wood
Elizabeth White, un/m, 12, servant, born in Georgeham
William Dyer, un/m, 21, Farm servant, born in Georgeham
John Furse, un/m, 12, Farm servant, born in Yarnscombe
Sarah Furse, un/m, 45, Visitor, born in Yarnscombe
Thomas Martin, un/m, 10, Visitor, born in Yarnscombe
(John Robins employed two men on the farm)
1837 - John Oatway overseer of the poor in the Parish of Yarnscombe, bound child for apprenticeship to John Robins farmer Yarnscombe
(typed document, undated, ananymous, Ilfracombe Museum Chambercombe folder)