Introduction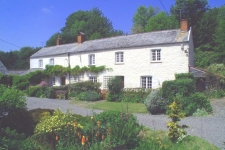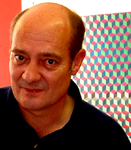 EDWARDIAN HELE BAY
1901 to 1911
Hele Bay was heavily developed during the Edwardian period. In 1902 Ilfracombe Council borrowed money to improve the sewers, and plans included the construction of a new sewer for Hele, the old one being inadequate for the growing population. In January 1904 the Ilfracombe Gas Company was promised a contract for street lighting by the Council if they moved their works to Hele and in March they decided to start on the new works straight away. Hele Bay was to be a construction site for the next two years. (1)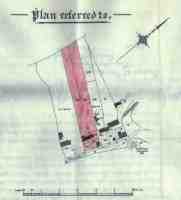 This photograph (left) shows the stream to Hele Beach c1900. To the right is the edge of the Hele Bay Hotel, built in 1898. The white house on the left is now the seaward half of 13 Beach Road, The properties nearer the beach are shown in this plan (right) from 1903. In 1904 the stream was covered by a road, which evidently caused some disruption, as there were several complaints from local residents. Number 13 Beach Road was originally two storeys high, but the lower floor was buried by the new road, as can be seen in a detail of this postcard from c1930 (below left). It was probably owned by a Mr J Pedrick, who was compensated for having to raise his walls. The 'cellar' is said to have been filled up in the 1950's. (2)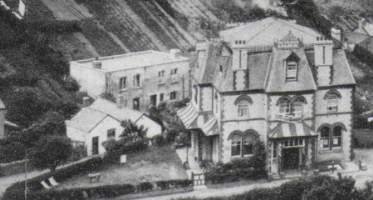 A new sewer main was laid in Beach Road in 1904 and a 15" diameter outfall was constructed right around the right hand side of the bay under the cliffs. Three access manholes can still be seen on the beach: in the back of the cave in the sea wall; in the gully just beyond the Holiday Park, and above the beach just before Donkey Island. The last section went right under Donkey Island and it is said that when it was being tunnelled, a horse and cart could drive through it. The tunnel was built for the tank sewer or septic tank, which was 160'long and 6' high. When the tank was completed in October 1904 the local Council walked through it (and unfortunately back!) after which it was put into service; it remained in use until 1994 and is still used as an overflow when the storm drains are flooded. (3)
In March 1905 Thomas Upton, a local Building Contractor, who had recently built Ilfracombe Electricity Works, bought the land north of the Hele Bay Hotel from the Gas Company for £300. A plan from the original sale (left) shows this land coloured red; note the lime kiln jutting out into the new Beach Road. Mr Upton demolished the kiln and used the stone to build the sea wall and a large coal store beside the beach. He roofed over one of the sewer manholes, creating a cave in the sea wall; and built an office above, with steps up from the beach, used to manage the coal store (see coal boats). He then built the six houses of Beach Terrace and a two storey builder's store beside Watermouth Road, the upper story having road access; shown in this deed drawing (right) from 1906. (4)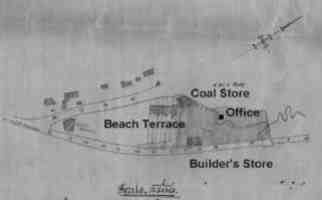 Thomas Upton mortgaged properties as soon as they were built. Five house of Beach Terrace were mortgaged to a Building Society in March 1906 for £700 (number 4 was sold in December). The house on the end of the terrace, then called Mariner's Rest (tenanted by a Mrs Mariner) was mortgaged to Mary Aspling in June for £400 and the rest of the land, including the coal store and builder's store, were mortgaged to Elizabeth Raymont in October for £450. In just over eighteen months, Thomas Upton had fully developed the site, mortgaged everything and moved on. He was evidently a shrewd operator; in 1912 Mrs Raymont sold her interest in the coal store and builder's yard to Mr John Kelly, taking a loss of £125. (5)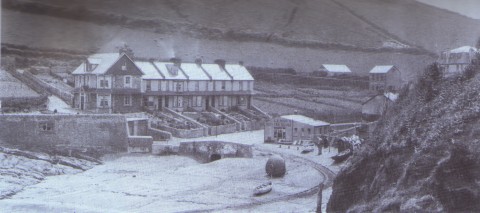 This photograph (left) shows the new Beach Terrace and coal store c1906. Sadly the windows in the coal store are already broken; some things never change! The road comes forward of the old stone store, formerly beside the beach, which has been converted into tea rooms. The promenade has not yet been built and the stream is still allowed to flow freely across the beach. This kept the beach level low; note the exposed rocks in front of the coal store. The building on the far right is the Hele Bay Hotel; between the Hotel and Beach Terrace are allotments (now a Council car park).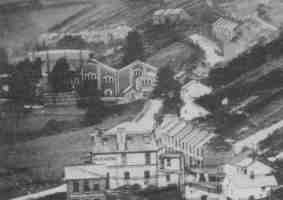 The new gas works were opened in Hele in July 1905, one of the most advanced in the country. It was designed by J & R Dempster of Manchester, the main contractors, and the building work was carried out by a very busy Thomas Upton! Coal-gas was extracted by burning coal in 'Winstanley' retorts and was mixed with cheaper water-gas from a 'Dellwik-Fleischer' plant. It had a maximum capacity of 250,000 cubic feet of coal-gas and 125,000 cubic feet of water-gas every 24 hours. Gas was supplied through a 12" main to Ilfracombe, and an 8" main to Combe Martin. Coal was brought in by boat, initially to Hele Beach, and there was storage capacity on site for 1,500 tons. This detail of a postcard (right) from c1909 shows the new gas works behind the Hele Bay Hotel. The retort building is to the left, just in front of the gas holder. The building to the right contained the 'exhausters' and two Cornish steam engines. A second gas holder was added in 1911 and a weighbridge was built just inside the entrance to the works in 1913. (6)
I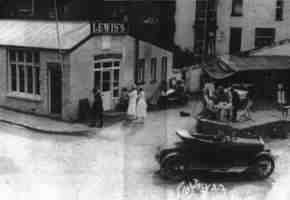 n 1904 Mervyn Palmer wrote in his diary that he met William Lewis, a fisherman-carpenter at Hele, and saw his fascinating collection of nearly 100 varieties of ferns. In 1904/5 William Lewis renovated the stone store beside the beach, extending it westwards, and opened it as Lewis's Beach Tea House. This picture (left) is from c1908. It must have been successful, for by c1910 it had been largely rebuilt in brick (below right) and the terrace behind had also been extended. It is variously said that the parquet floor is from the HMS Montagu and the HMS Speedwell (see Shipwrecks). In the 1970's, Kitty Wilson wrote of her memories of Sally Galliver and her donkey cart, which was drawn in turn by donkeys called Dolly and Daisy; visitors had to pay 6d a ride. Miss Galliver also served plain teas (6d) and cream teas (9d) in the garden of her house in Beach Road. Further evidence of early tourism in Hele Bay is the grant by the Council in 1913 of a concession to Mr J W Parritt to site a bathing tent on the beach for 2/6d per week. (7)
I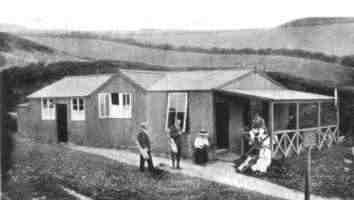 lfracombe Golf Club moved to Hele in 1903. A group of local golfers had been using fields in the St Brannocks Park area from about 1888 and in 1892 they officially formed the Ilfracombe Golf Club and built a pavilion for £20. In 1893 they rented fields at Mullacott and moved the pavilion there, to a new nine-hole course. But the grass at Mullacott was not ideal since it "grew so long in the summer, that the number of balls lost was alarming". By the turn of the century they were discussing a move back to Ilfracombe and in 1903 the pavilion was moved again, to a new 9-hole course at Haggington. This photograph (left) shows the pavilion in 1907. The course was increased to 18 holes in 1911 and the pavilion was enlarged and renovated in 1912 (right). (8)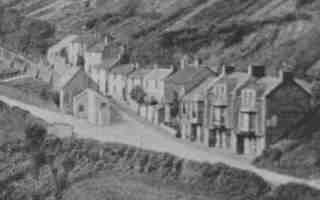 In 1913 the Council widened the main road through Hele Bay. The Gas Company were asked to give up land, as was William Rottenbury. The old Congregational chapel, near the junction of Hillside Road and Watermouth Road, had to be demolished, for which £100 compensation was paid. A new chapel was built slightly up the hill, now a private house, known as Val de Rio. This photograph from about 1906 (left) shows the old Chapel to the left, below which was the former turnpike toll-house. The new shops in Watermouth Road, built c1900, are on the right. (9)
---
(1) Start of Gas & Sewer Works in Hele
In 1901, after 5yrs negotiations, the local Government Board sanctioned a loan of £1500 to improve the sewers. In April 1902 further approval was given to borrow £31,200 and £27,800 was borrowed from Public Works Loan Commission. Existing effluent treatment at Hele was inadequate (Hewitt 1981 p 74-5)
1904- January 23rd - Ilfracombe District Council agree that if Ilfracombe Gas Co move its works to Hele in the next 2 years they will give it a 5 year contract for street lighting (Ilfracombe Chronicle Jan 23rd 1904 p 8 col 1)
1904 - March 5th - Report of Ilfracombe Gas Co meeting which has decided to start the work at Hele straight away. The gas main to Combmartin will be finished in a month. (Ilfracombe Chronicle March 5th 1904 p 5 col 2)
(2) Beach Road
April 18th1903 - Conveyance from Mr Charles Edward Ball, Gas Manager, to Mr William Henry Galliver and Sarah Jane Ley Galliver of 8/9 Beach Road [now 24/5], which William Galliver had leased since 1860, for £177 10s (A Galliver, deeds). The plan attached to this deed is shown above.
"Until the year 1904 Ilfracombe Gas Works was situated in Wilder Road. Some years before a road had been made from Hele Beach to a new site and paid for by the Gas Company. The Gas Works were then built on what had been the Tea Gardens Inn and orchards, and officially opened in 1905." (ICTG 1985-6 p 4)
1904 - February 6th - Ilfracombe UDC report titled 'The Hele Beach Road', "S Galliver wrote to complain of meeting with an accident in consequence of the state of this road. The Clerk was directed to deal with the matter. A complaint was also received from several other residents at Hele of the danger of the road and the matter was referred to the lighting committee to put more light" (Ilfracombe Chronicle 1904 Feb 6th)
1904 - September 24th - Under heading 'Grumbles and Queries', "whether it isn't a pity now that Hele Beach is in such good order that the sand should be carted away, as, seeing there is now such a good approach, the beach is getting popular" (Ilfracombe Chronicle Sept 24 1904 p 5 col 4)
1904 - December 10th - Ilfracombe District Council report titled 'Road at Hele' "Mr W Lewis complained of the bad state of the footpath from Hele Beach' (Ilfracombe Chronicle Dec 10th 1904 p 5 col 2)
The stream was covered with a road sometime after April 1903 (see 1903 plan shown above) and before February 1905 (see 1905 plan shown above). The road must have been in place when the new sewer was opened in October 1904 and it is very likely that the road was built during 1904.
13 Beach Road
There is a local legend that what is now 13 Beach Road was originally a two-storey house and when the stream was covered over the lower storey became a cellar (now filled in) by which access could be gained to the stream. Number 13 is shown in this picture of the stream c1900, shown above, and it clearly was two-storeys at that time (A Galliver). This is a copy of a photograph on a dark mount which has "Hele" written on it. On the copy is written "Beach Road c1900". There are a couple of copies at Ilfracombe Museum, one, ILFCM 26269H is marked 1900 on the back.
Compare this with a detail of a postcard from c1930, By Photocrom Co Ltd, (Ilfracombe Museum, ILFCM 25102B), says c1930 written on back. The lower story has been lost, and on the left another building has been added.
1904- January 9th - In the Ilfracombe chronicle, Ilfracombe District Council report titled 'Improvements at Hele' "The Clerk reported that Mr J Pedrick had not signed the agreement accepting £20 for land etc at Hele apparently because he could not come to terms with his tenant. It was resolved that the Council should deal direct with the tenant" - a further report of February 6th titled 'The Hele Improvement' "the clerk said that possession of the cottage had been obtained and the claim arranged for £15" A further report of August 13th titled 'The new road at Hele' "Mr W H Huxtable, on behalf of Mr J J Pedrick, wrote to ask for the carrying out of certain works, or £65 in cash. Discussion then took place on the subject and it was finally agreed that the Council would fill up a slope as they had done in other cases, but they admitted no liability and the Gas Co had also distanced liability" (Ilfracombe Chronicle August 13th 1904 p 5 col 3) and later "Mr W H Huxtable wrote to say that Mr J J Pedrick of Hele would accept £15 towards the cost of raising the outbuildings affected by the making of the new road. Mr Knight proposed that the gas Co should be asked to pay half and the Council the other half. Mr Lake said the Gas Co had not been asked yet to contribute anything. Resolved to ask the Gas Co to contribute £10" (Ilfracombe Chronicle Sept 10th 1904 p 5 Col 4)
There were two J Pedrick's in Hele, Joseph, plot 43 and John, plot 57; unfortunately don't know what these plot numbers refer to (Genuki website, Ilfracombe Census 1891 RG12/1778, Enum Dist. 13, Transcribed by Bob Muchamore, www.cs.ncl.ac.uk/genuki/DEV/Ilfracombe/index.html ). According to the 1896 Sale Particulars of Hele Bay Estate, John & Thomas Pedrick occupied the terrace of 3 cottages beside what is now 13 Beach Road. Thomas Moon lived at number 13 as a yearly tenant.
(3) Sewer outfall
1904 - October 8th - The contractor for the new sewerage scheme, Tom Wilkinson, trading as Brooke & Co, went bankrupt and a nominee has been found to complete the works" (Ilfracombe Chronicle Oct 8th 1904 p 5 Col 3)
"THE NEW TANK At noon on Monday last the members of the Council under the leadership of the Chairman assembled at Hele Beach to inspect the outfall works of the new sewer which had been constructed to deal with the sewerage of Hele and Comyn valleys, they then walked along the beach to the entrance of the tank sewer which has been constructed by tunnelling under the peninsular known as Donkey Island, this is approached by a manhole on the Hele side which was at once descended by the party who then walked through the tank sewer which had been lighted up for the occasion with candles and ascending by the man-hole at the east or outfall end, the party then found themselves in the narrow gorge through which the outfall pipe enters the sea, the tide being low at the time. The party walked along the outfall pipe to the waters edge which was about half the length of the outfall and watched the fixing of the buoy which marks the terminal of the outfall pipe. The tank sewer is about 160' long by 6' wide at the springing with a gradient of 1 in 53 giving a varying depth to the top water line of 4 to 7'. The arch and sides are built of brickwork in cement and the invert is of Staffordshire blue brick in Portland cement. Effluent is drawn off at a depth of 3' from the surface and a washout pipe with a valve is provided to facilitate the periodic cleansing out the tank sewer. The diameter of the C H pipe (outfall) is 15". The system of the sewer was brought into operation immediately after the inspection terminated and is sufficient for an unlimited building development all along the beautiful valleys situated at the eastern side of the town" (Ilfracombe Chronicle Oct 29 1904)
The new outfall of 36" pipe was 936' long, being fastened to rock 35' below dead low water. One was laid along the Wilder Valley, with a second at Hele where a tunnel was driven through the rocks 160' with a 38,000 gallon septic tank discharging through a 15" outflow to 50yds below low water. This cost £790 and could cope with population of 1000 (Hewitt 1981 p 75-6).
(4) Upton purchase 1905
1901- Ilfracombe Urban District Council obtained provisional order from Parliament to erect an electric works. Tender eventually granted to Edmondson Electric Corporation, who began laying wires but the contract for the new generating works went to T Upton, who had premises on the quay. Started work 24 Feb 1903, turned on 30 May 1903. (Hewitt 1981 pp 67-70)
June 1903 - Electricity has been installed in the Ilfracombe Hotel having been brought to Ilfracombe last month (IMN 2000 p 14)
January 23rd 1904 - Ilfracombe District Council report titled 'Electric Light for Ilfracombe' "The contractor, Mr T Upton, started Feb 24th 1903. Mr A J Hutchings toasted the 'contractor' and said Mr Upton had built more houses than any other builder in Ilfracombe. He built the electric light works very credibly and there was not a crack in the building" (Ilfracombe Chronicle Jan 23rd 1904 p 5 c 3)
"A Plot of land adjacent to the Hele Hotel was sold to Mr Upton for £150" (Ilfracombe Chronicle Dec 17th 1904 p 5 c 1)
February 7th 1905 - Conveyance from Ilfracombe Gas Co. to Thomas Upton, builder, for £300, of triangle of land East of Beach Road (J Moore, deeds) show that this included what is now Beachside and the land under Beach Terrace (see memo to 1906 conveyance of 4 Beach Terrace). The plan from this Deed is shown above.
March 11th 1905- Ilfracombe District council report "Mr T Upton asked to take 50 tons of building sand from Larkstone's beach in next 3 tides. Matter deferred" (Ilfracombe Chronicle March 11th 1905 p 5 c 3) This was permitted by another meeting a few weeks later.
(5) Upton Mortgages 1906
Copy of postcard, shown above, of Hele Beach taken c1906 (Bartlett 1987 p 47 Postcard J.Valentine/Valentines, used by permission of the Tom Bartlett Postcard Collection, Berrynarbor, Devon EX34 9SE). Shows Beach Terrace, Mariners Rest with road to side, coal store with one small window in front, 'Lewis's Beach Tea Rooms' as single story pitch roof building as in 'Lewis' 1908' below, shows car park in Beach Road as allotments. The coal store is less than a year old but the window on the beach already has a broken window - nothing changes!
March 28th 1906 - An addition to 1905 conveyance whereby five houses (Beach Terrace) are mortgaged by Thomas Upton to Barnstaple Permanent Mutual Building Society for £700 (J Moore, Deeds)
Abstact of title - Mr Thomas Upton, 4 Beach Terrace. Shows that on Feb 7th 1905 Thomas Upton bought land under 4 Beach Terrace from Ilfracombe Gas Company which land had previously (1st April 1897) been sold by Thomas Dennis Wivell, Richard Lake and William Claude Rafarel, Charles Edwards Roberts Chanter to Ilfracombe Gas Company and which 28th March 1906 had been (along with 4 other houses of Beach Terrace) mortgaged by Thomas Upton to Banstaple Permanent Mutual Benefit Society (Campbell 1986 pp 54-9)
June 2nd 1906 - Mortgage of Thomas Upton to Mary Elizabeth Aspling of messuage & dwellinghouse known as 'Mariner's Rest, Hele' [now 33 Beach Road], and currently tenanted by Mrs Mariner, for £400 (J Moore Deeds) the property is said to be 'lately erected'.
October 17th 1906 - Elizabeth Raymont (Horridge(?), Ashford) agrees to lend Thomas Upton (builder of Neva House, Ilfracombe) £450, on mortgage is the land to the seaward side of Mariners Rest, including the top entrance to Watermouth Road. (J Moore, Deeds) The drawing with this mortgage is shown above.
April 9th 1912 - Conveyance Mrs Elizabeth Raymont to Mr John Kelly (Insurance Agent of 21 High Street Ilfracombe) of land to seaward side of Mariners Rest for £325 (loss of £125) (J Moore deeds) see 'Mortgage 1906' for land conveyed.
(6) Ilfracombe Gas Company
May 7th 1904 - "Percy Galliver, aged 4 yrs, son of James Galliver, a labourer, was playing beside an outhouse at his home at Hele on Tuesday Morning when the wall collapsed and fell on him. The child was covered with debris and the cries attracted his mother, who with the assistance of some workmen engaged in building the new gas works, extricated him,.....had sustained a broken thigh" (Ilfracombe Chronicle May 7th 1904 p 5 col 5)
July 1905 -"INAUGURATION OF THE NEW ILFRACOMBE GAS WORKS AT HELE. On Friday last the new Gas Works were formally inaugurated by the visit of a large number of gas managers and others connected with this branch of public enterprise. The steady growth of the Ilfracombe Gas Company is one of the signs of the continuing progress of the town. In 1837 it was first started, and for some 3-5 years or so had nothing notable in its history. In 1872 statutory powers were obtained, and by the year 1882 the output was nearly 13 million cubic feet. Ten years later this had more than doubled, and another decade found the company making 50 million cubic feet. At the end of July last year, nearly 2,100 customers were being supplied, including 700 for gas cookers; 333 public lamps were also being lighted. The old site in Church Street, with the additions made from time to time, was only three quarters of an acre, and it became too strait for the business. In July 1894, the Directors bought the Hele estate of 45 acres, by private treaty, and a new Act was obtained in 1896 empowering them to light Combe Martin. About six acres have been retained, giving ample room for any further extension. The District Council has bought the old site in Church Street for a central depot, and on Friday last gas ceased to be made there. One thing that may be remarked about the Hele site - that the directors have wisely left standing every tree, except such as actually stood in the way of buildings or roads, and a row of trees will be planted near the road, to hide the works from the West side. The guests from a distance included Mr Bell (Derby), Alderman Dix (Bristol), Messrs Irving (Bristol), Priestman (London), Dellwik (London), Winstanley (Birmingham), Handel. and Challoner (Ilminster), Ingram (Truro), Turner (Chard), Riley (St Austell) , Hancock (Barnstaple), Ward (Cardiff), W. F. Gardiner and .McWhinme (Barnstaple), Lowe (Plymouth), Davis (London), Dawson (Paignton), Canning (Newport), Scott (Manchester), McGrath (Cork), Phillips (Bristol), Browning (Neath), Knight (Manchester), Cowling (Sherborne), Joce (Bideford), and among the local visitors were Mr J. G. Clarke, J.P. (Chairman of the District Council), Dr E. J. Slade-King (Medical Officer of Health), Messrs E. Hussell, D. Guilding, 0. M. Prouse (Surveyor to the Urban District Council), R. M. Rowe (Town Clerk), H. W. Weir, M.S.A., H. R. Grover, T. Upton, J. S. Watts (son of Mr Watts, Brookdale, and of the firm of Wilton and Co., C.E. Gas Company, London), M. W. Tattam, W. R. Foster, F. H Chown, R. A. Colwill and A. Norman. The party was conveyed from the town to Hele, about 1 p.m. in breaks belonging to Mr H. Burfitt, and on arrival at the Works, was welcomed by Mr E. Lake, J.P. C.C., Chairman of the Company, his co-directors, Messrs W. C. Rafarel, and J. P. Ffinch, J.P., and Mr Priestman, the representative of R. and J. Dempster Ltd. contractors for the machinery. After light refreshments, the visitors were taken on a tour of inspection of the premises. The first place was the Retort House, a fine building 103 feet long, by 63 feet wide. The retort bench consists of four arches, two of which are filled with seven oval retorts, 22 inches by 16 inches, by 24 feet long, with one furnace to each through setting. The third arch contains fourteen retorts 9ft. 6in. long - that is to say, seven at each side set back to back - with a separate furnace to each setting. The fourth arch is empty at present. The chimney is in the centre of the building. The settings are on Winstanley's deep regenerator system, with an elevated stage floor. Each arch is provided with a separate length of hydraulic main, fitted with separate tar and gas take-off. At the end of the bench is a deep tar-tower, arranged for flushing and draining, arid to this tower is also fixed a weir-valve, which seals the dip pipes evenly in the whole of the hydraulic mains. The gas is carried along the top of the bench in two 12-inch diameter pipes, coupled to a 16-inch steel foul main, running along two ends and one side of the Retort house, and delivering to the condensers. Adjoining are the coal stores, 103 feet by 50 feet, with delivery platforms on the road level above, and with capacity of nearly 1,500 tons. This will enable the company to store at the time of year when the tides and the weather are most favourable for beaching the boats at Hele. The condensers are at the north end of the Retort house, and are eight in number, set in two rows of four; each one is 21' high, with inner and outer tubes 3 feet and 2 feet 2 inches in diameter. Five are new, the others have been removed from old works. All can be used at once or either row be bye-passed. The next main building contains the exhausters, which the one in use is of the 3 blade rotary pattern, equal to passing 25,000 cubic feet of gas per hour, and driven by a horizontal high pressure steam engine. A second Exhauster has been brought from the old works. Adjoining are two boilers of the Cornish type, 18 feet long by 5 feet 6 inches diameter, fitted with Meldrum's forced draught crates, and blowing-off at 80lbs pressure. The Sulphate plant, of Dempster's improved type, will Yield 20 to 25 cwt of salt per day. To prevent any nuisance from the waste gases and effluents an extra large purifier and lime settling tanks have been provided. For extracting ammonia, a tower scrubber 40 feet high and 7 feet in diameter, fitted with boards has been built. On the top, is an automatic clean water distributor. Provision is made for a second scrubber, and the existing one at the old works can be connected, as soon as the old works are dismantled. The tar storage tank, 20 feet in diameter and 12 feet deep, and the liquor storage tank, 25 feet in diameter by 12 feet deep, both of steel, are buried in the ground close by, projecting about one foot above ground. The Water Gas Plant, on the Dellwik-Fleischer system, is under the same roof as the sulphate plant, and is equal to 125,000 cubic feet per 24 hours. It is intended to use this gas with the coal gas, in the proportion of about 15 to 20 per cent., and as its cost is about one-sixth that of coal gas, it will materially lesson the cost of the illuminant. The Purifier House is very completely fitted and arranged with two floors. The upper one contains the purifiers-eight in number-each 25 x 15 x 5ft 6in, sub-divided with division plates. Green's system is the one used, the joints between boxes and covers are made with an indiarubber frame bolted to the cover. Each purifier has four tiers of grids, and will be charged with oxide. The ground floor is used for reviving the oxide. For conveying to the purifiers a removable light railway is used, on which the skips run, and the full ones are raised by an elevator at the corner. On reaching the upper floor they travel along a frame on the underside of the roof, and access to any of the purifiers is simple and easy. One side of the upper floor is left open to assure complete ventilation. The Meter House contains a new cylindrical station meter, with a capacity of 20,000 cubic feet per hour, and this room also has a 12-inch governor for Ilfracombe, and an 8-inch one for Combe Martin. The works are at present equal to the production of 250,000 cubic feet of coal gas and half that quantity of water gas each 24 hours, and the accommodation on the site is such as to allow for doubling this output when it becomes necessary. The new works were designed and laid out by R. and J. Dempster, Ltd., Manchester, who were the contractors for supplying and erecting the whole of the plant. The buildings and the foundations have been carried out by Mr T. Upton, contractor and builder, Ilfracombe, under the supervision of the company's manager and engineer, Mr C. E. Ball, with whom, as architect, Mr H. W. Weir, MSA, llfracornbe, has been associated. Mr Hancock, of Barnstaple, has very efficiently acted as Clerk of the Works. The structures are of substantial build, and harmonize in their main features. Throughout the buildings local blue rubble stone, set lime, has been used ; and the corners, plinth courses, eaves, set-offs, doorways, windows and openings are faced with Marland bricks, and the roofs covered with blue slates. The floors are all of concrete, except the upper ones of the retort house, which are of blue brick and cast-iron plates. The stables, which are on the right of the main building, are prepared with stalls for four horses with hay-loft overhead. and cart-shed alongside. The workshop and smithy are between the coal store and cart-shed. Before leaving, the party was photographed in the grounds by Mr E. D. Percival. After the inspection was completed the company again took the breaks, and went to the Ilfracombe Hotel, where luncheon was served at 3 pm. The tables were beautifully decorated with Shirley poppies of lovely shades of colour, sweet peas, and asparagus fern. An excellent luncheon was provided by Mr H Russell Grover, the manager, the menu being as follows:- Clear soup in cups. Pickled salmon and cucumbers. Lobster mayonnaise. Galantine of chicken. Ox (Hear, hear) Veal and ham pies. Roast lamb and mint sauce. Pressed beef. Salads. Stewed gooseberries. Junket. Raspberries and cream. After the meal, the CHAIRMAN proposed the usual loyal toast, which was heartily drunk, and then Alderman Dix, Chairman of the Bristol Gas Co., proposed "Success to the Illfracombe Gas Company." He said they were all pleased with the new works, and were fortunate in seeing such improvements. Some of them had to make the best of old plant, but Ilfracombe was making a new start with new plant, and would profit accordingly. Years ago it was said that electric light would oust gas, but gas was holding its own. (Hear, hear.) The gas companies had been stimulated by the competition, and many people and public bodies preferred incandescent gas to electric light, some indeed were giving up the latter illuminant after trying it. Ilfracombe would now be able to deal with gas lighting successfully in every way. The visitors were delighted with what they had seen, and with the trip, and it was a great pleasure to give the toast, with which he coupled the Directors. (Applause.) Mr Lake, who was received with applause, thanked Alderman Dix for his kind words. Of course their object was to get up-to-date, and produce the best gas in the cheapest way. When the present company took over the works in 1872, the demand steadily increased, and in 1885 it had outgrown their capacity. They found they must either extend their works or get power to obtain more land. Their Bill was thrown out in 1886, and the Local Board which opposed it did not buy the works as it should have done. (Mr Clarke -. Certainly they should.) In 1896 they obtained powers for the present works, and now they were fully equal to all the needs of the town. (Hear, hear.) He hoped the new undertaking would be a great success, arid cordially thanked the visitors for their good wishes. (Applause.) In proposing 'Prosperity to the Town and Trade of llfracombe' Mr Lowe (Plymouth) said he did not known much of the town, but judging it by the growth of the Gas Works, and the new premises he must congratulate them most heartily. Few of those present had to do with such an improved plant, which was a great credit to the engineer, Mr Ball (whose absence they ill regretted), the contractor, the builder and the workmen. (Hear, hear.) Mr J C Clarke, J.P., Chairman of the District Council, replied, and said they all shared in the pleasure expressed by Mr Lowe. To them the success of llfracombe was all important, and it depended on individual effort. As one of the most up-to-date towns in the kingdom (hear, hear) - they had chosen to light the streets with incandescent gas, in preference to electricity, and the village of London-(loud laughter)-was following their example. The llfracombe Gas Company was fortunate in having a good body of directors, who he hoped would always keep in touch with the town authorities. Mr Lake, the chairman, had done much for the benefit of the town. (Hear, hear.) When the Directors offered the old site to the town they had worked well together, and he believed made a good bargain all round. (Hear, hear.) Electricity and gas had each a place, and if gas kept up-to-date they need not fear competition. While the Ilfracombe Gas Company had such an excellent body of directors there was no doubt of its success (Hear, hear.) Mr Rafarel proposed 'The Visitors', whom they were pleased to see, especially those of the gas fraternity. They were able to Show them at Hele, one of the most economical and up-to-date gas plants in the country, a very solid and valuable block of buildings. Their great regret was that Mr Ball was not well enough to join them in welcoming the visitors connected with the gas industry. (Hear, hear.) Mr D. Irving, Vice-President of the Institute of Gas Engineers., said they were glad to come to llfracombe, and it did not take much persuasion (Loud laughter.) When to the hospitality was added a visit to such works as those at hele, it was a double pleasure. Such an up-to-date plant was a necessity for any community, and Ilfracombe might feel proud of those who were the Directors. He was glad to find they had the wisdom and courage to move out to Hele, and put up such works where the site would admit of large extensions when needed by and bye. (hear hear) He was a firm believer in the future of gas lighting (hear, hear) but they must not think they had a monopoly. Only so long as they served the best interests of those who wanted light, heat and power, would they prosper and deserve to prosper (hear, hear). From his inspection, he could say that the new works were most substantial, and convenient, and would make gas in the most economical way. As a visitor, his one regret was the absence of the esteemed engineer and manager, Mr Ball (hear, hear). He thanked them heartily for their kind hospitality on such a pleasant day (Hear, hear). Mr Priestman proposed 'The Manager of the Ilfracombe Gas Works and his Staff.' They all deeply regretted that Mr Ball's state of health prevented his being with them. Having had much to do with him during the progress of the work, he could say that no contractor ever had a better man to deal with. He hoped that his rest would soon restore him to health. As to the staff they were thoroughly loyal and with such directors it could not very well be otherwise (Hear, hear.) Mr LAKE, replying for Mr Ball, said he hoped that now the anxiety of the work was over he would soon get better after a good rest. No words could sufficiently praise his thoroughness and his knowledge of the business. The directors always depended on him for advice, and he was most courteous in looking after the customers. (Hear, hear) The directors were proud of such a manager. (Hear, hear.) The staff was a good one, for it had been trained by Mr Ball, and followed his example. During Mr Ball's absence they would have the advantage of Mr Rafarel's experience. Mr J. P. Ffinch proposed 'The Contractors Messrs Dempster and Co. and Mr Upton'. If they bad not done their duty there would have been no gathering that day. The work had been carried out to the company's complete satisfaction. (Hear, hear.) They were proud of the works, and gentlemen from places as far off as Cork and London had expressed their approval. (Hear, hear.) The works were plain and substantial, and no special trouble had been met with on the site by engineer or builder. He was glad that Mr Upton had secured the contract for the Church Street buildings. They had adopted the Winstanley method of retorts and the Dellwik-Fleischer water gas plant, with which the directors were thoroughly pleased. (near, hear.). Mr Priestman said it was all the harder to reply because no criticisms had been offered. He wished to add to his previous remarks that he hoped Mr Ball would be informed of the kind things said about him, it would help him to get well quickly. (Hear, hear.) On behalf of the Contractors he could only say that everything had gone on well and they would like a few more similar contracts (Loud laughter) He did not agree that the works were complete - there was more space yet to be filled in the retort-house, and the firm of Dempster would like the job. (Loud laughter.) Mr UPTON, who was received with applause, said he was sincerely thankful for the kind and encouraging words just spoken. He had only done the duty that any contractor should do, and was very pleased to know that his work was so satisfactory. He had carried out the contract without loss, and would be glad of. a few more at the same rate. (Loud laughter.) He did not know who was responsible for putting his name on the iron tablet at the works, but he was sure it would do more good than to put it on his gravestone. (Laughter.) He should like to say a word for the workmen. There had been no agitation, no strikes, and all worked as if they had a personal interest in the business. (Hear, hear.) Mr RAFAREL Proposed "The Clerk of the Works " who had saved Mr Ball and the Directors much trouble and has seen the work very carefully done, i n replying briefly, Mr HANCOCK said they had good premises, at a low cost. Mr Priestman then proposed 'the Press,' which he said sometimes said nasty things about them (loud laughter) and sometimes good things and occasionally gave them a good free advertisement. (Loud laughter.) Mr FOSTER (North Devon Journal and llfracombe Chronicle) and Mr McWhinnie (North Devon Herald) replied, the latter congratulating the Ilfracombe Gas Company on the magnificent new works, which provided so well for the future. As a farewell toast, Mr Lake asked the company to drink to 'The Next New Works', which was heartily received. The guests then left, after a very pleasant gathering." (Ilfracombe Chronicle July 22 1905 p 6 col 3,4)
A photograph taken c1906, a detail of which is above, shows the new Gas Works in Hele; the gasometer in the centre, the main building to the right and a large hopper to the right of that (Bartlett 1987 p 47 - Postcard J.Valentine/ Valentines, used by kind permission of the Tom Bartlett Postcard Collection, Berrynarbor, Devon EX34 9SE).
A postcard from c1909 shows Hele Bay and the gas works (ILFCM 25962A). Athough postmarked 20 October 1929 it must date from before 1911, when a second gasometer was added, and before 1910 when Lewis' was rebuilt in brick. A detail, showing the gas works, is shown above.
"In 1911 a second gas storage holder was built at Hele, bringing capacity to 400,000 cu ft." (Hewitt 1981 p 73)
January 11th 1913 - Mr J Kelly complained to the council of the "state of the channelling in Hele Road and the surveyor said that it was caused by cartage of coal to the gas works. It was decided that notice to cease the cause of the complaint should be given to the persons concerned" (Ilfracombe Chronicle Jan 11th 1913 p 6 c 1)
February 1913 - AGM of Ilfracombe Gas Co, Chairman Mr C Rafarel - good year despite coal strike. Intend to soon install new 15 tonne weighbridge at entrance to works. (Ilfracombe Chronicle Feb 18th 1913 p 5 c 2)
(7) Lewis, Galliver
"Harry took us for a walk to Hele village, a small place lying in the eastern side of a large hill called Hillsborough, really Helesborough but since corrupted. This walk showed us beautiful views of the sea, the coast and the town. We heard chaffinches singing here quite commonly in fact the whole place seemed budding & spring-like. Celandine was in flower and a few primroses were showing their pretty faces in a rosette of bright green leaves. We sat for some time on a fallen tree and contemplated the splendid view before us. The rocky cove with the majestic Hill rising on its eastern side and the sea breaking on the shore below. We resumed our walk down a pretty lane and came to the main Lynton Road, this we left at Hele and interviewed a fisherman-carpenter named Lewis. He is a grower of ferns and had got nearly 100 varieties in his green houses. He gave us a root or two which have been duly planted and may yet serve to remind me of the hearties of Hele. One thing we noticed particularly was the fearful slope of the hill which was cultivated. It was a most difficult thing to stand there, let alone work! Yet there were rows of cabbages and other vegetables growing merrily. We noticed here a lady collecting seaweed from the beach. I asked and was told it was for manuring purposes 'a la Jersey. I wondered why she was working so hard and was answered that it was important to 'kop' it before the tide turned. The lady also remarked that collecting seaweed was 'enough to make your hair curl'." (M G Palmer's Diary 1904 ILFCM 17806A)
"Glorious June in December 1953, is not the only occasion Ilfracombe has enjoyed this remarkable weather. Here is a photograph of the same kind of weather taken at Ilfracombe on December 1st 1911, with the winter orchestra playing outside the Victoria Pavilion. In the picture is Miss Sally Galliver, of Hele, Ilfracombe, with her famous donkey chair. Those were the days." Caption to photograph. Newspaper article (Ilfracombe Museum, Names folder, Galliver) Presumably from Ilfracombe Chronicle 1953
"Back in Edwardian days one of the most interesting characters I knew was Miss Sally Galliver who rode around the country lanes in her small donkey cart; it looked like an old fashioned double sized bath chair and was drawn by one of her donkeys in turn either Dolly or Daisy. In the summer season she earned her living by giving rides to children, either visitors or the offspring of the local gentry who had to pay 6d a ride. During the off season, however, local children had free rides. The donkeys were very tame and took it in turns to pull the cart so that they were never overworked and never used on the beaches to give rides along the sands. Often I used to clean out their shed and help to groom and feed them, their stable was at the bottom of her garden where later on she used the large lawn to serve plain teas at 6d, cream and jam teas for 9d. Both Miss Sally Galliver and her donkeys have gone to rest but her unique little cart is on show in the Devon Country House Museum" (photocopied page from Kitty Wilson 1979 Other People's Children in Ilfracombe Museum, Miscellaneous box, Donkey folder)
"William Lewis built the Tea Rooms and his sister, Miss Alice Lewis, started the Tea Rooms. The son, Nat Lewis, took over 72 years ago. He had the rights of deck chair hire, and the bathing rights. One part of Hele Beach was called Donkey Island - it proved to be the most popular side. There were bell tents there provided by the Council. Major Thomas, Mr Pedlar, Mr Broome and other trades people came to the Cafe for lobster teas, a a cost of 2s 6d, including bread and butter, pot of tea, etc. Crab tea was 2/-. Nat Lewis and Mr Galliver carried out many rescues and kept two boats for us in the bay." (ICTG 1985-6 p 3)
Lewis' Tea Rooms were built in 1904/5 (Campbell 1986 p 10)
It is quite possible that Lewis' Tearooms were first converted from the stone boat store beside the beach in late 1904 or 1905, soon after the stream had been culverted. It would not have been possible earlier because the beach went right up to the boat store. A postcard by AJ Vince, Ilfracombe, shown above (Bartlett 1995 p 78, with the caption "In times of bad weather tarpaulins would be brought out and spread from the wall forming a dry canopy") says "bought at Lewis' July 28th 1908" in the message on the back. The stone store has been rendered and extended to the west. Reproduced by kind permission of the Tom Bartlett Archive Postcard Collection, Berrynaror, Devon EX34 9SE
The Tearoom must have been successful since it appears that within a couple of years it was largely rebuilt in brick, shown above in this picture c1910 (compare with Lewis' 1908 above - this must be later because 30 Beach Road has been added). This photograph (from A Galliver) has "(10) July 22" - the 10 may be the year. When was 30 Beach Road built?
June 1913 - "Permission was given [by the council] to Mr J W Parritt to place a bathing tent on Hele Beach providing 2s 6d per week was paid in rental" (Ilfracombe Chronicle June 7th 1913)
(8) Ilfracombe Golf Club
"The club was founded about 1892 [crossed out with 1888], and it is very fitting that in 1913, on attaining its majority, it should be entering on its extended and excellent new course of 18 holes. The efforts of Mr W Bertam and Mr FR Boatfield first set the grand old game afoot in Ilfracombe, with six holes in a field known as Great Shields. There, for a year or two the best was made of the limited space available, and then a move was made to Mullacott. A gentleman named Leatham, from the North of England, had derived very great benefit from the bracing air of Ilfracombe, and among other good things he did for the town, out of gratitude for his fully re-established health, was to give a donation of £50 to the Golf Club. With this splendid start, a small pavilion was bought, and a 9-hole links laid out at Mullacott, on the Braunton Road. The ground however, was really too good for golfing, being first-rate pasture land. The grass grew so long in the summer, that the number of balls lost was alarming. It was, in consequence, not surprising that visitors did not patronise the links sufficiently to enable the Club to pay its way, and there was constantly a deficit. In spite of this, however, we read the Committee reporting, in March 1901 "that the hotel keepers and townspeople are beginning to see that a good golf links is necessary for the town'. The report presented the following year, however, had to say that 'unless there is substantial support from the town, the Links at the end of year will have to close" (Introduction to Ilfracombe Golf Club official Handbook, written by Mr R W Foster, who has been "associated with the Club from its inception" probably from 1913 p 4 & 6, Candar Library, Ilfracombe)
"Although golf had been played for a year or two in a field in the St. Brannock's Park area, known as the "Great Shields", Ilfracombe Golf Club was not founded officially until Saturday October 29th 1892. The following announcement appeared in the Ilfracombe Gazette of that date:- 'It has been decided to form a Golf Club at Ilfracombe, Mr. Day having lent a field in St. Brannock's Road for the purpose. President- Mr Bertram. Secretary - Mr Boatfield. An assortment of articles used in the game can be obtained at below London store prices from Twiss & Son, on sale from October 31st to November 30th'. The club profited from a gift by a gentleman called Mr Leatham, who had derived great benefit from the bracing air of Ilfracombe. In gratitude he made a number of donations to the town, including £50 to Ilfracombe Golf Club. The first general meeting was held at the Tunnels Baths, Ilfracombe, March 1st 1893, at which it was decided to form a committee. It was stated that shares could be offered at £1.00 each to cover the cost of a new pavilion (£20) to be paid off as funds permitted. Also, annual subscriptions were fixed for each of the foundation members (30) at 10/6 (52.5p) each, with an entrance fee at 10/- (50p) for all new members. Green fees were set at 2/6d ( 12.5p ) per week for members who had a guest staying in their house; other visitors 5/- (25p) per week. Daily green fees were to be 6d (2.5p). It was also decided to move the Ilfracombe Golf Club to a sixty acre site at Mullacott, owned by a Mr. Lake, for a rent of £10 per year. This would enable an 18 hole golf links to be established. On March 7th 1893, a committee meeting; was held at which it was decided to move the pavilion from Mr. Day's field to Mullacott at a cost of £2.10s (£2.50p) and that an estimate be sought for additions to the said pavilion." (Ilfracombe Golf Club website 2002 www.ilfracombegolfclub.com also in Ilfracombe Golf Club brochure, Centenary Year 1892-1992, Rotapress, Chapel Lane, Combe Martin p 1).
"In January, 1903, a crisis came in the club's affairs, and the Committee very reluctantly had to resolve that 'it was considered hopeless to continue the Club without a substantial guarantee from the town". Meanwhile, it was judged wise to enquire for more suitable ground, and terms were agreed upon for taking sufficient land at Hele, for a 9-hole course, subject to funds being provided for the needful work. The sum of £50 was guaranteed by a number of friends, and the old Club was formally wound up. A new club with enlarged Committee was duly formed in March 1903, taking over the assets of the old Club. From this time, the position of the Club gradually improved, and with better links, more visitors were attracted, thus putting affairs on a sound financial basis. In a few years, it became urgent that the Links should be extended, and in 1910, negotiations were begun for securing the needful land. After considerable trouble, additional land was obtained on a long lease, and in the following year, the matter was finally settled. The laying out of the extended course was done by F K Weir, of Dunham Massey, Cheshire, and there is now a fine sporting course of 18 holes. The pavilion was enlarged not long since, and the Committee is hoping to extend the accommodation still further. The first Secretary of the Club was Mr F R Boatfield, of Fox Fowlers Bank, and on his promotion to Torrington, Mr G Hilton Lewis took office, leaving the town amidst general regret in 1902, after 7 years good service. To him succeeded Commander Taylor, RN, whose term was also closed by his departure from the town, in 1903. Mr E G Hebbert was next elected, and after nearly 8 years faithful service, resigned in 1911. Mr G C Shiers was next appointed, and proved a very valuable official, particularly in the matters relating to the acquiring of the extra land for the new course. At the annual meeting in 1913, Mr E G Hebbert was appointed as Assistant Secretary to Mr Shiers." (Introduction to Ilfracombe Golf Club official Handbook, written by Mr R W Foster, probably from 1913 p 4 & 6, Candar Library, Ilfracombe)
March 25th 1903 - "At the turn of the century, the minutes of the club's meetings show that discussions had taken place over several years with a view to moving the club to our present site. Proposals were defeated as members felt that it was too far from the town. However , the site at Hagginton was rented eventually and the new, nine-hole golf links was opened on March 25th 1903." (Ilfracombe Golf Club website 2002 www.ilfracombegolfclub.com also in Ilfracombe Golf Club brochure, Centenary Year 1892-1992, Rotapress, Chapel Lane, Combe Martin p 4).
There is a map of the course 1903-11 in the Centenary Brochure 1892-1992 p 3
There is an early photograph of the pavilion on the Ilfracombe Golf Club website, shown above, undated, there is a less good copy in the Centenary Brochure 1992 p 5, dated 1907, which is credited to Twiss Bros.
May 16th 1911 - "a course extension to eighteen holes was opened. This required the renting of four extra fields. The design and construction of the course was carried out by T.K. Weir of Dunnam Massey and Cheshire, Golf Architects, Membership in 1909 was 82. In 1912, just before the First World War, the committee spent over £200 on additions to the old pavilion, "Providing a fine clubroom with ample accommodation for teas etc., a good ladies' room and everything that can make for comfort." The club continued during the war on a shortened course". (Ilfracombe Golf Club website 2002 www.ilfracombegolfclub.com also in Ilfracombe Golf Club brochure, Centenary Year 1892-1992, Rotapress, Chapel Lane, Combe Martin p 4).
There is a map of the course 1911-29 Centenary Brochure 1892-1992 p 6
There is a photograph of the pavilion as it was extended in 1912 in the Ilfracombe Golf Club Handbook c1913 (Candar Library), credited to Phillipse and Lees, but poor quality. There is a better copy in the 1992 centenary brochure (Ilfracombe Museum) which is dated 1912, shown above.
1913 - May - The Ilfracombe Golf links have been recently enlarged from 9 to 18 holes. Official opening on Whit Monday (article Ilfracombe Chronicle May 17th 1913 p 5 c 1&2)
A postcard of Hockey Corner, shown above, by Twiss Brothers, Arcade, Ilfracombe, postmarked 1914, with caption "an early picture of the Golf Course and very small club changing room. The strip of land around which the road meanders is fully cultivated - the road now takes a direct course" (Bartlett 1987 p 50) The golf pavilion shown is 1912 or before (since picture in 1913 Official Handbook shows extensions built in 1912). Another copy has the caption "Along this road the four-horse excursion coaches regularly travelled to Lynton every summer from the 1870's until WW1" (Lamplugh 1984 plate 3); I have a postcard of this that says 499 on the picture, and below, "Coast road to Watermouth, Ilfracombe" and "Published by Twiss Bros, Ilfracombe".
(9) Road widening
Congregational church
There is a photograph of the Congregational chapel before it was demolished for road widening, detail shown above, in Ilfracombe Museum (ILFCM 26270B)
February 1913 - "It was decided that the Congregational Trustees be paid £100 towards the £275 cost of the land to be given up for road widening at Hele" (Ilfracombe Chronicle Feb 8th 1913 p 5 c 5)
"The Plans Committee reported that the plans for the new Congregational Church at Hele were in accord with the byelaws and they were approved" (Ilfracombe Chronicle March 8th 1913 p 6 c 3)
"A letter received from Mr S W day on behalf of the trustees of the Ilfracombe Congregational Church asking the council to proceed with the erection of a masonry wall at Watermouth Road, agreed upon by the council. They hoped to commence building the Chapel in a short time. Agreed to proceed at once." (Ilfracombe Chronicle April 5th 1913 p 6 c 3)
"Mr Smith moved that the surveyor obtain a price from the builder of the Chapel at Hele for removing the old Chapel and excavating and building boundary wall as agreed - this was not passed because the council had already decided to do the work themselves" (Ilfracombe Chronicle June 7th 1913 p 6 c 3)
The "builders of Congregational Chapel were building it smaller than the plans. New plan was asked for" (IC July 5th 1913 p 6 c 3) The trustees later in the year asked that an 8' reduction in length be recognised without expense of drawing, but council insisted and got their drawing
"Mr Picket, a builder, building the chapel, should be asked to quote to build wall". (Ilfracombe Chronicle July 26th 1913 p 5 c 5) "Mr Pickets price for wall £36, Mr R Fry £38, Mr Picket accepted" (Ilfracombe Chronicle Aug 9th 1913 p 6 c 4)
August 1913 - Mr R Picket wrote to ask council permission to tip deads on Hele Beach from the Congregational Chapel works. He had been using the Gas Company yard but space was now full. Mr Kelly said that there should be no dumping on the beach until September. Agreed Mr Pickett be allowed to tip deads at Hockey. (Ilfracombe Chronicle Aug 9th 1913 p 6 c 4)
September 18th 1913 - New Congregational Chapel opened at Hele. This is at the corner between the old and new roads to Berrynarbor and about 50 yards above the old building which was acquired by Ilfracombe UDC for road widening. The new building is 28' wide, 80' long. There had been a mission at Hele for about 100 years. Most prominent worker 70yrs ago was Mrs Gilbert who was known as the 'Good Angel of Hele', also mentions Mr Josiah King and Miss Martha Morris, whose late father was former incumbent (Ilfracombe Chronicle Sept 20th 1913 p 6 c 4)
"On 18th September 1913 a new Congregational Church opened in Hele." (ICTG 1985-6 p 2)
December 6th 1913 - Mr Kelly moved that the path adjacent to the Congregational church at Hele be made up and channelled and that works should be completed where the old building was removed (Ilfracombe Chronicle Dec 6th 1913 p 5 c 3)
Gas Company & Rottenbury
1913 - September - "The Gas Co should give up land on the south of Watermouth Road from its junction with Berrynarbor Road in order to effect a widening" (Ilfracombe Chronicle September 6th 1913 p 6 c 6)
1913 - October 11th - Council had visited Watermouth Road re widening and agreed to re-open negotiations with Wm Rottenbury re the north side of the road before approaching the Gas Works. (Ilfracombe Chronicle Oct 11th 1913 p 6 c 5) Mr S Rottenbury replies with no objection (Ilfracombe Chronicle Feb 7th 1914 p 6 c 6)
William Rottenbury and his son Samuel lived at plot 36, another William Rottenbury lodged at plot 41 (Genuki Census 1891). where are they? The 1896 Sale Particulars of Hele Bay Estate refer to Lot 2 extending inland from the coast as far as the house occupied by William Rottenbury - this is near the Congregational Chapel and would have been affected by widening the main road.
February 1913 - Ilfracombe Petty Sessions "William Rottenberry, Hele, labourer, was charged with obscene language on Jan 25th last in his house. Defendant pleaded not guilty. PC Clarke said he heard defendant using the language in his report and on speaking to him the defendant replied with an oath. A witness had had many complaints. Defendant said that his cottage was too far from the highway for anyone to hear, he was constantly subject to stones thrown at his door and it gave him great annoyance. Fined 5s & costs" (Ilfracombe Chronicle Feb 22nd 1913 p 6 c 1)