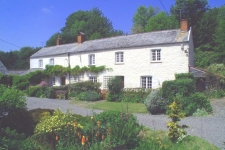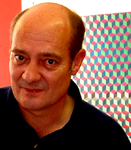 SMUGGLING
c1680 to c1840
There is an early reference to smuggling in Ilfracombe in 1585, but smuggling really developed from the 1680's when there were particularly high taxes on luxury imports. Sailing vessels began to use fore-and-aft rigging; which can sail nearer to the wind than square-rigging, and were consequently more manoeuvrable, enabling them to access remote and rocky bays. Smuggling was often associated with lime burning, since a vessel bringing coal or lime from Wales could meet a foreign ship in the Channel, purchase contraband, and land at a remote kiln where it could be secretly unloaded (1).
Smuggling was common in north Devon in the 18th and early 19th centuries, although recorded information is understandably rare. Smugglers were known to have used Lee, Ilfracombe, Heddon's Mouth, Watermouth Cove and Morte. Some of the smuggling operations were clearly considerable; in 1785 a 96 gallon cask [sic] of rum was found at Watermouth Cove and in 1801 224 gallons of gin and 164 gallons of brandy were found on the foreshore near Ilfracombe. It seems that everyone was involved; in 1783 all the Ilfracombe pilot boats were suspected of smuggling and one, the Cornwall, was seized and cut up into three parts. An Ilfracombe Collector from 1804-1824, Thomas Rudd, was father in law to a known smuggler, Cooke, who was never caught. In 1825 the richest man in Combe Martin, John Dovell, was prosecuted for handling smuggled goods (2).
The most infamous smuggler in north Devon was Thomas Benson, who in 1747 became MP for Barnstaple. The following year he was granted a lease on Lundy and entered into contract with the Government to carry convicts abroad. However, he landed them on Lundy instead to run his smuggling operation. He became over confident and was fined for smuggling and stripped of his office. He didn't pay and his lands in Bideford were seized. To recover his losses he persuaded the Captain of the Nightingale to fire it for the insurance, but the plan was discovered and he fled to Portugal. The poor Captain was tried and executed in 1754 (3).
Far worse than smugglers were the wreckers, who would lure a ship onto the rocks with a misplaced light and then plunder anything of value. Salvage couldn't be kept if there was even one survivor and Elizabeth Berry from Morthoe was said to be known for holding down drowning men with a pitchfork (she was arrested for plundering the William and Jane in 1850 and given 21 days hard labour). The William Wilberforce was said to have been lured onto the rocks at Lee in 1842 by tying a lantern to a donkey's tail, but there is no evidence to support this. Wrecking is said to have ceased after the Rev. Charles Crump wrote an account of the 1850 alleged wrecking of the Thomas Crisp, entitled the Morte Stone; and work started on a lighthouse at Bull Point in 1878 (4).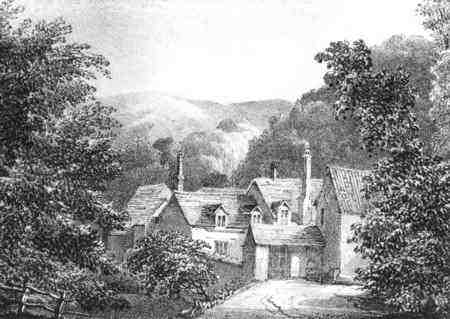 There are said to have been wreckers and smugglers in Hele. There is a local legend that the Granada was wrecked in Hele Bay in 1663 by Alexander Oatway, a tenant of Chambercombe, and that the skeleton of a young woman was found in a hidden room at Chambercombe in 1865, supposedly from Oatway's tenancy. There is a hidden room, to the right of the tallest chimney in this engraving from before 1840 (left), but the legend of the skeleton and the smuggler Oatway is almost certainly from an anonymous story The Call of Chambercombe, published in 1865, which ironically tells how Alexander's son, William, found a lady barely alive on Hele Beach after a shipwreck and hid her at Chambercombe so that he could keep her money and jewels. But he realises, as she dies, that she was his own daughter (5).
There are always local legends regarding smugglers caves and tunnels. There is said to have been a tunnel from Watermouth Cove to the nearby Castle, and the Tunnels in Ilfracombe are said to have originally been a smugglers cave. There is also a legend of a tunnel from Chambercombe Manor to Hele beach. The Call of Chambercombe has a chapter called The Cave at Hele Bay, where wreckers hid their booty; but it is not like any local cave and there is no tunnel (although some of the story does take place in a Cornish mine). The first mention of a tunnel in Hele is from the Ilfracombe Chronicle of 1874, which refers to "a subterranean passage between the village and Chambercombe which was used by the wreckers". In 1888, in an article on smuggling, an 'old man' claimed that when he was a boy, he heard of a smuggler's tunnel from Hele Beach to an old well at Chambercombe. Another article from 1933 quoted Nathaniel Lewis, who lived in Hele, as saying that the tunnel led to Rapparee Cove. In 1976, Lilian Wilson wrote that the tunnel, now collapsed, led to a ledge high up in Samson's Cave, accessible only by ladder (6).
By local tradition, Samson's Cave and Samson's Bay were named after a local smuggler called Samson or Sampson (or is it coincidence that the Coastguard cottages were built above here in the 1930's ?). But smuggler's didn't often use caves or tunnels, preferring the open where they could escape. The other local caves, Joe Moon's and Tom Norman's Hole, are named after the quarryman or miners that made them; Samson's probably has a similar origin. There are actually five caves in the bay and it is not clear which one is Samson's; the 1889 Ordnance Survey map shows Samson's Cave on the eastern side, but also Samson's Caves on the western side. One of the two western caves, furthest from the sea, does however match Lilian Wilson's description; just inside, on the left, is a high gully at the top of which is a ledge, largely obscured, and very difficult to reach.
At Chambercombe, part of what appears to have been a chimney breast, contains a curious hidden vertical shaft, with an iron ladder, leading up into the roof. The shaft is filled to ground level but it is said that early in the 20th century it led down into a tunnel, blocked after some 20-30 paces. The shaft's stones are unfaced and it would have been useless for hiding smuggled goods, there being barely enough room to climb the rungs. If not just an architectural accident, capitalised by the addition of a ladder, then it may have once led to a priest hole (but an iron ladder ?). Many old houses have hiding places that were made in times of religious persecution. Perhaps the shaft led to a priest hole in the roof, or underground. If there really was a tunnel, it could have been a route leading to the nearby stream, some 40-50m away, where a small ravine 3-4m deep provides good cover for escape. This is much more likely than a tunnel from Chambercombe to Samson's; such a tunnel would have to be two kilometres long and pass under three streams. Besides, it would be far less trouble, and just as effective at concealment, to simply walk up the stream from Hele Beach.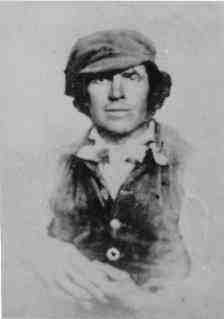 There are persistent stories of Hele being associated with smugglers, and they are not all in the distant past. The 1933 Ilfracombe Chronicle article says that there was smuggling at Chambercombe when Nicholas Lewis was alive; it also refers to Jan White's path, and to a Bill Stephens and John Wilkey, who apparently tried to waylay a smuggler's wagon en-route from Chambercombe to South Molton, but were bribed off with silken scarves. Nicholas Lewis lived in Hele at the time of the first Census in 1841, as did a William Stevins, and a John White lived at Widmouth farm. In 1851 a John Wilkey lived in Hele and Chambercombe was tenanted by John Robins; this is a photograph of his son, John Robins (right), he certainly looks the part of a smuggler! Coincidently (?) one of his workmen may have been called John Oatway.
Smuggling became less common during the 19th century. One of the last major occurrences near Ilfracombe was the smack Lively, who lost her boom in a storm in October 1831 off Lundy, was seized by Custom's with 300 tubs of brandy on board and broken up into three parts. According to articles in the Ilfracombe Chronicle of 1888 and 1913, she was first found by some Ilfracombe vessels, who offered help but wanted more than the smuggler's were willing to pay. They returned to port, and soon after, a Customs ship put out and apprehended the Lively, giving rise to the expression Combe Sharks and the following song (7):-
"Come all you shipmasters, I bid you beware!
When outside 'Combe harbour, I'd have you take care;
If long in that roadstead, you forced are to lie,
Be sure you don't let those bold Pirates draw nigh.
CHORUS: Sing Brandy hi O !
They'll kiss you like Judas, and will you betray,
Then into 'Combe harbour will force you straightway
Unless fifty pounds or your cargoe half share
You give them, your body and soul they'll ensnare.
CHORUS: Sing Brandy hi O !"
The smugglers still had plenty of local support, however, since it appears that an effigy of one of the men who reported them was burnt in public.
---
(1) Start of smuggling, connection with lime-burning
1585 - The Farmer of customs in Ilfracombe complains of the landing of wine by one Sachefield in a creek of the harbour (Slade-King 1879 p 163)
"The last decade of the 17th century saw a quite dramatic increase in smuggling, which can be largely attributed to two main factors. Perhaps the most significant was the introduction and rapid development of the fore and aft rigging, which completely revolutionised sailing techniques, certainly as far as coastal waters were concerned....The small fore and aft vessels could now sail into any creek or inlet, load or unload their illegal cargo and leave irrespective of the direction of the wind. ...This technical breakthrough came at an apt time just when there was a vast increase of import duties of all kinds as well as the introduction of various trade restrictions and prohibitions. These increases were largely as a result of 'The Glorious Revolution' of 1688, by which the country was drawn into war with France and forced to maintain a large and expensive army in Ireland to prevent invasion by James II." (Smith 1989 p 15-16)
"It is perhaps surprising that the first reports of smuggling in England concern illegal exports rather than imports. In 1275 an export duty was imposed on raw wool to encourage the home weaving industry, and this prompted some merchants to begin shipping wool to the Continent without paying the new 'custom'.....The smuggling of goods into the country was slower to develop. In the sixteenth century duties were first placed on a range of commodities being brought into England and this led to the start of an illegal import trade. After the Glorious Revolution of 1688 brought William III to the throne, smuggling became a much more serious problem. England was drawn into a series of long and expensive wars with France and, to help finance them, crippling import duties were introduced on a whole range of imported goods such as tea, tobacco, soap and salt. At the same time the Government introduced a total embargo on French products" (Travis 2001 pp 8-9)
"In the late seventeenth century ships were developed with the sails set parallel to their keel so that they could take the wind on either side. This was known as 'fore and aft rigging'; it enabled vessels to tack into the wind and thus make them much more manoeuvrable. Square-rigged ships had tended to use only ports with good harbour facilities because, to enter, they had to wait for a favourable wind and then had to stay there until the wind changed quarter. The new fore-and-aft-rigged vessels could sail into remote bays, discharge their cargo and leave quickly, regardless of the direction of the wind, so the risk of them being caught smuggling was much less" (Travis 2001 p 9)
The earliest record of North Devon smuggling is from Swansea, July 1718, which reports that several French vessels were hovering off the coast waiting to put wine, brandy and other goods onto vessels carrying limestone to North Devon. The contraband was hidden under the stones, destined for lonely lime kilns. (Reed 1997 p 161)
"The first relevant record is found in July 1718, when the Customs Board sent a letter the Barnstaple collector, and presumably to his colleagues at Ilfracombe and Minehead, warning that French smuggling vessels were lurking off the coast. The message stated: 'It appears some French vessels are hovering on your coast where they lye for opportunity to put their brandy into vessels which are employed in carrying limestone to your and other ports. And you are to cause all such vessels to be diligently searched'. With this message was enclosed a copy of a letter that the collector at Swansea had sent the board. It stated that recently there had been seen 'between Clovelly Roads and the island of Lundy two French ships laden with wine and brandy and other goods'" (Travis 2001 p 30)
"Further proof of the involvement of limestone vessels in the smuggling trade came in July 1722. The Swansea collector advised the Customs Board that the Neptune of Bideford, John Lancey master, and two other unknown smuggling ships, were hovering in the Bristol Channel with wine and brandy from France on board, waiting to meet limestone coasters. The Swansea collector wrote: 'A great clandestine trade is carried on in that Channel between the smuggling vessels and the vessels employed in carrying limestone from that part of Wales into Devonshire'" (Travis 2001 p 31)
(2) Local Smugglers
An anker is about 7½ gallons (Smith 1989 p 174)
There is a comprehensive survey of smuggling in North Devon, by Graham Farr, date unknown (Ilfracombe Museum, smuggling folder)
The Bedra went ashore at Saunton Sands on 13th October 1738 with over 1,300 lbs. of soap and candles. The captain and his crew were determined that 'they had sooner the sea or country people have it than the Customs' and so they came to an agreement with the locals to share the cargo. However, the captain's dealings with the wreckers backfired and he complained to the Customs Collector at Barnstaple, who gathered a party of officers to search the area. Not a single candle or one bar of soap was found, which is not really surprising as they were the type of goods that could be easily hidden. The captain had a lot of explaining to do and the case dragged on for several years before it finally petered out without any real conclusion" (Smith 1991 pp 67-68)
"On 24 October 1738 the Ilfracombe ship Bedna was caught by a gale and blown ashore on Saunton Sands. The vessel was bound for her home port, supposedly in ballast, but in fact 'a great quantity of soap and candles' were found concealed in her bulkheads and other parts of the vessel. The master of the ship, Simon Stephen, decided he would rather the 'country' had the contraband than the Customs officers so he came to an agreement with the locals to share the spoils. Eight horse-loads of soap were taken away by three armed men. Soon afterwards Customs officials found 850 pieces of soap hidden in the house of the master's sister-in-law." (Travis 2001 p 33)
By 1748 the French were smuggling brandy and claret, hovering in Barnstaple Bay in the hope of offloading goods onto local ships. The skiff Heart of Ilfracombe was seized in the harbour with some on board. (Reed 1997 p 161)
In the autumn of 1748, John Lake, owner of the Ilfracombe skiff Heart, was found at Ilfracombe with smuggled brandy. He claimed that he had been led along by a sequence of events when hired by a John Campbell, involving contraband from the brigantine Molley of Guernsey. The Molley was found at Woodspring, with help from Lake, but the crew escaped. The Customs officers pleaded his case in a letter to the Customs Board but their reply has not survived. (Travis 2001 pp 34-38)
In August 1780, 6.5 gallons of geneva [gin] was found on the deck of the 6 ton Ilfracombe Henrietta coming from St Ives. (Travis 2001 p 44)
In November 1780 The Alexander, from Jamaica to Greenock with illicit rum on board had to put into Ilfracombe in a storm and 75 gallons were seized (Travis 2001 p 43)
"In 1781 the [Ilfracombe] Collector Peter Fosse reported to London 'We have received intelligence from undoubted authority that large quantities of tea and brandy are frequently discharged out of Armed Smugglers from France and lodged on the Island of Lundy till opportunities offer of putting the same on board Pilot Boats belonging to the Port'" (Smith 1989 p 116)
1785 - The tidesman of Watermouth, George Fishley, found a 96 gallon cask of rum in an outhouse near his cottage but it had gone by the time he returned from Ilfracombe having reported it. Tidesmen were appointed to check cargoes, perhaps equivalent to the medieval bailiffs. (CMLHG 1989 p 17)
In June 1785 Edmund Fishley, an Ilfracombe tidewaiter, seized a very large cask containing 96 gallons of rum at an outhouse at Watermouth Cove belonging to Thomas Barber Esq, one of the local gentry. In June the following year he seized hampers containing 66 bottles of gin, 13 gallons of Portuguese red wine, 250 lbs. of salt and a box containing 73 packs of playing cards, all missing the Ace of Spades, in an outhouse at Lee belonging to John Beer. (Travis 2001 p 44)
1786 - "An 'Irish Wherry' discharged a cargo of spirits and tobacco onto the shore [at Heddon's Mouth]. But before most of the goods could be spirited away a party of Custom's men descended onto the beach and managed, despite opposition, to secure 20 ankers of spirits and 13 bales of tobacco. The vessel made its escape as did all of the landing party" (Smith 1989 p 114)
"In 1786 an attempt to run in a large consignment of contraband at Heddon's Mouth was foiled. An Irish wherry was in the process of discharging a cargo of spirits and tobacco onto the beach when a party of Customs officers surprised the smugglers. A struggle broke out but the officers eventually managed to seize 20 ankers of spirits and 13 bales of tobacco. The wherry made good her escape. She was believed to belong to Thomas Knight, a notorious Welsh smuggler who was reported to be using Lundy as his base" (Travis 2001 p 45)
"One local vessel that seemed to be a continual thorn in the side the Customs was the Cornwall, which regularly went out to meet the incoming vessels in the Channel. Frequently it was rummaged by the Customs but, as on each occasion no smuggled goods were found, it would appear that the master was given prior knowledge of these searches. Just once some smuggled goods were found on board but, because they were not hidden, the master was fined but the vessel was not forfeited. However, in 1782 four half-ankers of brandy were found on board and a closer search disclosed six bags of tea hidden in the forecastle. This time the vessel was seized and ultimately condemned, suffering the usual fate - it was sawn into three pieces. It had been owned by William Arthur of Pennard in the Gower." (Smith 1989 p 116)
The Cornwall, an Ilfracombe pilot boat of some 20 tons, was three times reported by Peter Fosse as being involved in smuggling. John Lovering was master in August 1778 and set out from Ilfracombe to meet a ship from Jamaica bound for Bristol where he picked up 13 gallons of rum, 6 lbs. of tea and 84 lbs. of sugar, returning to Ilfracombe. The contraband was spotted on deck and was seized by Customs but the ship was spared because the contraband was on view. In November 1782 a William Thorne was caught carrying a cask to an outhouse in Ilfracombe harbour belonging to John Marshall. He appeared to be coming from the Cornwall. An outhouse belonging to Samuel Cornish also contained contraband. In April 1783, Edmund Fishley found 3 half-ankers of geneva on board, at this time Samuel Cornish was master. Soon afterwards a small case of geneva was found and 4 bags with 48 lbs. of Bohea tea. The Cornwall was seized and cut into three parts. In October 1783 Peter Fosse reported that other Ilfracombe pilot boats, the Lundy Pilot master John Hodge, the Hero master Samuel Cornish Junior, and the Bristol Galley master peter Allen were all involved in smuggling (Travis 2001 pp 59-62)
The Excise cutter Ferret, based at Milford, seized the sloop Success of Padstow with over 1,000 lbs of manufactured tobacco and nearly 300 lbs of snuff, all neatly packed in waterproof bladders. In May 1791 the Cardiff collier Polly was caught with 500 lbs of tobacco. The Morning Star, an open pilot gig, was caught with 250 lbs of tobacco and a quantity of cigars from a Spanish vessel outward bound from Bristol (Smith 1989 p 117)
The Excise cutter Ferret began patrolling the Bristol Channel from the late 1780's. In November 1778 she brought into Ilfracombe the sloop Four Brothers with illicit brandy and geneva. In January 1779 she brought in the Success of Padstow with 1,085 lbs. of tobacco and 280 lbs. of snuff. In February she brought in the Polly of Cardiff with 505 lbs. of processed tobacco and 12,295 lbs. of unprocessed tobacco. Two months later the skiff Morning Star of Bristol was taken in with 1,557 lbs. unprocessed tobacco. (Travis 2001 pp 45-46)
In 1800 the naval cutter Dover seized the Bideford sloop Endeavour, master Daniel Johnson, and took her into Ilfracombe harbour. On board were 1,076 gallons of brandy, 500 gallons of geneva, 225 gallons of rum and five hundredweight of white salt. (Travis 2001 p 47)
October 1800, 1320lbs of tobacco were seized at Warcombe and in April 1801 224 gallons of gin and 164 gallons of brandy were found on the seashore near Ilfracombe (Reed 1997 p 162)
In October 1800 Edmund Fishley and Thomas Scamp, discovered 12 bags containing 1,320 lbs. unprocessed tobacco at Warcombe which was sold at public auction in December. In April 1801 32 casks holding 224 gallons of gin and 23 casks with 164 gallons of brandy were found on the Ilfracombe foreshore. (Travis 2001 p 47)
"In May 1799 a cutter called the Hope, reputedly from Appledore, landed no less than 96 ankers of brandy at Heddon's Mouth and then moved further west to Watermouth, beyond Combe Martin, to land the rest of its cargo - some 80 ankers. However, the master misjudged his bearings and came in rather too close to the shore; the vessel ran onto the rocks, sank and all hands were lost" (Smith 1989 p 114-115)
In April 1801 the sloop Hope, had unloaded 96 ankers of spirits at Heddon's Mouth and was heading for Watermouth Cove but struck a submerged rock and went down with all eight crew. The master was Daniel Johnson, could this be the master of the Endeavour seized the previous year?. (Travis 2001 p 47).
In 1816 a French vessel of 25 tons Diligence of Plymouth landed a cargo at Morte, and five others from Roscoff were heading for Bude, Morte or Lee - the last smuggling reference to Morte is in 1849 when the Atlas of Guernsey landed with a cargo of potatoes and beans but with casks of spirits in the cabin, it was taken to Ilfracombe but there was little other contraband on board. (Reed 1997 p 162)
In 1817 Customs officers watch whilst 300 gallons of rum, 1,000 lbs tobacco, over 500 gallons of wines, were carried from a Bristol vessel, the Margaret Jane, early in the morning. The vessel was en route to Bristol but put in to Ilfracombe for urgent repairs . (Smith 1989 p 120)
In 1817 William Cooke was master of Ilfracombe brigantine Jane, her crew were acting suspiciously in Ilfracombe harbour and found to be carrying 2 hampers with 81 bottles of wine. A further 106 bottles of wine, nine bottles of shrub (spirit and fruit juice), 2 quarts geneva and 3 quarts of rum, were found hidden on board. Cooke petitioned Customs and on 15 July they released the Jane. On 20 September 1820 Cooke was reported as being involved in smuggling by the Barnstaple collector and said to have landed 300 tubs, each of 5 gallons, of Hollands gin and French brandy at Lee and 300 further tubs the following day at Woody Bay. But Customs never managed to catch William Cooke. Perhaps because he was the son in law of Thomas Rudd, the Ilfracombe collector. (Travis 2001 pp 88-91)
Thomas Rudd was appointed Ilfracombe collector in 1804. In May 1817 the Felix Restoracion put into Ilfracombe and was seized following suspicion of being involved in smuggling. She was released but Rudd's reputation was damaged. The release of the Jane later that year opened a can of worms and Rudd's connection with William Cooke was discovered. Surprisingly he was allowed to continue in his post and retired in 1824 at the age of 70 (Travis 2001 pp 92-96)
In October 1818 the Ilfracombe Revenue cutter Harpy boarded the Norwegian ship Kammerheye off Hartland Point and on board was found a hogshead of brandy, five pipes of brandy (equivalent to 2 hogsheads each) five bottles of brandy and eight hogsheads of wine. (Travis 2001 p 67)
"Barnstaple [Collector] did say in 1820 that smuggling has been revived by some desperate characters returned from. the continent and one Cook, or Cooke, of Ilfracombe was mentioned as having in September landed some 1500 gallons of spirits at Lee and on the following day a like amount at Withy Bay. In 1822 they thought smuggling was quiescent due to a very watchful Waterguard and the death or absence of the old professional smugglers of former days, also the greater facility for obtaining spirits legally. In 1824 there was another reference to 'a noted old smuggler of Ilfracombe who has suddenly withdrawn to take advantage of dark nights and westerly gales'- doubtless a further reference to Cook." (Graham Farr, North Devon Smuggling Survey, smugglers folder)
In 1825 John Dovell of Combe Martin and William Low of Berrynarbor were both prosecuted for harbouring smuggled goods. John was perhaps the richest and most influential man in the village. He and Low were fined £25, about a years wages for a labourer or enough to buy a cottage and garden in the village (CMLHG 1989 p 17)
"No important runs or seizures were reported between 1820-7, but then came the classic Trentishoe haul. Acting on information that a run had been made at Heddon's Mouth on 30 November, but not yet sent inland, Lieutenant Mackenzie, Commanding Officer of Coastguards, with his Chief Boatman Warren Williams and several of his men, also Thomas Martin, the Lynton Riding Officer, descended in force on the evening of 3 December on the farm buildings of John Hoyle who was, incidentally, a relative of Cook the Ilfracombe smuggler. Questioning Hoyle they noticed his wife was very agitated and, taking this as a hopeful sign, they searched a barn and found a hole had recently been excavated in the floor to hold 38 tubs of spirits. Continuing their search on the next day they found even bigger holes, described as caves, under another building concealing 174 tubs. The search went on for two more days and on the 6th they found 50 more tubs of spirits, besides some wine, cordials and preserved fruits. Hoyle got away on some pretext and roused a mob at Ilfracombe so that when the captured cargo was brought there in carts, the carters and escorts were attacked. To keep the peace it was decided to take the evidence to Barnstaple where eventually Hoyle's wife and farm hands as well as some of the rioters were tried. Hoyle himself escaped to the continent and his wife was cleared of complicity." (Graham Farr, North Devon Smuggling Survey, Ilfracombe Museum, smugglers folder)
"1844 - 103 tubs of brandy sunk at sea and awaiting collection have been discovered by Customs officers from Appledore and Ilfracombe" (IMN 2000 p 8)
"Hannibal Richard's daughter has died aged 100 years. Her mother died in 1875 at the age of 101. Her father, who passed away in 1849 aged 85 had been a notorious smuggler who was born in Cornwall and moved to Lee " (IMN 2000 p 13)
"Because of smuggling being so widespread here, a Revenue Cutter used to be based at Ilfracombe. Bow Street Runners (they served as detectives and were sent all over the country on police work) were sent to arrest men but they were not very successful, according to tales told, because most of the locals helped the smugglers to escape. A back passage, part of which we still use when we want to dodge the crowded pavements during the busy season, was once known as Smugglers Path. It wended its way up the side of the hill from the Quay to the farms in the higher part of the town. Some of the cottages on the route had underground hiding-places in their gardens. This old path is mostly still there from the Quay to Northfield Road, as a public right of way, but some has been built on and roads now cross it. It starts at the bottom of Fore Street (behind houses and shops), then at Mill Head Road, it goes behind the Collingwood Hotel. Somers Crescent Road crosses it, then it passes in front of the Arlington and Candar Hotel, across the bottom of the Arcade and on the part which we now call 'back passages' at the back of the shops and Post Office and so up to Northfield Road where it ends. Long ago it used to go much further. Smuggling got so bad that after Trafalgar one of Admiral Nelson's own officers was sent to help the customs men. His name was Lieutenant Edward Down. He became a Rear Admiral and his family must have liked Ilfracombe as they have lived here ever since. There is still one descendent living here, Miss Down, at St Brannocks Park. Burrow House was their family home....Langleigh House was another of their family homes. " (Wilson 1976 p 53)
"The most unpopular boat to sail the Ilfracombe area was the Ferret, an excise cutter celebrated for being particularly successful in catching local smugglers. The number of seizures of tobacco, snuff, gin, brandy and rum brought by her into Ilfracombe was staggering. She was followed by several other cutters who all enjoyed some success at bringing smugglers to justice - so, as you can imagine, they were not exactly popular among the local populace." (Martin Hesp, North Devon Journal Aug 8th 2002 p 8)
(3) Thomas Benson & Lundy
Thomas Benson was Sheriff of Devon and in 1746 he presented to the Mayor of Barnstaple a large silver punch bowl. When it was pointed out that there was no ladle, Benson supplied one inscribed 'He that gave the bowl gave the ladle'. In 1747 he was elected MP for Barnstaple and in 1748 was granted a lease of Lundy by Lord Gower and entered into contract with the government to carry convicts abroad. He landed them on Lundy instead, but became over confident, and 3 visitors who stayed on the island in July 1752 wrote of their concern over the convicts. Benson was also engaged in smuggling in which he was discovered and fined £5000 and deprived of his office. He didn't pay and the Sheriff of Devon was forced to visit the island and seize tobacco and other goods on the island in lieu. These were not sufficient to pay the fines, now £7,872 and his estate in Bideford was seized by the Government in early 1753 (Langham 1960 p 44-45)
Benson had heavily insured one of his ships, the Nightingale which set sail for America but at night landed in Lundy and unloaded its cargo of pewter, linen and salt. The ship set sail again and when several miles to the west was fired by the Master, Lancey. The crew landed at Bideford where Captain Lancey swore before the notary (one Narcissus Hatherly) that the ship caught fire accidentally. However, another member of the crew told a contrary story and further enquiries were made. In Feb. 25th 1754 at a Court of the Admiralty in the Old Bailey, John Lancey and the first mate John Lloyd were indicted for burning the Nightingale. Benson fled to Portugal while Lancey was executed. (Langham 1960 p 45-46)
In 1743 Thomas Benson inherited Knapp House above Appledore together with the surrounding estate and a fleet of over a dozen ships operating out of Bideford and Barnstaple. In 1746 he was made Sheriff of Devon and the following year MP for Barnstaple. He used his influence to obtain a contract to transport convicts to North America at £20 a head. In 1748 he leased Lundy and took the convicts there to help his smuggling operation. In 1749 Customs demanded £992 for illegally importing tobacco in the Grace. Over the following years he was repeatedly fined until he owed a staggering £8,229. In July 1852 Benson invited several wealthy friends to stay on Lundy, one of whom wrote an account of seeing convicts locked up at night and a smugglers cave. (Travis 2001 pp 52-55)
To pay off his debts, Benson heavily insured the Nightingale which set sail on July 28 1752 with John Lancey as master from Barnstaple. Its load of broadcloth, linen nails and other domestic goods were put ashore on Lundy but 350 bushels of salt shipped for a customer was left on board. Some 50 miles west of Lundy, Lancey had holes drilled in her hull and she was set on fire. The crew was picked up in a longboat and taken to Clovelly. The boatswain turned informer and Lancey was arrested with some of the crew. Benson's estates were seized as security for his debts to the Crown and he fled to Portugal. In July 1754 John Lancey was hanged at Execution Dock whilst Benson made a new life in Oporto where he died aged 64. (Travis 2001 pp 55-58)
In 1776 the Barnstaple collector received information that two smuggling vessels were at Lundy. In 1782 the collector of Swansea reported that a search of Lundy revealed 128 ankers of brandy and 4 bags of Bohea tea and that there was a considerable smuggling trade there. In 1783 the Ilfracombe collector thrice reported that armed cutters were taking contraband to Lundy. (Travis 2001 p 58)
In November 1781 Peter Fosse reported to the Customs Board that Lundy was often used by smugglers and that pilot boats returning from there to Ilfracombe should always be thoroughly searched. (Travis 2001 p 42)
"Perhaps the last word on the island should be left with the Cardiff Collector, who maintained that 'there never lived yet a man on the island of Lundy who was not connected with smuggling'" (Smith 1989 p 126)
(4) Wreckers
"Charles Kingsley, writing in 1849, had something to say about the wrecking habits of the local people: 'Wild folk are these her, gatherers of shellfish and laver and merciless to wrecked vessels, which they consider as their own by some immemorial usage or rather divine right'....As a local poet wrote of a later wreck 'The John & Lilley came ashore, to feed the hungry and clothe the poor'" (Smith 1989 p 120-121)
Lee
"The William Wilberforce was a large brig that came to grief at Lee Bay near Ilfracombe on 23rd October 1842. The crew had taken to their boat but unfortunately it capsized and not one survived, all seven men drowned. However, there were no local reports at the time of any looting, though the vessel was said to be carrying coal, and the Customs papers are silent on the matter (Smith 1991 p 69)
"In old days the evil practice of wrecking was carried on to a terrible extent all along the coast. One method of enticing vessels ashore, was to place lights in different spots along the cliffs. If the vessel was a foreigner, or without a pilot, it would often make for the light, the crew thinking it was placed their to guide them in. The 'William Wilberforce' which was wrecked at Lee, gives a terrible instance of the villainy of which the 'wreckers' were capable. One Sunday night when the people were in church, and a gale from the north-west was raging wildly around its walls, and at times quite drowning the voice of the preacher, the shrill note of a whistle was heard outside the door; the startled congregation gazed at each other, and the Coast Guards hurriedly rose and left the church. Mr Cockbourn, their captain, was waiting for them outside; there was a brig ashore at Lee, and they must hurry there at once and see what could be done. But nothing could be done, for the crew were all drowned, seven lives altogether. The vessel was a timberman from America and was supposed to have been wilfully lured ashore by a man called Q., who had tied a lantern onto his donkeys tail to make it appear to the helmsman that he was perfectly free from the rocks with plenty of sea-room. The action of the donkey on the beach caused the lantern to move up and down, just as a shiplight would by the action of the waves, so causing the poor creatures to think there were vessels anchored between them and the shore. The seven sailors were buried in one grave, and a stone raised to their memory". (Chanter 1887 p 69-71 and Barrow 1998 p 127-128)
Two pages of a booklet, photocopied, in Shipwrecks box, Ilfracombe Museum "In the Cutty Sark's figurehead collection is one from the William Wilberforce lost at Lee Bay, near Ilfracombe in 1842. This bore a card at one time (and perhaps still does), declaring that the vessel was the last known to have been lured ashore by wreckers, possibly by using the old trick of tying a light to a donkey's tail to make mariners believe they could see the riding light of a ship in harbour, True or false? The wreck of the William Wilberforce is borne out by a tombstone still to be seen in Ilfracombe churchyard, It bears the names of the master and five seamen, 'the unfortunate crew of the brig William Wilberforce of North Shields, stranded at Lee, Oct, 23rd 1842'. A few days later the North Devon Journal published the story of the wreck, 'On Sunday evening, during the hours of divine service, an alarm was given by a shrill whistle pealing through the aisles of the church, that a wreck had taken place. The preventive men left their pews, and with numerous persons proceeded to the spot which was ascertained to be at Lee, about two miles and a half from this town (Ilfracombe)' The account described 'the tremendous sea at that time raging', and reported that the 'captain's body was washed ashore the next day with over £10 in the pockets, together with a silver watch which had stopped at the hour of three, No one had robbed the body, and there was no mention of any attempt at wrecking, although when another vessel was cast ashore a few months later, reporters and correspondents were highly censorious about wrecking, by which they meant the carrying off of cargo etc. Had there been any suspicion of deliberate wrecking of the William Wilberforce it. is likely that the paper would have seized upon it ' (1). The William Wilberforce 167 tons, had been launched at Nassau, Nova Scotia in 1816, one of many vessels built in Eastern Canada for English owners at that time. After the wreck, she was bought by Charles Dennis, a well-known Ilfracombe shipbuilder, who had her towed off the rocks and into Ilfracombe for repairs, By August 1843, she was seaworthy again and during the next 13 years made frequent voyages to North America for timber, and one or two to the Mediterranean during winter months, She normally carried a master who received £6,10s a month, a mate (£3.10s) and four or five seamen (ABs £2 or £2,10s, OS £1,10s), In 1845 a 'second ordinary seaman', the ship's boy, was paid 1s Od a month! The crew always included some North Devon men, and four of the vessel's masters during these years were from Ilfracombe or its vicinity. The Wilberforce made good profits for her Captain. Charles Dennis, shipbuilder, Ilfracombe bought her after wreck at Lee and towed to Ilfracombe harbour. She was little- damaged and was repaired by August 1843 and made voyages to N. America for timber and to the Med. in winter." References: 1 Cutty Sark Society Greenwich; 2 Alison Grant article; 3 News item 'Lest we Forget'; 4 ND Journal; 5 Tombstone records Ilf Parish Church at Museum" (THE WILLIAM WILBERFORCE. A story and an investigation, Alison Grant, p 9-10)
Typed notes in Shipwreck box, Ilfracombe Museum:
"William Wilberforce watercolour by Domenico Gavarrone:
March 1854 Genoa - Captain John Nicholls - Brig (ILFCM 2118)
Built: Nassau West Indies 1816 - 167 tons; Nassau Nova Scotia E. Canada 200 tons;
Figurehead: In Cutty Sark Society collection Greenwich, part of 'Long John Silver' Cumber's collection. Wrecked: (A) Lee Bay 1842 3pm Sunday Oct 23rd / in fog 3 / tremendous raging sea (B) Off Lisbon 1856 - a leak - total wreck
Story: Last ship known to have been lured ashore by wreckers using a light on the end of a donkeys tail to look like a ship in harbour. (Can this be true if the time was 3pm, perhaps it was wet and murky.) Crew: (A) From North Shields, Northumberland Roger Nixon (master), William Perry (mate), Ralph Nason, George Hoon, James Rutherford, Joseph Stevenson (seamen). Took to their boats but were all drowned and washed ashore next day. The captain is reported to have had £10 in his pockets and a silver watch stopped at 3pm. They were all buried together at the Parish Church, Ilfracombe on 29th October 1842 in the SE corner grave RB55 (B) Crew escaped in boat 80 miles off Lisbon, a passing ship, Eleanor Samson, London, bound from Crimea, had refused to pick them up.
Documentation: NDJ Oct 27~h 1842 and Nov 7' 1842; Lloyds Register; NDJ July 17' 1856; Ilf. Chronicle Sept 2nd and 9th 1954; 'Wanderings in North Devon' Charlotte Chanter"
Typed notes in Ilfracombe Museum, shipwreck box "The William Wilberforce. A brig, built in 1816 at Nassau, W. Indes, and wrecked in 1842, when carrying iron ore. Written off as a total wreck, she was bought by William Vagg of Barnstaple and made seaworthy again, in the following year (1843). In 1844, Thomas Huxtable is recorded as master (he previously worked on Pilot) with J.Dennis as mate, and 4 more men. They voyaged to Quebec, returning to Bridgwater in 1844. In 1845, Thomas Huxtable was still master and J. Dennis mate, with three others. (No record of its voyage, if any) May26, 1846 she left Plymouth for Miramichi returning in,--1 Sept.16 to Bridgwater. John Crockford Dennis was now the master, his age given as 22, with 7 men. Thomas Mayne, aged 17, earned £1.1.0 per month: other salaries are not recorded. Rations allowed were "as much as they can eat. No waste". This ship was one of the larger ones in the area. It voyaged farther than many of the coal and iron carrying vessels, going up and down the channel, and to Ireland. In 1847, (Nov 19) it went from Cardiff to Carthegena and Nova Scotia, returning to London April 1848. In 1847 and 1848 John Crockford Dennis was still master, and with 10 crew voyaged to various places, including New York, Lisbon and Canada. In 1847, on May 4th a voyage took them from London to Quebec and back to "some port in the United Kingdom" with 4 crew plus apprentices. Weekly rations for one trip were given as follows;1 lb of bread each day, beef on Sunday, Tuesday, Thursday and Saturday, with pork on alternate days. Coffee was 1/41b per week and tea 2 ozs. llb sugar and llb butter per week and 3quarts of water each day. In the second half of 1848, they travelled from Newport to Plymouth, J.C.Dennis still being master. By 1856, John C Dennis had become owner of' the snip, and the mate was John Ham of Bideford, aged 43. The ship left Ilfracombe on her final voyage on Feb.10, 1856, as she was totally wrecked off Lisbon in July of that year. John Ham was master, aged 43 and previously from the "Ino" of' Bideford. John Brown was mate, previously from the "William Renna" which was wrecked in 1856, plus 4 men and 2 apprentices. Richard Lovering, crew man, was discharged for "Bad behaviour" at Lisbon. All ships' papers, master Roll etc were in the ship's cabin and all lost in the wreck. The wreck (1842 or 1856 ?) is mentioned in "Wanderings in N Devon" by John Chanter, and in correspondence in the HDJH & Ilf. Chronicle Sept 2 and 9 1954 "LEST WE FORGET. A reader noticing the quaint paragraph which appeared in a recent issue relating to the launch of the "Oliver Cromwell," a vessel of 250 burden, from the building yard of Mr. Charles Dennis, tells us that this gentleman became the possessor of a brig, the "William Wilberforce," in a very strange and tragic manner, the story being known to many old 'Combe people. On the 23rd of October, 1842, the brig "William Wilberforce," of North Shields, a vessel of 200 tons burden, in making her way up the channel became enveloped in a dense fog and ran on the rocks near the old Mill, at Lee. The crew, who must have hastily taken to their boat, were all drowned and their bodies cast up on the beach near by. Their resting place is in our own churchyard, all having been buried in one grave, the headstone showing how they met their deaths. Their names were Roger Nixon (master), William Perry (mate), Ralph Nason, George Hoon, James Rutherford, and Joseph Stephenson (seamen), all of North Shields. The brig was found very little damaged, a fire even burning in the cabin and the captain's wig upon the table. Mr. Dennis, with his men were able to float her from the rocks, and repair and send her to sea again. For many years she went voyages across the Atlantic and the Mediterranean until finally she sank off the coast of Spain, about the year 1858" [The date has been crossed out and replaced with 1851]
"1842 - The Brig William Wilberforce went down at Lee. Six mariners perished and were all buried in one grave" (IMN 2000 p 8)
Mortehoe
Wrecking was common on the North Devon coast, which was known as the Sailors Grave, but if there was even one survivor there was no salvage. A wrecker in Morthoe, Mrs Elizabeth Berry, was infamous for holding drowning men under with a pitchfork. She was arrested while removing goods from the wreck of the William and Jane 15th February 1850 and was imprisoned for 21 days hard labour (the shipwrecks index of the British Isles, Richard & Bridget Larn, Lloyds Register 1995).
By the 1850's wrecking had become a scandal and the Rev Charles Crump wrote an account of the sinking of the schooner Thomas Crisp at Morte Point in 1850, entitled the Morte Stone, and as a result it was agreed that a lighthouse be built. Work began at Bull Point 4th Feb. 1878, in 1972 cliff fell and a new lighthouse constructed over 2 years. It was electrified in 1960 and automated in 1975. (Reed 1997 pp 157-160)
Rapparee
"About 80 years ago (but the date is vague) a ship ran ashore at Rapparee under Hillsborough. An African prince and his attendants are supposed to have been on board; how they came to be off this coast is not told, anyway all hands were lost; and from time to time negro skulls have been picked up about Hillsborough and the Quay and strange coins in the harbour mud. The people who flocked from far and near at the news of the wreck, like so many evil birds, are supposed to have picked up beautiful things in precious metals, of strange foreign workmanship. That there was much money on board this strange craft, and that the people did much as they liked with it, is proved by the following anecdote:- A woman had made some dough and placed it in a pan in the kitchen, where her son was sitting over the fire; he suddenly heard the news of the wreck, and jumped up in haste to get his share of the plunder. But he was very hungry, and had been waiting for his meal sometime, but how could he stay to get a slice of bread, when others might be making off with the best of the plunder? His hungry eyes alighted on the pan of newly made dough, and hastily filling his pockets, off he ran eating as he went. On the beach amongst other things he found some dollars, which he put in his pocket. On his homeward way through the street, the dough began to work and raising itself out of the pocket carried the dollars with it. The joke was considered such a good one by the natives, that the unfortunate youth bore the nickname of 'dollars and dough' to his dying day" (Chanter 1887 p 69-71 and Barrow 1998 p 127-128)
1856 - " it is well known by many old men now living that about 60 years ago a vessel manned by blacks, ran ashore, and that the then best families in the town (being nothing but wreckers and smugglers) murdered the crew and buried the bodies on the beach, and then plundered the vessel of a very valuable cargo, consisting of ivory, doubloons, jewels and etc. This having caused some disturbance, put an end to the system; otherwise, in bad weather, a common custom was to affix lanterns to horses tails, and lead them about the cliffs, to decoy vessels. Many near descendants of the actual wreckers of the before-named vessel still reside here, and rank amongst the most respectable of the inhabitants. The people here still retain the name of 'Combe sharks' which appellation was bestowed upon them by the surrounding neighbourhood about a century ago-N.V, Ilfracombe" (Illustrated London News, 1856 in Barrow 1998 p 33) in reply, 28th Feb. 1856 "before calling in the evidence of the 'many old men now living' who the wicked wretch who wrote the paragraph says are well acquainted with the slanderous tale, we may express some surprise at the stupidity, carelessness or worse, of the editor of a paper hitherto thought to be respectable, who could admit into his column such manifest lies and glaring absurdities as are contained in that paragraph" (Barrow 1998 p 35)
October 1904 - article headed 'The wreck of the London' refers to a number of letters from 1856 Illustrated London News and says "There is, unhappily, no doubt whatever that this neighbourhood was guilty in those days, even in the first half of the C19th, of the horrible practice of wrecking, and there was a strong tradition that the fate of the London; was not entirely due to the wind and waves" (Ilfracombe Parish magazine Oct. 1904, Barrow 1998 p 32) The Parish magazine goes on to say that the wreck was 9th, not 16th October and that 2 foreigners were buried in the churchyard. Pat Barrow 1998 p 33 gives their names as James Crompton & William Nurenberg.
(5) Chambercombe
There is an engraving of Chambercombe said to be from before 1840, shown above (Ilfracombe Museum, Chambercombe folder, ILFCM 17345)
The Call of Chambercombe was written by an unknown author and published in a magazine called The Leisure Hour in 1865. It relates how in 1663 Alexander Oatway, then tenant of Chambercombe, and his comrades, wrecked the Granada, which was carrying Government stores, off Hele Beach. Alexander's son William followed secretly and saved a young girl, but left his Father's cape, which was found. William was forced to leave Chambercombe for Cornwall where he helped with his Uncle's mine. One day a group of visitors included a Miss Ellen Gregory, the lady that William had saved on Hele Beach. They fell in love and were married and went to Lundy where they had a daughter Kate. She fell in love with, and married, an Irish Captain Wallis. William finally realised his dream to return to Chambercombe, but only as a tenant. Towards the end of May 1695 a ship was accidentally wrecked on Hele Beach and William again saved a young woman washed ashore. She was tended by William and Ellen, but she died and he used her money and jewels to realise his ambition to buy Chambercombe. To hide the source of the money he hid her in an upstairs chamber, but later discovered that it was his own daughter, Kate, who had left home many years before, on her way to visit him (Pincombe 1951)
"Wreckers' Haunt, The Legend of Chambercombe", undated, unknown author, Twiss & Sons, Ilfracombe (Ilfracombe Museum) - This is identical to The Call of Chambercombe, without pictures and chapter headings.
"Like most old buildings, a legend has been woven about its fabric. A room, adjacent to the one said to have been occupied by Lady Jane Grey, is supposed to be haunted. The story concerning that part of the house is that in 1865 the then tenant was making some repairs to the outside of the building when he discovered the outline of what had been a window and for which he could not find a room appertaining. Investigation led to the discovery of a chamber between Lady Jane's and one adjoining, in which, on the remains of a handsome bedstead, lay the skeleton of a woman. She was supposed to have been a Spanish woman, who, having been wrecked near Hele, was captured by smugglers and conveyed through the secret passage which existed between Hele and the farm. It is supposed that she was robbed and left to die of starvation. The ghost of this poor lady is still said to haunt the room, and weird sounds are to be heard there at night (If our correspondent requires the full account of the legend he should refer to "The History of Chambercombe Farm" (6d))" (Ilfracombe Chronicle Sept. 1st 1933 p 6)
Another version of the story has the tenants in 1738, the Vye's, find the skeleton which was hidden by William Oatway some 30 years earlier. Some 20 years previous to this, his father Alexander wrecked the Granada, a spice ship, at Hele and he saved a young lady, Ellen. William and Ellen fell in love and were married, having a daughter called Kate, who later left home. When Alexander died, William inherited Chambercombe, but it was run down with many debts and he too became a wrecker. He wrecked a ship of Hele Beach and a dead woman was washed ashore who he later realised was his daughter Kate. Ellen died a few days later and was buried in Ilfracombe Parish Church. The Vye's ensured that Kate Oatway now rests beside her mother. (Warwick 1987)
"The period of religious unrest added a false floor and priest's hole, both still extant. There is also a concealed chamber, situated between Lady Jane Grey's bedroom and the next, which was rediscovered in 1865 when roof repairs led to the finding of a window outline. Strongly attested legend has it that the chamber contained the skeleton of a woman lying on a bed. The actuality of the chamber may be viewed, that of the skeleton is reasonably proven. The ghost and the story attributed to the facts are more questionable!" (Wheeler p 1)
There is another complication in the Manor's history for this this period in another direction also. Between approximately 1690 and 1750, the house was reputedly occupied by one Alexander Oatway and his son William, which, if true, means that all the above transactions were carried out on a property with a sitting tenant. The Oatway's were wreckers and smugglers by repute and to them is usually attributed the passage, recently re-discovered, running from the house to Hele Beach, about half a mile distant. To me, there is something wrong here. It seems unlikely to me that Thomas Vye would, in 1701, buy the Manor with the Oatways in residence and leave them there. If the Vye's were Coopers, then Chambercombe would logically represent their establishment on a higher rung of the social scale, but only if they lived there. There are two possible answers. First is the 1686 parcelling out of the original, extensive, manor lands. This would, inevitably, include dwellings - cottages, gatehouses - if the Oatway's inhabited one of these, then folklore confusion is quite possible. The second possibility, although I think the less likely, lies in the conversion, reputedly somewhere in the 17th century, of some stables across the yard from the main house into a dwelling. It would be even easier to confuse this with the Manor house itself." (Wheeler p 3)
It was said that the tenant making some repairs to the outside of the house [Chambercombe] in 1865 discovered the outline of what had been a window. Investigations were made which led to the discovery of a chamber between the owner's daughter's room, Lady Jane Grey, and one adjoining. On making an opening in the wall which had until then been disguising this unknown chamber, they found the remains of a handsome wooden bedstead on which lay the skeleton of a woman. It was supposed that she was a Spanish woman who, having been wrecked near Hele, was captured by smugglers and conveyed through the secret passage which existed between the farm and Hele Beach. It was supposed that she was robbed and left to die of starvation" (IMN 2000 p 10)
"The remains were only discovered in 1865 when the then tenant who was repairing the roof, found the outline of a window which did not correspond to any rooms. A hole was knocked through the wall and the skeleton of a young woman found on a bed. Stories relating to the bed centre on William Oatway, the Ilfracombe wrecker and owner of the manor in the 17th century, who is said to have either caused the death of his daughter Kate who was on one of his wrecked ships, or bricked her up in the room when she threatened to tell the authorities of his crimes. Either way, it appears the body had lain undiscovered for about 200 years. While legend says the remains were buried at Ilfracombe Churchyard, Mr Barrow can find no records there and believes the skeleton may have been buried in the garden where he is currently excavating in his tenth hole." (North Devon Journal Nov 2nd 2000 p 6, article re Pat Barrow's excavations at Chambercombe)
The tenant of Chambercombe in 1865, whilst mending the roof, found traces of a window outside but no corresponding room inside. On investigation, a hidden room was found containing a bed, chair and dressing table. Behind the hangings on the bed was found a skeleton of a lady. It is said that in the 1650's the tenant was Alexander Oatway, a wrecker and smuggler. His son William, disapproving of his father's illegal life, lived on Lundy where he married a lady called Ellen and they had a daughter, Kate, who married an Irish Captain Wallis. When Alexander died, William returned to Chambercombe, which by then was very run down. One night in a big storm he found a lady on the beach, barely alive, with many jewels, and he took her home, where she died after a few days. He kept the jewels and then discovered that the lady's name was Kate Wallis - his own daughter. He hid her in this secret room and moved to a cottage in Cornwall. His wife Ellen died soon after but William lived to be an old man. After his death his confession was said to have been found hidden in the cottage fireplace. The secret room is now divided from the blocked-up window by a passage, leading through a door into the main bedroom. The door here and the passage do appear to be later additions. The floor has been removed, revealing another floor, a few feet lower down, said to be a priest hole. (The legend as recounted on a guided tour of Chambercombe, August 27th 2003)
(6) Smuggler's caves & tunnels
"The use of caves and secret tunnels [by smugglers] is somewhat of a myth. The smugglers generally preferred to move the goods in the open giving them a greater chance of escape. They also relied upon superiority of numbers to ensure a successful landing, anything that reduced this advantage - like a tunnel or narrow pathway, tended to be avoided. They also eschewed hiding places close to the shore - unless it was desperately necessary - they were well aware that the shores were regularly patrolled by riding officers...The first essential after a successful landing was to transport the goods inland - if only for a mile or so. Most of the hiding places, according to the Custom's reports, were in the open country or in woods." (Smith 1989 p 8-9)
Chambercombe & Samsons
The first reference to a local smuggler's cave in Hele is in the 1865 Call of Chambercombe "Not far from the spot where the reef connected itself with the land was a large cave, inaccessible from the shore, except by means of a ladder, on account of its height and the smooth, perpendicular character of the cliff. Indeed, it could only be entered from above, by descending an overhanging face of rock, a feat which none but expert climbers could accomplish. The chamber extended a considerable distance into the high land, sloping upwards, and becoming more and more lofty, its sides indented with immense fissures, or studded with rough projections, until it terminated in an almost perpendicular wall of slaty stone. It had served the lawless men of the coast for many a day as a hiding-place, as well as a place of deposit for all kinds of property that treachery or violence could secure" (Pinfield 1951 p 32-33) This cave is entirely fictional - none of the caves in Hele Bay or Samson's Bay are anything like this. The Call of Chambercombe does not refer to a tunnel at all, so this must be a later invention.
"But glance in another direction and see what, from our 447 feet above the sea level, can there be discerned. Another valley; that is the chief object thickly wooded at the top and running down to the sea. At its upper extremity stands Chambercombe farm interesting because of the legend that attaches to it, and the strange tales which exist relative to its connection with the wreckers of Hele, a little further down the valley. This part of the coast has been the scene of many an affray and many a cast of barbarism and inhumanity in which the dwellers in this now peaceful little valley were the chief actors. There is said to be a subterranean passage between the village and Chambercombe which was used by the wreckers in conveying their booty to a place of safety. Hele is now quiet and fairly well behaved, and it seems too much to realize that ever this lovely valley now disturbed by no more formidable sound than that of the little stream that bubbles through the village and falls into the sea at the beach, should ever have been the abode of a tribe of land sharks and desperadoes as it was two or three hundred years ago, Such, nevertheless is true, and we ought to be thankful that we live in better days." (Ilfracombe Chronicle 1874 August 1st)
In a continuation article on smugglers in a monologue by an old man "there's an underground way - a sort of passage like - from Hele Beach right away up to Chambercombe Farm. That was once the Manor House and a snug place it was......But as to that underground way, there was an old man I remember when I was a boy that used to say 'I'd like to turnout that old well by Chambercombe I would! If the passage ain't there then I don't know where 'tis'. The passage was used for smuggling & the squire housed the plunder. He was a bad man - a wrecker - and a smuggler as well." (Ilfracombe Chronicle Oct 13th 1888 p 8 c 1)
"Between this point [Rillage] and Widmouth Head lies the little rock-bound bay called Sampson's Cove. Here is Sampson's cave. Sampson appears to have been a smuggler, and the cave was his storehouse." (Page 1895 p 79)
"In former days this hamlet had an ill reputation, and many were the charges of wrecking laid at the doors of its inhabitants. But it has mended its ways now, contenting itself with growing vegetables for Ilfracombe, and supplying trippers from that enterprising watering place with hot water and milk for their picnics. There is no church, but the school-room becomes on Sunday afternoon a mission chapel." (Page 1895 p 81)
"It is only to be expected that this quiet and sheltered bay should be associated with smuggling. The very names of some of the beaches and coves remind us of these old beach-combers. Tom Normans Cave...Tom used to frequent this part of the shore about 120 years ago, and was connected with another well-known family named Pickett. Another name which conjures up visions of smuggling days is Sampson's Bay - one of the most convenient spots along the coast for men who gained their livelihood by luring vessels to destruction. Sampson was a smuggler of repute. There is a path winding over the cliffs known as Jan White's - another name connected with smuggling. Among smuggler's tales is one concerning John Wilkey and Bill Stephens who tried to waylay a smugglers' wagon in the early hours of the morning, whilst it was on its way to South Molton, but, although they were successful in achieving a 'hold up', they were bribed by the smugglers, it is said, with gifts of silken goods. These smugglers were said to have been in league with the tenants of the old manor Farm at Chambercombe. Mr Nicholas Lewis, grandfather of Mr Nat Lewis, used to tell a story concerning his aunt who lived at the Manor farm as a servant. She declared that it was impossible to sleep at the old manor house after one o'clock in the morning because there were sounds resembling those made by rolling barrels, and old Mr Nicholas Lewis contended that there was a secret passage underneath to Rapparee beach. It was there that a Spanish vessel went ashore, and that probably accounts for the story concerning the skeleton of a Spanish lady found at the old manor farm, and who was supposed to have been washed ashore from a wreck." (Ilfracombe Chronicle Sept. 1st 1933 p 6) In the 1841 Census, Nicolas Lewis, James Stevins and his son William (aged 7) lived at Hele. At Chambercombe were Alice Soosaler? 70, Ann Soosaler? 20, and John Stevins 5. In the 1851 Census, John Wilkey lived at Hele (but not William Stevins)
"1851 Census, living at Chambercombe Farm
John Robin, head, aged 51, farmer of 75 acres employing 2 men born Devon in St Giles Wood
Margaret, wife, 55, born Devon, High Bickington
John, son, un/m, 24, born Devon, Yarnscombe
Grace Moore, un/m, 18, house AP, born St Giles in the wood
Elizabeth White, un/m, 12, servant, born in Georgeham
William Dyer, un/m, 21, Farm servant, born in Georgeham
John Furse, un/m, 12, Farm servant, born in Yarnscombe
Sarah Furse, un/m, 45, Visitor, born in Yarnscombe
Thomas Martin, un/m, 10, Visitor, born in Yarnscombe
(John Robins employed two men on the farm)
1837 - John Oatway overseer of the poor in the Parish of Yarnscombe, bound child for apprenticeship to John Robins farmer Yarnscombe."
(typed document, undated, anonymous, Ilfracombe Museum Chambercombe folder)
There is a photograph of John Robins in Ilfracombe Museum (Names box, Robins ILFCM 251108), says on the back "John Robins, B. 8/11/1826 Yarnscombe, D 8/2/1873 Burrough Cottage Ilfracombe"
"Another famous place is Samson's cave which is at the other end of the town and can be approached by stone steps just beyond Haggington on the Combe Martin Road. Samson was a famous (or infamous) North Devon smuggler and he used it for storing smuggled goods. Adjoining the beach is a large and a small cave. In the smaller one there is supposed to be a hole in the roof up which it was possible to climb with the help of a ladder. It then led into a passage which ran to Chambercombe farm. This is impassable now because much of it has fallen in, but it was once used regularly to carry contraband to the farmhouse. At the farm there was a large hole, now filled in with stones, which is thought to be the other entrance. Since Samson had such a secluded part of the coast with a convenient passage leading to a hideout fairly well inland, no doubt the farm owners and himself made good money free of duty" (Wilson 1976 p 51)
"There are several caves in the area that were thought to have been used by smugglers and the next bay along from Watermouth is called Samson's Bay, which is said to have been named after a local smuggler who used the Bay, although nothing can be found out about him" (Smith 1989 p 115)
There are two caves in Samson's Bay on the eastern side of Rillage and the one higher up the beach does have a steep slope leading up into a 'hole' in the roof. He and others put metal pegs there as children to reach the ledge but there is no passage or tunnel there (A Galliver)
"Legend has it that there is a smugglers tunnel from Samson's cave to Chambercombe Manor (over a mile away!). Local tradition even describes a ledge high up in the roof, accessible only by ladder, which leads to the collapsed tunnel. There is indeed a high ledge in the back of the cave, reached only by climbing a very steep slope of shillet. We felt it our duty to investigate! But even though we returned with proper climbing equipment we could only manage to get half way to the top - it is extremely difficult to get any pegs to hold stable in the shillet and every foot-hold has to be cut out with a pick. Will the mystery ever be solved?" (CMSMRPS Newsletter Issue 2 Spring 2002 p 18)
The CMSMRPS (Combe Martin Silver mine Research & Preservation Society) visited Samson's cave in January 2002. It was thought that the cave may have been originally made as a trial adit and enlarged by the sea. It was initially thought that since the cave bottom was sandy (whereas other caves nearby were not) it may have a second entrance. There was indeed a steep slope of extremely unstable shillet, perhaps 20' high, leading to a ledge high in the ceiling. There were some metal pegs that had been put there in the past, but they were unstable, and despite trying for a couple of hours the ledge was elusive. On a second visit the ledge remained elusive but it was thought that the absence of running water implied that the ledge was made by a fall and was unlikely to shield a tunnel entrance.
There is thought to be a tunnel from Chambercombe Manor to Samson's Cave, though it is now filled in. The entrance at Chambercombe is said to be through a small hatch, opened from the outside, apparently in the side of a chimney breast. The hatch is still there; opening it reveals a vertical and very narrow shaft, up which is an iron ladder, presumably leading to the roof space. The shaft is filled in at ground level, but it is said that in 1901 the shaft was open and the son of the tenants apparently found that it went into a tunnel about 30 paces long. (The legend as recounted on a guided tour of Chambercombe, August 27th 2003)
Watermouth Castle
"A very labyrinth of cellars and passages underlies the castle. It is believed that they are part of the old original building which stood on the site before the present castle was built. Tradition says that these tunnels were the work of smugglers. A tunnel led up from the harbour into the cellars from very early times but was filled in by Mrs Harriet Sarah Basset in the middle of the 19th century. Until further examination has been carried out it is difficult to locate with precision where the head of that tunnel lies, nor is its mouth at the other extremity known today." (MG Palmer, undated, Watermouth Castle, Printed by The Chronicle Press, Ilfracombe, in Ilfracombe Museum)
"The writer has been privileged to make a fairly extensive tour of the cellars and passages under the present building. One striking feature of this subterranean labyrinth is a wide tunnel-type passage under the tower and which slopes towards the sea. This was most probably a tunnel or slipway through which boats could be hauled up from the sea to a boathouse or warehouse under the main building. The stonework of all these lower works and the remaining walls and gateways of the older part are of similar nature to other structures of the Middle Ages in this part of the country. Who can say that the fortunes of earlier occupants were not derived from sea trading of a questionable nature in the days when it is believed that the tidal waters rose to a much higher level than they do today? Perhaps the very anonymity of the place lends weight to this theory. In one of these lower-level passages can be seen a niche for a tallow light such as is not normally found in places constructed after the 16th century when lamps were brought into much more common use. Our theory regarding the earlier nature of Watermouth is strengthened by the notorious background of Nicholas Wychalse the son of a man of the same name who was a Churchwarden at Barnstaple in 1556 and Mayor in 1561 and then owner of Watermouth estate. He also held the manor of Lynton and Countisbury, Maydenford and Barnstaple. This young son is believed to have been part of the association of men which owned the reprisal ships then engaged in bringing home rich booty. One of these ships the Prudence, is known to have brought home four great chests of gold valued at £16,000 and other extremely valuable articles." (Blake 1964 p 10-11)
"An underground, watery tunnel leading from a castle to a beach proved a nightmare challenge for two intrepid Ilfracombe residents. Ilfracombe & District Rotary Club members Paul Yabsey and Erica castle donned their wet suits to travel into the murky depths under Watermouth castle. They were collecting money thrown into the castles wishing well. But a stream leads off from the well through a narrow underground tunnel to Watermouth Cove. Paul said 'People throw money down the well end, but lots of it runs down and collects in the tunnel for about 200 to 300 yards. It slopes at first then goes under the road. The second section is particularly disgusting as it all silts up..." (North Devon Journal, page 9, Sept. 16th 2004)
Ilfracombe
"Smuggling too was carried on a lot round here in the 18th and early 19th century. Crewkerne Cave, said to be behind the tea-house on the Tunnels beach, is supposed to be large and to have a passage leading to Runnymeade House. Some say that it was the hiding place of William de Tracy, one of the murderers of Thomas a Beckett, before he thought it safe to travel to Mortehoe. I do not really believe that it is behind the tea house as, when I was a child, I knew the Tunnels beaches very well before the tea-house was built and I never saw any cave of any kind there. Recently though, there was subsidence nearby which might mean there was such a cave. If it is there its entrance must have been very well blocked, for it not to have been noticeable to children. The Tunnels were cut about 150 years ago and the cave may have been destroyed then." (Wilson 1976 p 51)
The Tunnels were originally called Crewkern Cavern. This was used by smugglers and other people as a hiding place, being a natural cavern leading to the shore." (Wilson 1976 p 20)
(7) Lively
1888 - Sept. 22nd - In an account of the last smugglers in the area who were in the smack 'Lively' which was reported to Customs by 'friends' and crew arrested Oct. 1831 ship broken up "Tom Norman, an unusually good sailor, wanted by most of captains, before taking an engagement he made it a rule to go over the vessel. If he found the pumpbolts clean and the frying pan dirty he refused the offer, if he found the frying pan clean and the pumpbolts rusty and not worn he joined her. Of course, his experience taught him that where the pumpbolts were bright there must be a great deal of pumping needed and if the frying pan was clean he knew there was a proper amount of fat on board' (IC Sept. 22nd P2 Col 2)
September 13th 1913 - Titled 'A 'Combe Smuggling story' Discussed smuggling at Ilfracombe using 'Brandy cave' and relates the background story to a song whereby smugglers were spotted by a passing ship who made 'unreasonable' demands for £50 or to take half of the cargo, at length an agreement was reached and the 'hovellers' or long-boat returned to Ilfracombe harbour, informed customs who arrested the smugglers, giving rise to this song (see above) Based on events in October 1831 when the smack 'Lively' was found in Lundy Roads with a cargo of spirits, her boom gone and crew in a sorry state who were undecided where to go and had been drinking and fighting, by skiffs 'Sylph' and 'Beresford', on board was 'Borough' John Gear, Wm Hallett, Wm Quance, Ned Groves, John, Bob and 'Kit' Eastaway and Wm Rice and was temporarily boarded by men from one of the skiffs. The skiffs returned to Ilfracombe and some time later the Lively was captured by customs, taken to Ilfracombe where it was cut into 3 parts. One of the skiffs later went to Lundy where the crew Mr Harding, Tom Norman and Bell Jones were drowned. The song above is from this article (IC Sept. 13th 1913 p 6 c 1)
"The following years were again comparatively quiet in regard to seizures. In 1831 the cutter LIVELY intended to run a cargo on the Cornish coast but she lost her main boom in bad weather and had to seek shelter at Lundy. Probably some of her crew went ashore and talked in their cups, for by some means information reached the Ilfracombe Collector and the vessel and her cargo of about 300 tubs were seized. The means of seizure are not recorded, but it was said the brandy was in half-anker casks ready fitted with slings for handling. A few months later the Lynton Riding Officer seized 68 tubs and some horses at Countisbury. It was believed that a gentleman's yacht had landed these goods." (Graham Farr, North Devon Smuggling Survey, smugglers folder)
"1831 - The neighbours of a local man, who gave information to the Customs Officers resulting in a smuggler's boat being captured, unhappy at his actions, have made an effigy of him and publicly burnt it" (IMN 2000 p 6)