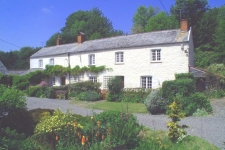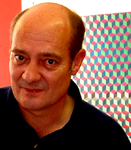 INTRODUCTION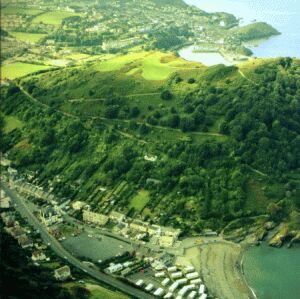 Hele Bay is on the north coast of Devon. From the main road it appears to be a 19th century suburb of Ilfracombe - hardly obvious material for a history website. But just off the main road are signs of human occupation going back thousands of years, when Ilfracombe was perhaps a suburb of Hele!
This aerial view shows Hele Bay in the foreground and Ilfracombe in the background: between them is a 135 metre high (447 feet) promontory known as Hillsborough (1). Hillsborough is now a Nature Reserve (2), but way back in the Iron Age, it was an important hillfort, the local centre for trade and probably the seat of the local chieftain.
I lived in Hele Bay from 1997-2001 and often rambled around the foreshore, looking at relics (caves, quarries, bits of ships, bits of guns, a Mini) that I wanted to know more about. I have often searched (in vain) for the entrance to the supposed smuggler's tunnel said to run from the beach to Chambercombe. Charlie Galliver told me the caves were called Samsonís, Joe Moon's, and Tom Normanís Hole and I wondered why they had these strange names.
I thought that it would be interesting to find out, with the idea of publishing a small website. I also wanted to learn a little about prehistory and believed (wrongly) that I had plenty of spare time. In 2001 I started to collect local information and then read about the Tarka Country Millennium Awards in the local Journal. I was fortunate enough, after filling in the ubiquitous forms, to be awarded a grant by the Millennium Commission, funded by the Lottery, to research and publish this Illustrated Timeline of the history of Hele Bay.
My principal sources were the Ilfracombe Museum and the Candar Library. I particularly wish to acknowledge Sue Pullen, Curator of the Museum, who gave me free access to the Museum's records. I also surfed the internet and talked to many local residents and several local historians. Because my memory is so poor, I recorded all these references into a computer, in a chronological list, which, after about six months, had grown to over 100 images and 100 pages of text.
I divided this list into different web pages, corresponding to historical periods, and then wrote the text as a summary of the references available. In earlier periods I had to consider a wide geographical area, since there isn't much known about Hele, In some cases (e.g. Ilfracombe Castle, Mining in Combe Martin) the digressions are my own indulgence. But it has not been all fun - a hard-disk crash wiped out 10 GB of information which had to be professionally recovered!
This website is my way of learning about local history. I'm not qualified as an Historian, regretfully I havenít had time to trace obscure references or do any original research. I realise that such a project is never finished. Although I was kindly allowed to let the deadline slip several times by Tarka Country, I still had to draw the line somewhere. Despite these limitations, I am sure there is something new in these pages for even the most ardent Heleite.
If you see any errors, please send an email to history@johnhmoore.co.uk, or write to me: John Moore (Hele History), Broadoaks, Buzzacott Lane, Combe Martin EX34 9QZ.
---
(1) Aerial photograph
In 2001 Beachside Holiday Park commissioned a series of aerial photographs which unfortunately were not taken until October. Above is shown a detail from one of these which shows Hele beach, Hillsborough and Ilfracombe in the background.
(2) Protected areas, designations
The coastline at Hele is designated an Area of Outstanding Natural Beauty, and a Coastal Preservation Area. The coastal slope to the east of the beach is a Site of Special Scientific Interest and Hillsborough became a Nature Reserve in 1993. The South West Coastal Path passes through Hele Bay and across Hillsborough.